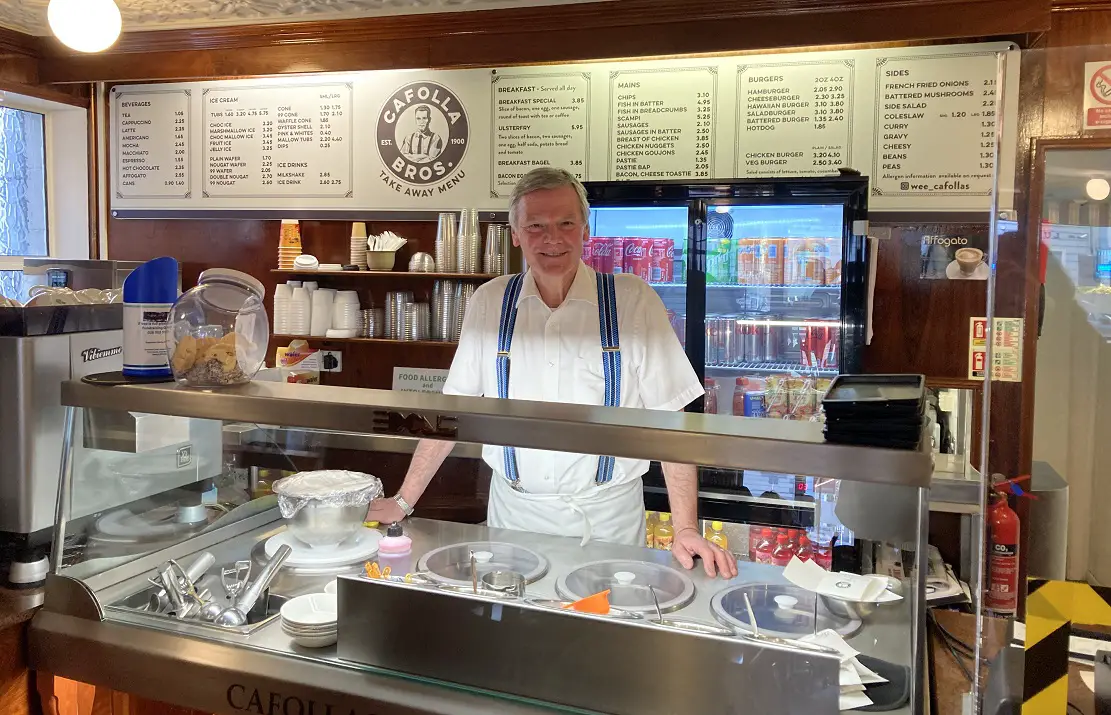 You're not really from Lurgan until you've tasted a chip smothered in salt and vinegar, finished off with an Italian marshmallow ice, at what is one of the town's oldest and best-known cafés.
But owner Gerard Cafolla admits that when he took over the family business in 1979, he didn't even know how to "turn on the pan".
Although the café, known locally as 'wee Cafolla's', had been run by the family since 1900, the then-29-year-old was forging his own career as a trainee accountant in the town firm of Henry Murray.
However, when his dad Ernersto (Ernie) died at the age of just 60, the seed was planted by an uncle that Gerard should take over the premises at 51 Church Place.
It had actually been closed for the previous four years following a fire, with Ernesto working in the family's Carnegie Street branch.
Gerard reopened the café five months after his father's death – in August 1979 – a date he remembers well as it was his and wife Marie's sixth wedding anniversary.
"Mario Cafolla from Cafe Rex in Portadown – a distant cousin of ours – showed me what to do," he recalls.
"My daddy always thought that we should be 'educated' and not come into the business.  So my idea was to come in, get it going and get a manager in but it didn't happen.
"I just became so involved and I couldn't study for my exams at the same time as well as starting a family. If it wasn't for Marie, I don't know how I would have managed."
Now almost 72, and with his three children – Judith, Aaron and Aisling – all involved, along with Marie on a casual basis, Gerard is carrying on a long tradition that began with his grandfather Giuseppe (Joseph).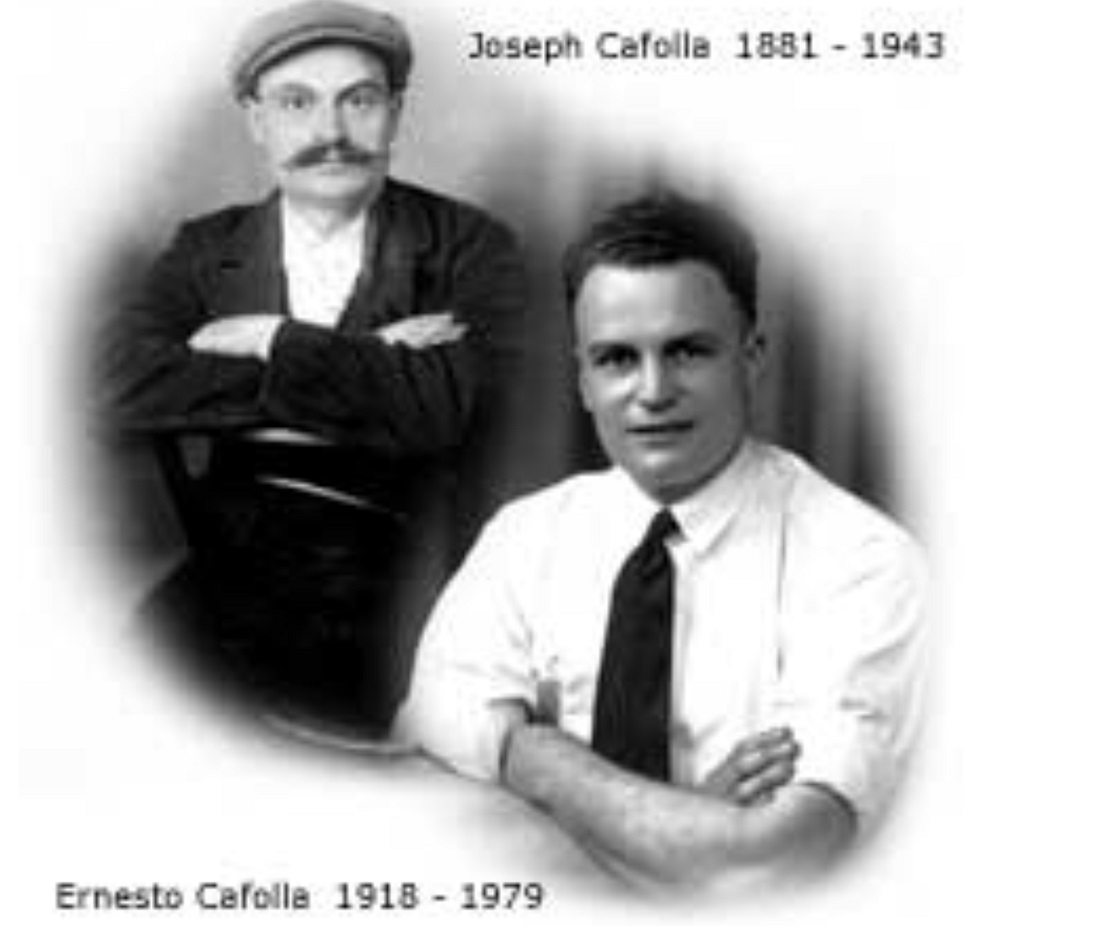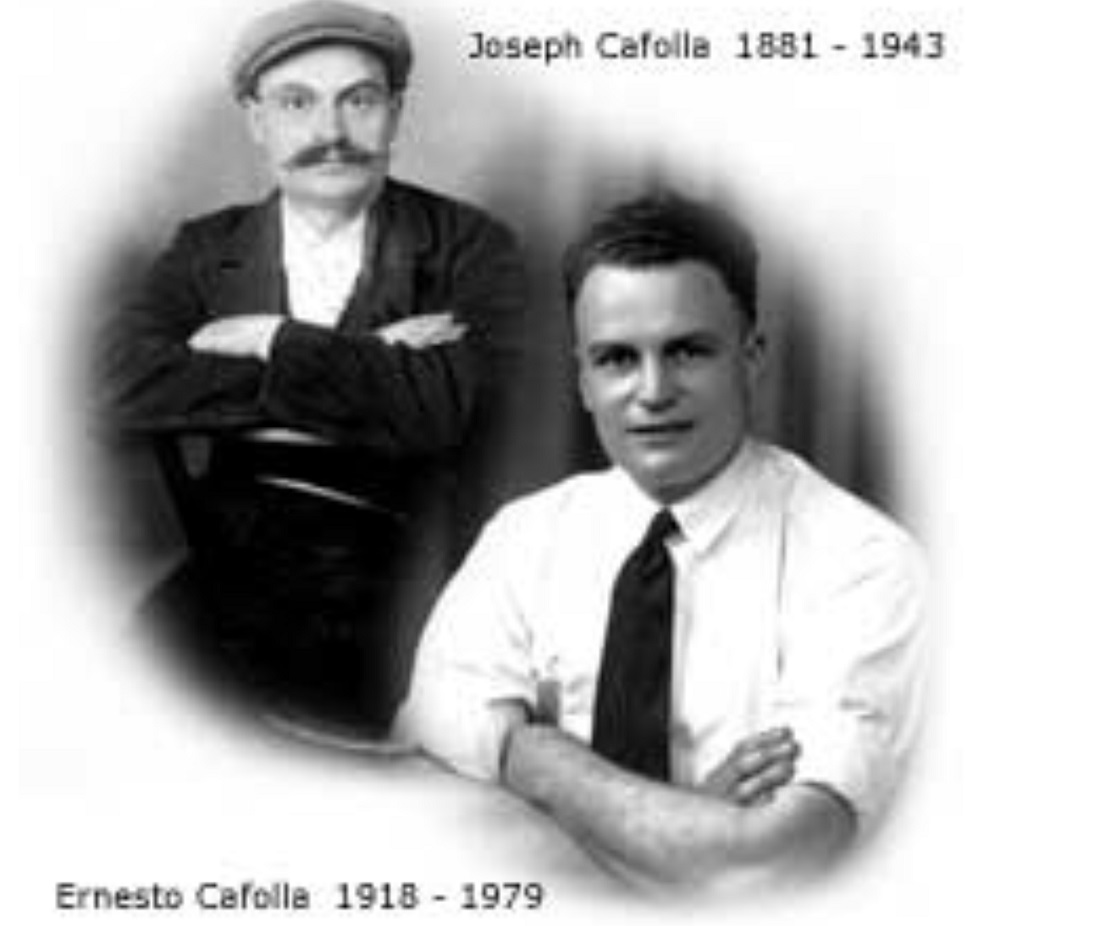 Giuseppe and his brother Tomasso arrived in Lurgan from Casalattico in the Casino area of southern Italy and started the business together in 1900.
"I have been told my grandfather left Italy when he was 12 and went to work in North Africa, then France, before making his way over here," says Gerard.
"When his brother went back to Italy, my grandfather carried on the business. It has always been in Church Place. It was originally where the Burger Stop is, but we have been in these premises since 1932."
In 1955, the business expanded with the acquisition of the Carnegie Street premises, which were run mainly by Gerard's uncle Joey. Although it closed in 2018, that branch of the family has since opened Cafolla Joe's ice cream shop as a separate business.
For many people, Cafolla's means ice cream and Gerard still makes the ice cream on the premises, to the original Italian family recipe, which remains a closely-guarded secret.
"It takes about three-and-a-half hours to make the milk base but once you have that it can be stored under refrigeration just like milk. It freezes within 15 minutes and it's ready for use," explains Gerard.
"We did try different flavours but customers preferred the original.
"There was a guy contacted us and said he could supply me with an ice cream mix that would take the time and hassle out of making it. But if you want the best product, there's no short cuts.
"It's the same with the chips. We use beef dripping. I could get cheaper stuff but why would I do that?
"I always say we're only as good as the last chip we put out, If our last chip was rubbish, the whole business is rubbish."
Gerard has also resisted the pressure to open on a Sunday with the shop operating 'sociable' hours, opening at 10 and closing at 5.30 or 6pm.
"People say Sunday is the biggest day for selling ice cream but I have a family and I work six days a week in here and do my own books. The staff have enough to do as well," he says.
"My daddy worked seven days a week, morning to night, which meant I never knew him really. With our kids, we took them on holidays and we used to go out for Sunday lunch.
"How long are we here for? That's the way I always looked at it. "
Having survived the worst of the Troubles and the Covid-19 pandemic, Gerard never takes customer loyalty for granted. He puts the continuing popularity of the business down to the hard work and helpfulness of his staff, several of whom have been working there for years.
"There was a family in here yesterday with the grandchildren over from England and a woman in the other week celebrating her 90th birthday. We also received a letter the other day thanking us for our food and service," he says.
"It's nice to see that and the staff in here are just excellent. I get so many reports about how pleasant and helpful they are. That's what make a business too. It's not just the Cafolla name."
Gerard doesn't regret not continuing down the accountancy route nor does he have any plans to retire yet. "Sure what would I do in the house?" he adds.
"Every day is a highlight in here – you are constantly meting people and relating to them, and we have a lot of regulars of all ages.
"We have one friend said we should be getting an award for community service!"
You can follow Cafolla Bros on Instagram at https://www.instagram.com/wee_cafollas/?hl=en
Sign Up To Our Newsletter