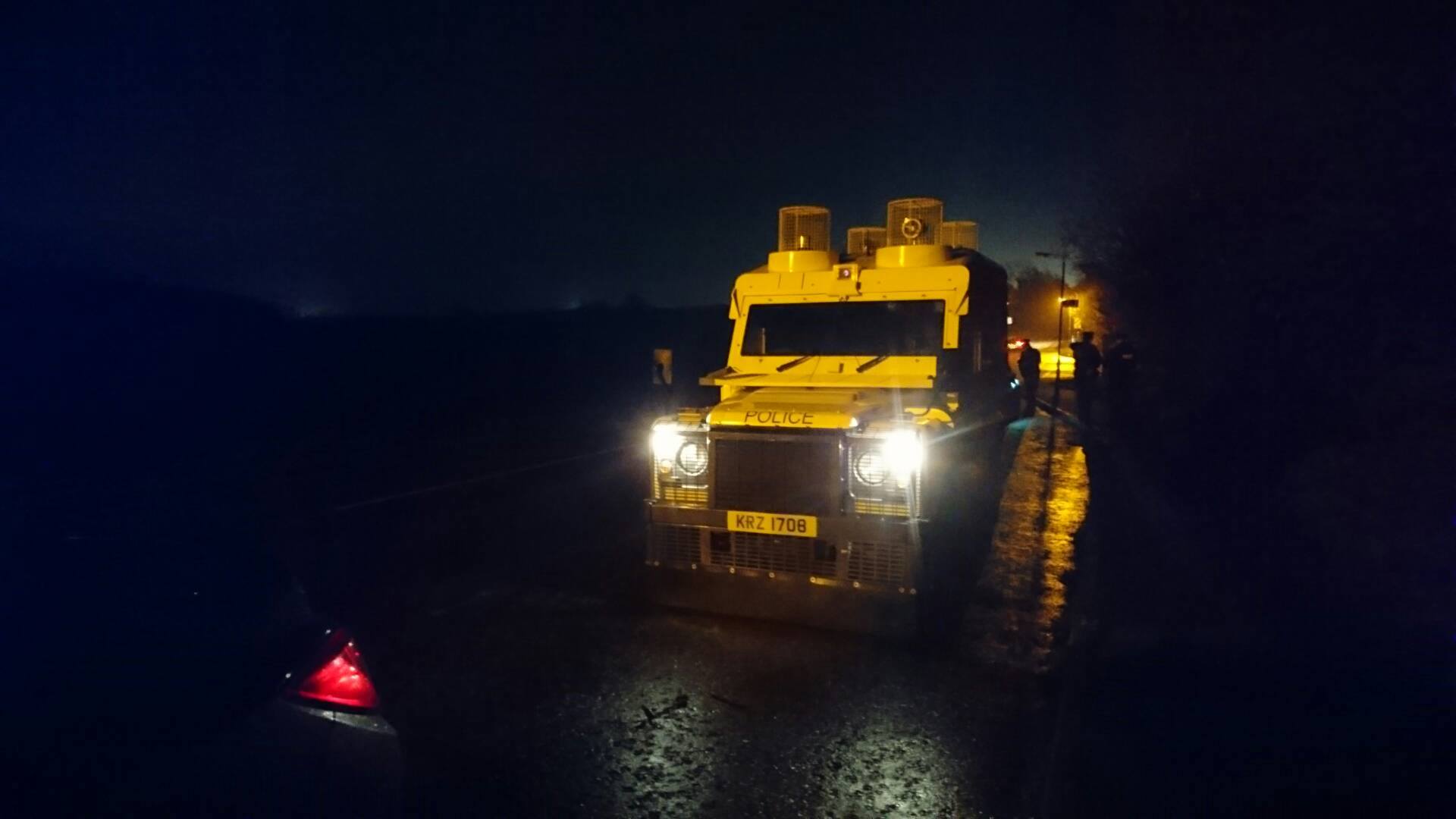 A father and son were among four men – accused of riotous behaviour in Lurgan last month – refused bail at Craigavon Magistrates' Court earlier today (Friday).
Forty-six-year Mark Anthony Reynolds, from Ennis Green, Lurgan and his 29-year-old son Niall Reynolds, with an address in Woodside Green, Portadown were both denied bail by District Judge Rosie Watters who deemed their risk of re-offending as too great to warrant their release.
Robert Rooney (52), an unemployed labourer from Victoria Street in Lurgan and Gavin McKenna (36), a self-employed plasterer from Victoria Gardens in Lurgan were also denied bail.
Giving evidence to the court, Constable Mack said he believed he could connect all four men to their respective offences and described how police were "lured" towards an incident invoking a hijacking and a bomb hoax
The officers were then attacked by a group of males who had used a ladder to climb onto the roof of a pensioner's bungalow from where they launched petrol bombs.
The court heard that one of the incendiary devices, allegedly lobbed over a hedge by Niall Reynolds, struck a signpost and that if it had not done so, it would have landed on the head of an officer.
The car, said the officer, was "engulfed in flames….any innocent bystander would have been severely injured or killed."
He claimed that of the four, McKenna was the only one not recorded actually touching a petrol bomb but the officer further claimed he "is the orchestrator of it" in that he told the others where they were, helped retrieve the ladder to get up on the roof and "engages with the people working on the petrol bombs."
Defence counsel Conor Lunny, acting for Rooney, argued there were triable issues and that the case would face significant delays progressing through the courts, submitting that "stringent conditions" could be put in place to address.
Constable Mack further alleged that Niall Reynolds can be spotted on CCTV smiling, chatting and encouraging two others throwing petrol bombs in the area, and can be seen allegedly patting them on the back "as to say 'well-done'".
Mr Reynolds' defence solicitor Peter Corrigan described the CCTV images as "contentious" and that there was no positive sighting of his client.
Mr Corrigan added: "My client is entitled to a presumption of bail in conjunction with no relevant record and importantly having committed any offences while on bail previously.
"He is originally from the area but he now lives with his partner of eight years in the Portadown area, has three young children and is in a stable relationship.
"Even accepting the prosecution's case at its height, a conviction and the sentencing disposal is not a custodial one."
District Judge Rosie Watters interjected stating: "If he is convicted of these offences, I think I and public would be shocked if he didn't serve an immediate custodial sentence in all honesty Mr Corrigan.
"These offences in themselves are very, very serious. They're bad enough on the face of it but it's the fact that the community and people doing their job is so much  effected by this behaviour; it's definitely an aggravating element."
Mr Corrigan continued: "In order to refuse bail you must drive a coach and horses through the perception of innocence. I would rely on others issues like his record and strength of the evidence.
"I would ask the court to look at the fact he has no relevant record, there's no substantial risk of further offending and that he has a young family with stable address outside Lurgan.
"Giving bail conditions, with a curfew, reporting to police, I think this can be managed without custody."
The prosecution stated that they could identify Mark Reynolds as a man on the roof of a bungalow lobbing petrol bombs at officers in the area.
They also stated that they could identify his as the man allegedly carrying a ladder, which helped a number of suspects up onto the roof of the bungalow.
They argued Mr Reynolds was involved in the "instigation and organisation", as well as throwing petrol bombs himself.
Defence solicitor Mr Corrigan took issue with the CCTV images presented.
"You cannot identify anyone from those photographs. There was not one positive identification in that video," he stated.
All four defendants were refused bail by Judge Watters due to the risk of further offences and their cases was adjourned to October 2.
Sign Up To Our Newsletter