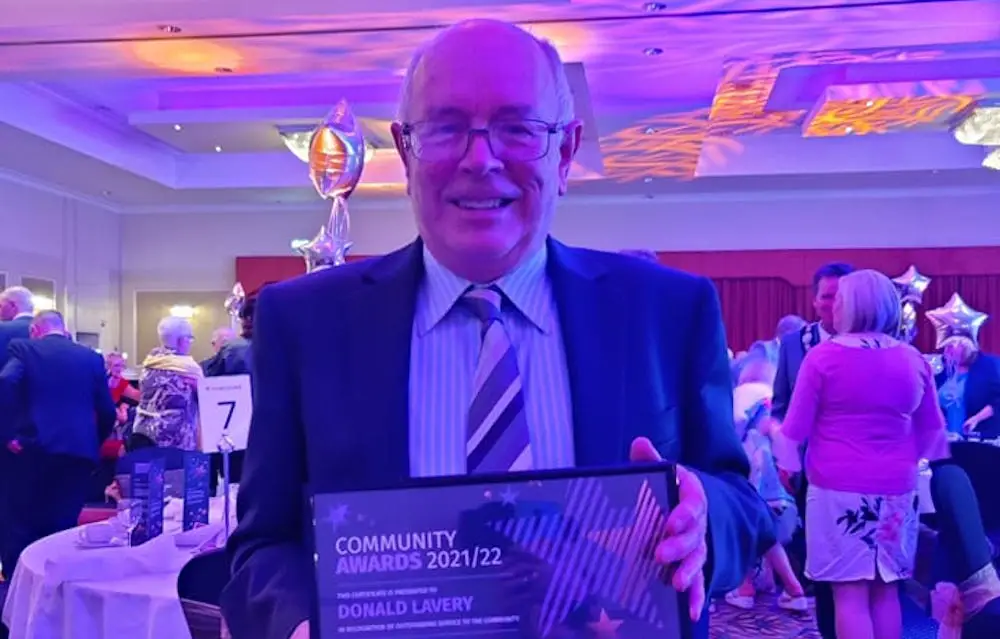 A "highly respected and esteemed" member of the Lurgan community, who passed away suddenly earlier this week, has been laid to rest.
Donald Lavery was the husband to the late Patricia and much loved father of Clare, Niamh, Helen, Naomi and Grace.
The 78-year-old died unexpectedly on Wednesday evening.
Addressing mourners at his Requiem Mass in St Peter's Church on Saturday morning, the parish priest spoke of Donald's death and how his family – in particular his daughters – were still in "grave shock" at the suddenness of his passing in his own home.
"There was no time for goodbyes or for farewells," he said. "His daughters, siblings and his grandchildren are all still in grave shock trying to cope with the suddenness of a much loved father, brother and grandfather's death, wondering, why so suddenly?"
While Donald was left devastated by the passing of his wife and "soulmate" Patricia in 2009, mourners heard how they had spent many happy years together.
Donald met Patricia McGee, from Edward Street in Lurgan, at rollerskating and they were married over in St. Paul's Church in 1972.
The early years of their marriage were spent in Manchester where they were blessed with the births of five daughters. Donald rejoiced in their marriages and the births of their seven children – his seven grandchildren.
Donald was a man of many talents, academically gifted, with many qualifications – two degrees in civil engineering from Trinity College in Dublin, and two Masters' degrees from Manchester University and Queen's in Belfast.
He became a lecturer in civil engineering in the University of Ulster and there he was well respected by fellow staff members but especially by the students.
Donald was a keen cyclist, and was very proud that he was able to combine separate cycling authorities into one cohesive organisation, the Federation of Irish cyclists. He was currently writing a book on local cycling.
His musical interests was a key part of his life as he was a founding member of Clanbrassil Comhaltas Lurgan branch and dedicated over 26 years to making it the success it is.
Comhaltas Clanbrassil Lurgan, in paying their own tribute, said: "His enthusiasm and dedication to traditional music, traditional singing and Irish language was inspirational. He was an exceptional leader, an absolute gentleman and he has left a lasting legacy."
Donald also enjoyed unusual achievements, one being the fact he went rollerskating on the nearby M1 motorway before it was officially opened. He also designed the Curly Wurly Bridge in Craigavon and also designed various family homes, which he was equally proud of.
He was very proud of his nomination for a Lifetime Achievement Award in 2021 from the local ABC Council – and that was one of the personal gifts brought forward at the beginning of Mass.
Donald served his local community very well indeed through his membership, for 30 years, of the Board of Governors of the nearby St. Teresa's Primary School.
Mourners heard how "Donald lived life to the full" being very strict on himself with a no smoking and no alcohol commitment throughout his 78 years of life.
"He was a confidant of many people, emphasising the high esteem in which he was held. He was particularly close to his daughters, visiting them on a rota basis for his dinner each day. They'll all greatly miss his company, his friendship, and his advice and his encouragement of them in their own careers."
Donald was a very public dynamic person, though effectively in a way he was still a very private person.
"He had an uncanny sense of being able to deal with crisis in a calm and reasoned way."
Donald was laid to rest in St Colman's Cemetery afterwards. May he Rest in Peace.
Sign Up To Our Newsletter