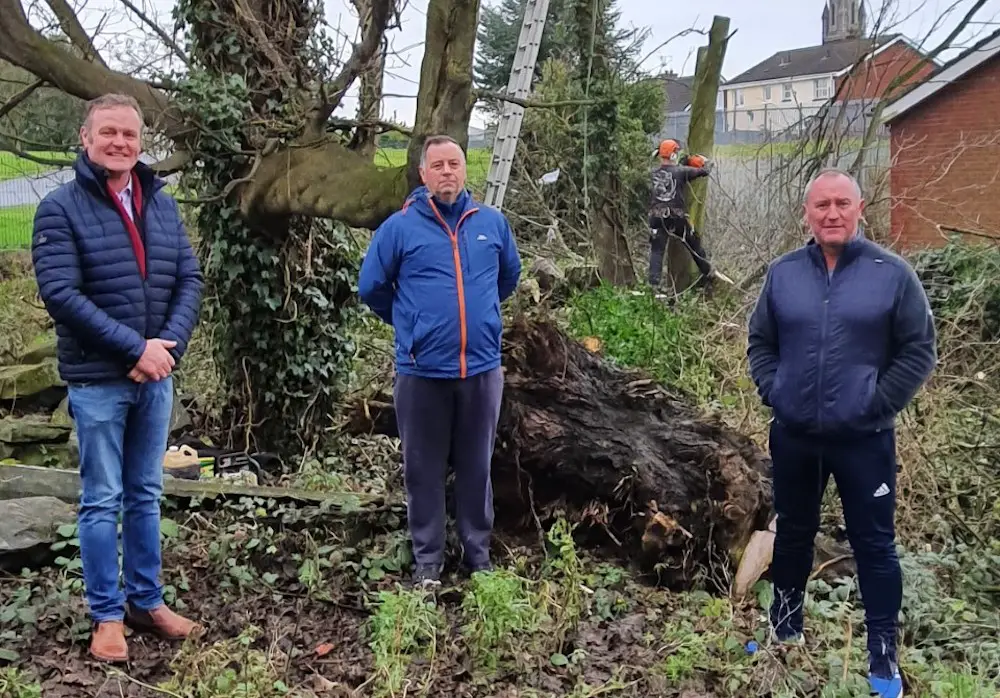 Residents of a Lurgan residential development can finally begin to see daylight thanks to a resolution with Brownlow House brought about by talks across the political – and literal – divide.
Large and overgrown trees in the Brownlow estate had been blocking the light for neighbouring residents in Oakleigh Heights for a number of years – a source of frustration for homeowners in that area.
However, SDLP councillor Declan McAlinden has applauded the Orange Order at Lurgan's Brownlow House for their continued cooperation to cut back tress.
Following years of working closely together, Councillor McAlinden says he has developed a good working relationship with Ulster Unionist Councillor Kyle Savage and Mr David Martin, manager of Brownlow House, and who representing the Orange Order, "agreed a way forward that meets the needs of both communities".
Councillor McAlinden said: "For many years, despite attempts to improve the situation by the owners of Brownlow House, facing and topping the trees at the boundary adjacent to Oakleigh Heights was only ever a temporary solution.
"In the Autumn of 2019, work began to restore the daylight to the residents' homes after Brownlow House agreed to cut back the trees. Unfortunately, the pandemic and the recommendation of not cutting tress during nesting season has put a delay to the completion of the job.
"Other political representatives were happy to take pictures and call for them to be removed, but we in the SDLP are happy to 'put our hand across the fence' to seek a resolution. We will not be caught sitting on our hands, we do it by embracing the politics of partnership and cooperation."
Councillor McAlinden added: "The task to accommodate our communities in all their difference and diversity falls to our generation of political leaders. That's our shared responsibility and we're committed to putting in the hard yards to make it happen.
"I want to express my thanks to both Councillor Savage, Mr David Martin and the committee of Brownlow House for their continued commitment on this issue and I hope to build on our good working relationship for the common good of everyone."
SDLP Lurgan Councillor Ciaran Toman commented on the building of good relations between the two communities.
"The cost of cutting the tress down fall at the expense of the landowner in Brownlow House and it could have had proved prohibitive but work is near completion," said Councillor Toman.
"This has been a generous gesture from Mr Martin and Brownlow House who are also keen to share the beauty of Brownlow House to the residents in North Lurgan and further afield.
"I personally would like to thank Brownlow House who have brought this process to a safe a satisfactory conclusion that serves the interests of everyone."
Sign Up To Our Newsletter