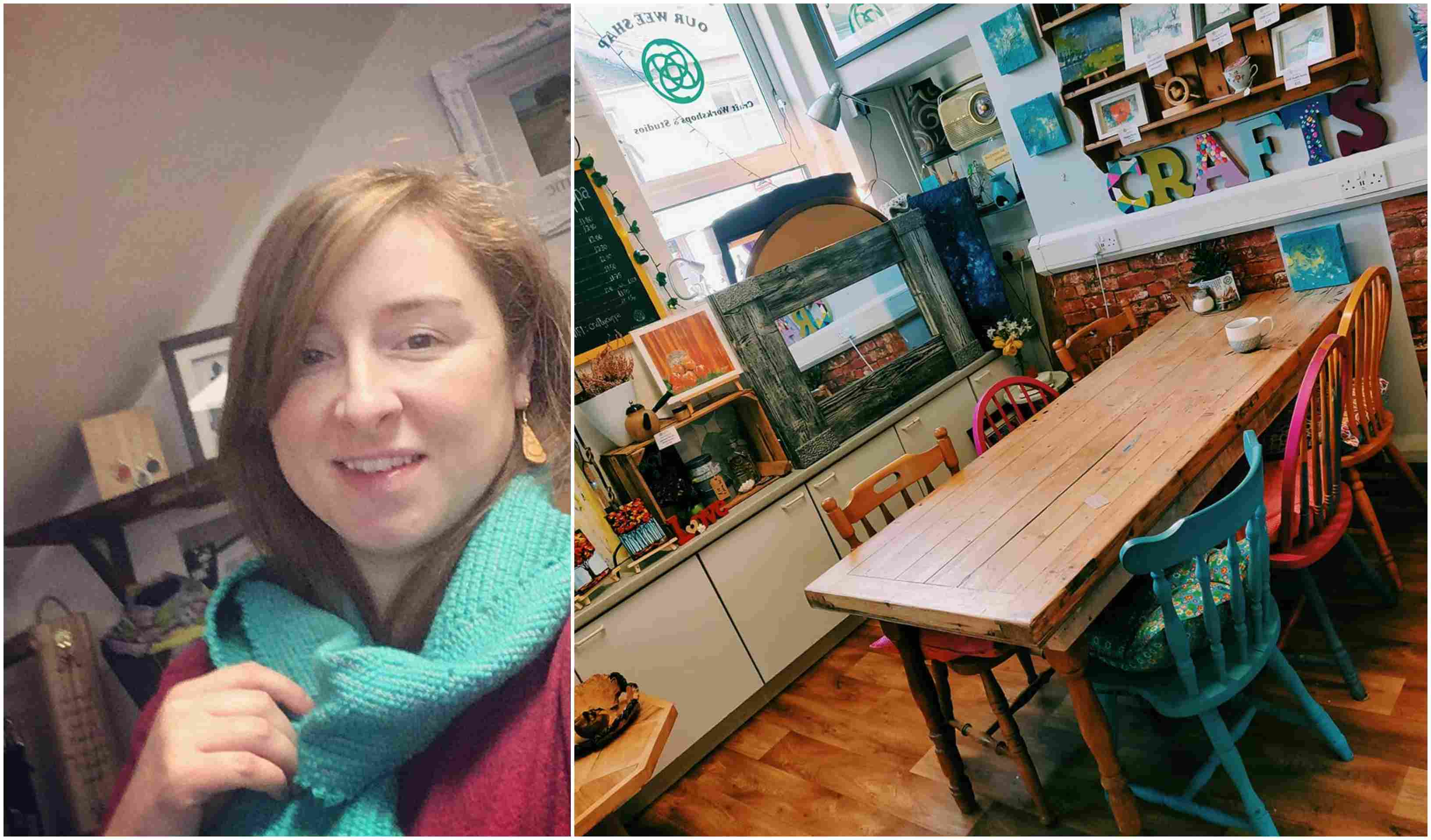 A Co Armagh business owner is attempting to bring some community spirit back to a town she calls home, through a small hand-made kitchen table.
Derrytrasna woman, Sinead McMahon, set up the non-profit Danann Crafts in Lurgan, just over three years ago.
The self-proclaimed and "proud country woman" says she has been saddened by the shift in culture, whereby "many of us are now living in a society where our neighbours are no longer our best friends".
So much so, it prompted the business owner to address the situation – ironically, on social media – a platform she says has it's positives, which are unfortunately coupled with it's crippling negatives.
"We live in a world where selfishness and inversion is celebrated on social media and we now do most of our communication behind a screen," she posted.
Her message is simple: let's getting talking again!
"We have always done this at the shop since I opened that part of the store in 2015," Sinead told Armagh I.
"It is just a chance for people to grab a tea or coffee and just sit, craft and chat."
The idea, however, wasn't wholly welcomed by all admitted Sinead.
"It put the fear of god into a lot of people they seemed to just come in and run back out," she said.
But that fear of sharing a table with complete strangers was what scared many people off.
"I don't get that at all," she added. "I am from a country area of Derrytrasna and I am a very proud country woman.
"In the country we are very community-orientated and it does exists in towns but unfortunately it's only in small niches.
"Back home I know whose door I can knock on if I want a chat and a cup of tea; in bigger towns you simply don't have that.
"I feel that Lurgan town itself isn't being supported in its own right, there doesn't seem to be anything coming in to boost the town.
"Whenever people arrive, they already have a negative idea of what the town is about."
Sinead says she wants to create that family feeling, around the kitchen table in the heart of Lurgan.
She explained: "I started telling people about what the table represents – it's the kitchen table, it's the family table.
"It is a chance to sit around with strangers and chat and it promotes good mental health and wellbeing, which is vitally important to anyone and everyone."
Sinead wasn't afraid to delve into her own experiences and said the kitchen table could mean you end up speaking to someone who has experienced something very similar to yourself.
"I suffered from post-natal depression it was very hard. I knew something wasn't right and I couldn't speak out.
"Fortunately my husband took me out for dinner and it was him who asked me, who pushed me to open up. It was only then that I finally got the help I needed."
Sinead, who began the business during pregnancy said "there is a lot more happening with people than what you can see from the outside".
The craft shop and café is a non-profit community interest company, which offers people the opportunity to come in and enjoy some crafts while having a few coffees and a tea.
And Sinead is urging people to take that person they think might be struggling and treat them, because as she herself experienced, it is at this time they might just open up.
"There has been very positive feedback we want to get it out there that the ethos of the entire business is about promoting the best in people and community spirit," said Sinead.
"Anyone from any background can come into the shop, they are not going to be judged."
The business also runs craft classes on a regular basis, something Sinead says is "amazing for mental health and relaxing".
"Some of the stories I could tell about the gifts or flowers we have received from people after one Friday night of Découpage changed them."
Despite the fact Sinead's table has "seen a lot of action" she is hoping there is much more to come.
Sinead is currently running a homeless appeal and is asking that any items that people wished to donate could be left with the shop on William Street.
This is certain to be a new spot for many, and an escape for some, so if you are feeling in need of comfort or just good old-fashioned company, just pop your head in the door and have a seat at the kitchen table.
Sign Up To Our Newsletter