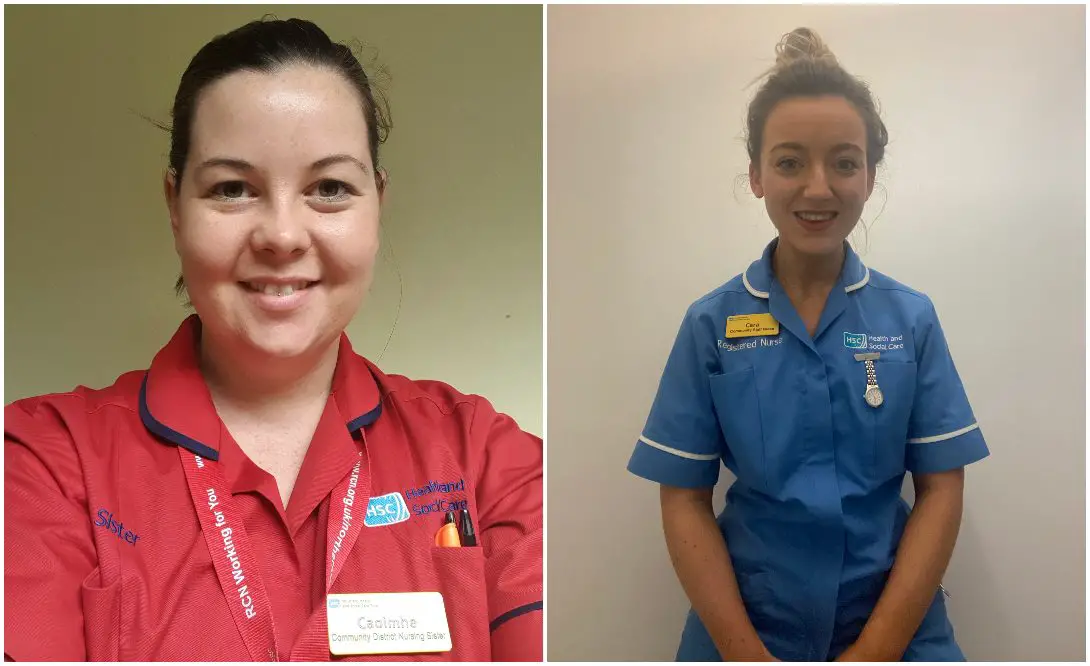 Christmas isn't going to be the same for anyone this year but for nurses working in the community it's almost business as usual.
Caoimhe Loughran (32) and Cara McCrory (24), both from Lurgan, will be working on Christmas Day for this first time this year.
Many of their patients will be spending the festivities alone, so it will be down to them to keep spirits high at the end of what has been a difficult 2020.
Have you worked Christmas day before? (If so what has it been like or if not what are expecting?)
"No I have never worked on Christmas Day. I expect it to have ups and down as our patients have a variety of nursing needs, including wound care and end of life care," said Caoimhe.
"Christmas can be a very emotional time for all especially those who live alone and we are an important element of support in their life for both nursing and social reasons."
This will also be a first for working at Christmas for Cara.
Obviously, Christmas Day is going to be very different for many of the patients, how are you going to
keep spirits high this year?
Caoimhe said: "Most patients enjoy the social aspect of our visit as well at the nursing care. This year we will continue to be a link to the outside world for our housebound patients. This can be a welcome distraction to many of our patients."
Cara stated: "I intend to bring some festive cheer to each and every one of my patients this year. Although it has been a difficult year, Christmas should still be celebrated. I intend to spend Christmas Day helping others who need it most."
Describe how it has been working through the pandemic?
Caoimhe has only recently returned from maternity leave and said: "My workplace is a very different place than when I left it nine months ago.
"My colleagues have faced many challenges during lock down which have enhanced the bond we have as a team and made us more resilient and adaptable to change. We will continue to meet these challenges and support each other on a daily basis".
Cara, who qualified just last year, said:  "It has been challenging but working through a pandemic has been an experience. I have a great team around me with great support which makes it easier."
In what has been a difficult year, are there any positives which you have been able to take from it?
"This year our District Nursing Team have come together to think of innovative ways to keep our patients safe," said Caoimhe.
"We have shared workloads with different teams to ensure that our patients are not exposed to too many visits from healthcare professionals. We have continued to be the eyes and ears of the GP surgeries and continue to be advocates for our patients."
Whilst Cara added: "I believe that working through this pandemic has definitely brought our team closer together. It has been challenging and we as a team have had to adapt to changes.
Changing how we work but reminding ourselves processes are a lot slower at present. Apart from this I believe that we all look out for each other whilst maintaining a safe working environment for our patients."
How do you feel about the reaction from members of the public to the work you have done?
Caoimhe commented: "District Nursing has often fallen under the radar as we are not as visible as other professions. The members of the public have been so appreciative of our visits even during the first initial lockdown.
Cara said: "I feel very proud to be able to carry out the work that we do, this again, wouldn't be without the help and support of my district nursing team. I feel the public are very complimentary and appreciative of the work that we carry out and this support really makes it all worthwhile."
What are your plans for Christmas, how will you be celebrating this year?
"As I am working Christmas Eve and Christmas Day I will be spending Boxing Day at home with my two children, playing with their toys and enjoying some quality family time," said Caoimhe.
Cara will be looking forward to spending the remainder of Christmas with her family.
Sign Up To Our Newsletter