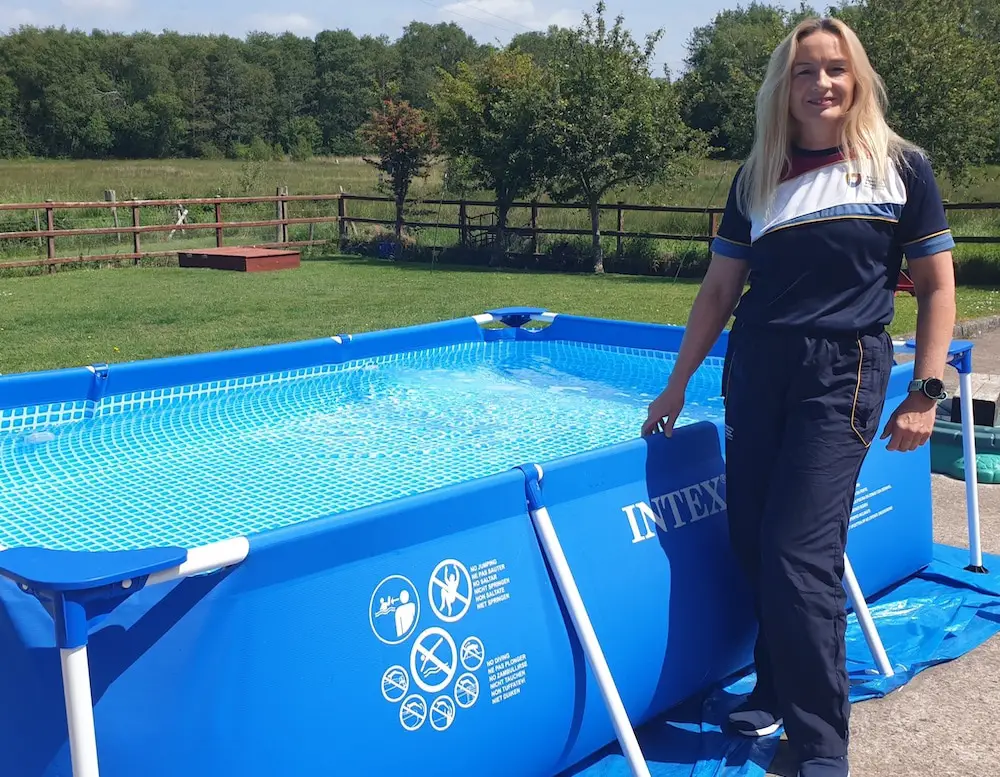 Two staff members from Armagh City, Banbridge and Craigavon Borough Council have helped raise over £2,000 for Lurgan Area Community Aid by swimming 3.1km in their back garden in the 'Lough Down Swim' fundraiser.
Cathy Devlin, Investing for Health Officer, and Dorothy Johnston, Casual Swimming Coach and Teacher at Waves Leisure Complex, are part of the Lough Neagh Dunkers – a group of very brave open water swimmers!
When one of their fellow dunkers organised a charity swim to help the local Lurgan community with support and food parcels during the current crisis, Cathy and Dorothy decided to rise to the challenge.
And, along with seven other friends, they set their sights on collectively swimming the length of Lough Neagh – 28km – in their own little pools, on a tether, in their back gardens.
This is no mean feat, as essentially you are hooked onto a rope or bungee and swimming on the spot, which means very tired arms and legs.
Both Cathy and Dorothy are extremely accomplished swimmers. Dorothy is one of council's Swim Camp coaches and teaches in Waves and over a period of more than 40 years has coached hundreds of children and adults. Cathy spends most of her spare time in a pool or in open water and describes swimming as her 'happy place'.
Cathy has also been coaching and teaching swimming for the last seven years with Lurgan Amateur Swimming Club at Waves, as well as organising food bank collections throughout council facilities before lockdown.
"When the idea to help out our local community came up we decided that, since we were both missing out on our usual swimming, this would be a great challenge to take on while also supporting such a worthwhile charity," explained Cathy.
"Swimming tethered in a little pool is hard as you are working against your body in a state of resistance and it takes a lot of commitment to keep going.
"Added to that is the fact that you are swimming in cold water – most of our back yard swims have been in temperatures of just 12 degrees, but we still loved it!
"We are delighted to have been able to contribute to the overall total and know that we are really helping local families during this difficult time."
There is still time to donate – check out this link for further details.
Sign Up To Our Newsletter