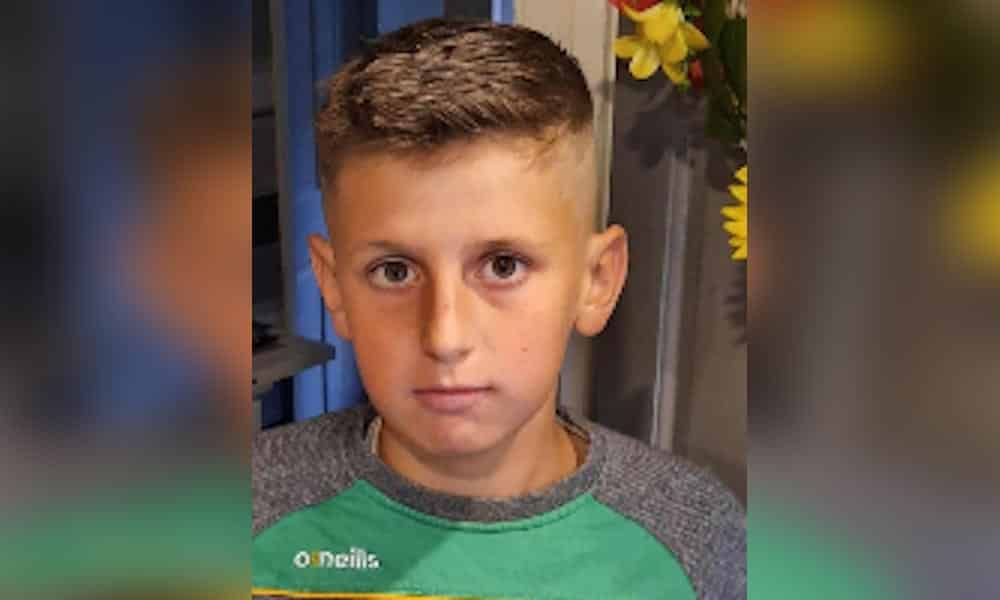 The heartbroken sister of Co Armagh schoolboy Caoimhín Mallon, who died tragically last Sunday, says her brother has not gone to heaven alone for "a part of me went with you".
Caoimhín Mallon, who was just 15, was laid to rest following Requiem Mass at St Paul's Church in Lurgan on Thursday morning.
Caoimhín's remains were carried in to the church – following a guard of honour from his St Paul's clubmates – to a beautiful rendition of Luke Kelly's Raglan Road.
Items which represented the much-loved youngster were presented at the altar by friends and family.
Among the items were a St Paul's jersey signed by all Caoimhín's friends; his grandfather was a founding member of the club.
A football was also presented as a symbol of his love of GAA and soccer. A Liverpool flag that hung with pride of place in his bedroom was also offered up.
A bar of Cadbury's chocolate was also placed. Mourners heard how he loved chocolate and "not only did he eat it but he dreamt about it". An Armagh jersey and Liverpool scarf were also offered up.
His grief-stricken sister, Saoirse, showed immense courage in addressing mourners to speak with so much love and affection for "my wee brother, my wee man, my best friend".
She spoke of his "big cheeky smile" and of a brother who was "always joking around".
"I remember crying to my teachers in school that I wanted a baby brother or sister and mum says they were never so glad to see her walk down the school gates with a pram. Ever since then I have adored you, I have taken you under my wing and tried my best to keep you on the right path and show you all the things in life.
"It's going to be hard coming into the house and the first thing I ask is 'where's Caoimhín?', and going up to your room and sitting with you and messing about.
"We have been through so much together and have always been there for each other. There wasn't a day when we weren't winding each other up and when we got hyper it was a dangerous game. It even got to the point where you let me shave your eyebrows off and when you were younger you used to let me dress you up as a girl and put makeup and false tan on you.
"You never, ever failed to make me laugh. You would have done anything I told you to. I'm going to miss running about on the weekends – as much as I hated it at the time – looking for you and you always trying to hide on me but I always ended up finding you one way or another."
Saoirse recalled the time she got to take her little brother to a concert in Belfast and how he "had the best time dancing away and having the craic but then of course we missed the last train home and dad had to come up and get us".
She spoke of his status as the golden child who got anything he wanted from besotted parents who were well and truly wrapped around his little finger.
"It has been the hardest thing to lose you, you meant so much to me, but you're in my heart and that's where you'll always be. I know heaven called you but I wish you could have stayed. At least the memories of you will never, ever fade.
"I did not want to lose you but you did not go alone, because a part of me went with you when heaven called you home. So remember one thing, we're not far apart, you're with me in my memories and broken heart. With a smile on your face and pride on your chest, to the throne of heaven wearing the St Paul's crest."
Mum Donna had written a poem for Caoimhín back in 2016 for whenever he turned 18. Sadly, he never got to read it but it was read out in church.
"Ten little shoelaces wiping off dirty faces,
Now little boy, days have passed and you've grown up so fast,
But in my heart that little boy will never be far,
So on this blessed day there is much I want to say,
But above all I thank God for the boy that you are,
With a tender smile and twinkle in your eyes I wrap you in my arms and whisper this advice,
Be strong, be kind, be patient and in time you'll find out my son,
Be faithful and be true, show love in all you do,
Then you'll know just how you make your mother proud,
Your proud mother – love you Caoimhín xxx."
Caoimhín's older brother Dáire said he was "the best little brother anyone could ask for".
"He always had a smile on his face and he would laugh at all your jokes no matter how bad they were," he said. "Spending time with Caoimhín was like therapy, you always came away feeling better.
"Caoimhín had a heart as big as the world and empathy beyond his years."
Dáire spoke of his brother's passion for football, particularly Liverpool and Cliftonville.
"Last year him and our dad made the trip over to Anfield for his first game and on reflection I'm so happy he got to experience that in his life even if the game ended up being Liverpool's first home defeat in a year."
He told of Caoimhín's love of gaelic football; he was a huge fan of Armagh and his home club, St Paul's. He supported his teams everywhere, from the playing fields of Taghnevan to the Athletic Grounds and the whole way down to Croke Park.
"Caoimhín himself was a proud defender for St Paul's and we always got a great sense of pride watching him play on the pitch.
"Sadly Caoimhín's life was cut short far too soon but we can take great comfort in the fact that in his 15 years with us he experienced such immense love from his family and friends. His passing has had a profound impact upon our community."
He added: "I would to ask that you all hold the memories of Caoimhín close to your hearts and never be afraid to share them with us and each other. He will always be remembered for his bright spirit, infectious laughter and his unwavering love. His memory will live on in our hearts. Rest in Peace little brother, we love you. "
Caoimhín's remains were taken from the church to the words of the well-known Liverpool anthem, 'You'll Never Walk Alone'.
He was laid to rest in St Colman's Cemetery.
Caoimhín was a much-loved son of Donna and Jude and loving brother of Saoirse and Dáire, cherished Grandson of Pat and Philip Mallon and Marie Harvey and Joe Toman. May he Rest in Peace.
Sign Up To Our Newsletter