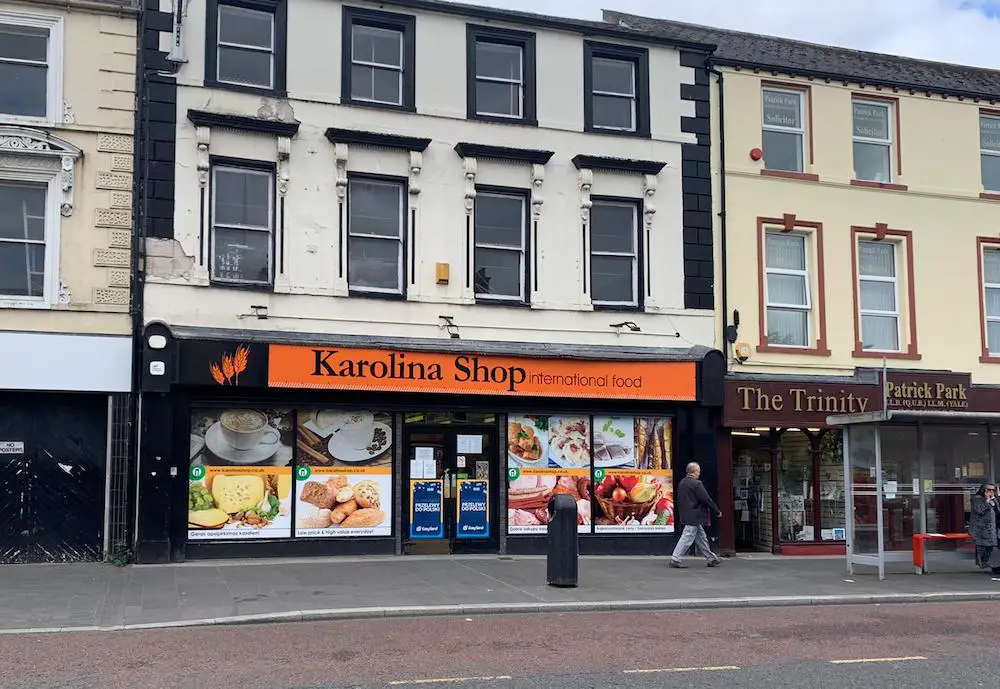 A new high-tech ticket vending machine for bus and train travel looks set to be installed on a footpath in Lurgan town centre – despite the objections of local business owners.
The TVM would be located outside number 19 Market Street in the town and would allow bus and rail passengers to buy their own tickets and top-up travel cards ahead of boarding.
But retailers fear a loss of trade and have objected on various grounds including the potential to obscure their premises and the safety and security of staff.
They are warning of the implications it will have on their trade – after difficult times for most – and say "anything that might contribute to further hardship should, where possible, be avoided".
Translink is behind the plans to locate the new machine, offering touch-screen technology, on a concrete plinth set into the footpath and next to the bus shelters in Lurgan town centre.
Three of these TVMs – Ticketing Vending Machines – were installed in Belfast late last year.
At the same time, NI Transport Holding Company lodged a planning application with Armagh City, Banbridge and Craigavon Borough Council to site one in Lurgan town centre.
And now that application is to be recommended for approval at the next planning committee.
The proposal is that it be placed "within the footway, in-line with existing street furniture and a minimum of 450mm from the kerb edge".
The TVM would be set into a concrete base and have a shelter to protect customers using it, as well as CCTV installed too.
According to the applicant, the TVM is part of its 'Translink Future Ticketing System'.
This, it says, will represent "a new era" which will "provide customers with better integration, flexibility and convenience when buying and using tickets for Translink services".
According to Translink: "Following extensive research and consultation, Translink Future Ticketing System (TFTS) has been carefully developed to transform our passenger journey experience, meet changing customer needs and attract more people on board bus and rail services."
It says it will "simplify ticketing for our customers and reward regular passengers".
Customers would also to able to use coins or notes, and contact and contactless credit/debit cards would be accepted. It would enable them to top up smartcards, buy paper tickets and collect and print out tickets bought online.
While the new technology has been aimed at reducing queues and leading to a more efficient business for Translink, shop owners at Market Street have warned of the potential impact it will have upon them and their business.
And they have urged the ABC Council not to give the go-ahead.
Martin McEvoy, who owns number 19 Market Street, which is trading as the Karolina shop, wrote to the council to say he welcomed Translink's efforts to encourage greater use of public transport.
But he added: "I am concerned that it will block our shop front and reduce the level of daylight we are getting.
"This is not the right or best site for the TMV. It would be much better moved further along the street to the bank or other premises that does not rely on its shop front to generate business.
"Retail is very dependent on having an attractive shop front/facia to display our product, inform passersby of what is on offer and to encourage customers to come in.
"At this difficult time due to the pandemic and retail just starting to get going again we do not need anything that would make this task any more difficult.
"I ask you to not site it here and to identify alternative sites."
Similar views were voiced by Mr McEvoy's neighbour, The Trinity, a local gift shop trading at 17 Market Street.
It too has written to council to object, citing various reasons why it is felt the application should be refused, and saying: "I have traded at this location since 2005 and have worked hard as a sole trader to build up my business throughout good times and bad."
The Trinity says it will "obscure" its window display and name; reduce the "level of ambient light entering the premises"; give "limited visibility" to the shop interior, which could have "implications for staff, mainly female, whilst working alone; this is especially relevant in the event of a threatening situation or criminal activity occurring within the shop".
It says the proximity of the TVM to the shop could "affect the space available" to people entering and leaving the shop.
And there are concerns too for deliveries, with the letter of objection explaining: "A double recessed bus stop and bus waiting areas runs along the front of the shop, making this side of the street a no parking zone.
"The proposed siting of the TVM and its ancillary equipment is likely to impede access to delivery drivers who have a  very limited time window in which to do their job. This may well create logistical difficulties and create potential for conflict with parking laws."
In concluding – and asking for alternative locations to be looked at away from "conventional retail" outlets – the Trinity adds: "The points that I have made are predicated mainly on potential loss of business and security and safety of staff.
"I hold firmly to the view that, after a difficult year for most small businesses, anything that might contribute to further hardship should, where possible, be avoided."
Planners, who have been considering the application since it was submitted last year, are set to recommend that it be approved.
That, however, will be down to the councillors sitting on the planning committee, as it will be they who have the ultimate say on whether or not Translink can press ahead.
Sign Up To Our Newsletter