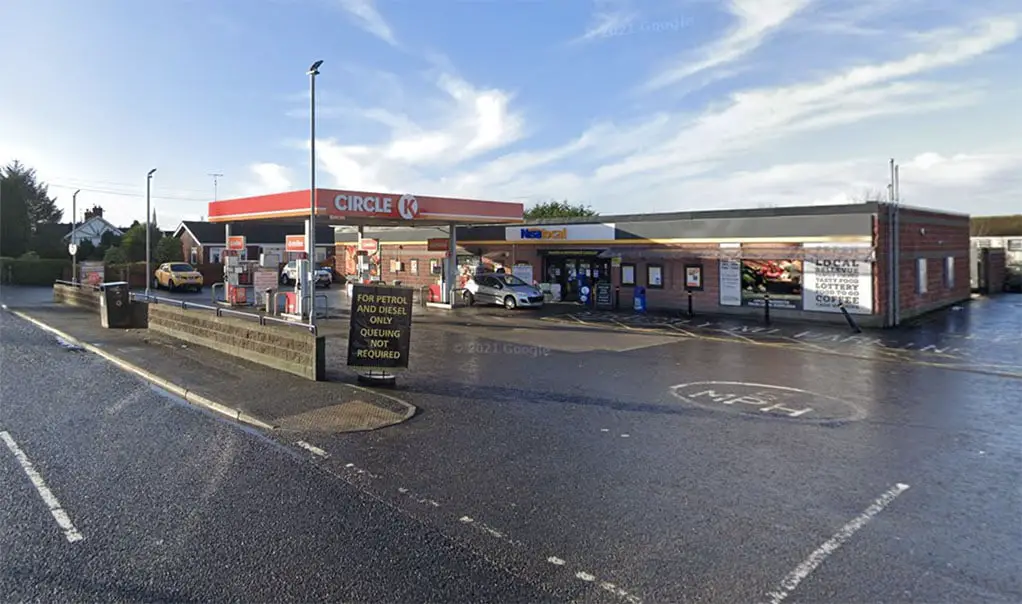 An alleged armed robber should have looked before he leapt as he broke his ankle trying to escape, a court heard today (Saturday).
Audibly groaning in agony and using crutches to manoeuvre himself into a seat as he appeared at Lisburn Magistrates' Court by videolink from police custody, 28-year-old Michael Evans was charged with two offences arising from the incident at Bellevue filling station on Friday.
Evans, from Drumnamoe Gardens in Lurgan, was charged with robbing £706 from the Antrim Road filling station and causing criminal damage inside it.
A prosecuting lawyer told the court how a man wearing a balaclava and wielding a hammer entered the shop and threatened staff to open the till, smashing a perspex screen before running behind the counter to smash the till open.
The robber ran out the back and jumped over a fence but the lawyer described how "there is a significant drop" as the ground runs down to a railway track and that is where police found and arrested him.
Close-by, officers recovered £705 in notes along with a pound coin and the clothing he was wearing matched the clothing from the masked robber.
She told the court police were objecting to Evans being freed on bail due to concerns that he would commit further offences or interfere with witnesses Further offences and witness interference.
"Given the time of day he showed a complete disregard for the public," said the lawyer who revealed that cctv footage, and other footage which has appeared on social media, shows a small child leaving the shop as the robber entered.
Defence solicitor Chris Logue conceded that "obviously it's a serious case" but that the thrust of his bail application was on a "humanitarian" basis.
"He can't walk so it would be physically impossible for him to commit further offences," said the lawyer who revealed that Evans had a hospital appointment this Thursday "as they have all sorts of surgery to do to sort this mess of a leg out."
"If he is in prison he would be in isolation so I have no idea what would happen to that appointment," submitted Mr Logue.
"The words that come to my mind," said District Judge Eamon King, "is have your ever heard the expression look before you leap?"
Refusing bail due to the risk of further offences and witness interference and adjourning the case to 13 August, the judge said "I don't know what medical consequences are but that's something he should've considered before embarking on this enterprise."
Sign Up To Our Newsletter