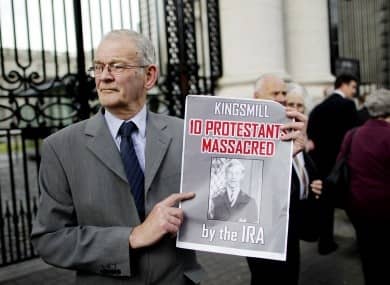 An inquest into the massacre of 10 Protestant workers attack in county Armagh village of Kingsmills in 1976 has reopened.
Mr Kennedy said: "I very much welcome the formal re-opening of the Coroner's Inquest into the Kingsmills Massacre and I attended the event this morning in support of the relatives, friends, campaigners and the sole survivor Mr Alan Black.
"I was encouraged by the remarks of the Coroner, Mr John Leckey and his willingness to try to ensure this process is expedited as quickly as possible, given that it is 38 long years since this dreadful atrocity took place.
"I hope all possible information will be made available to the Coroner to enable him to bring forward a finding as quickly as possible."
"It is always important to remember that, as the HET Report concluded, the IRA was responsible for the slaughter of the 10 innocent Protestant workmen at Kingsmills, and Republicans must never be allowed to change that fact."
Join Our WhatsApp
Don't miss a headline with a daily round-up as well as major breaking news. Message 'News' to 07938050001.