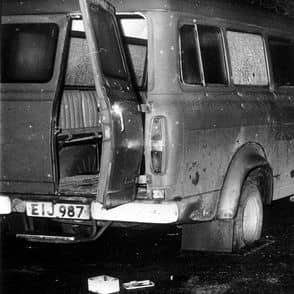 Ulster Unionist MLA Danny Kennedy has spoken of "significant progress" following Thursday's visit to Bessbrook by Taoiseach Enda Kenny to meet with the relatives of the victims of the Kingsmills massacre.
Mr Kennedy, who represents Newry and Armagh and who has been a staunch supporter of the Kingsmills relatives in their campaign for justice, said: "Today saw a very constructive meeting between the relatives of the victims of the Kingsmills atrocity and the Taoiseach Enda Kenny.
"The assurances which the Taoiseach gave families and public representatives in private session were repeated in his public comments.
"The Irish government will share all relevant documentation in relation to the Kingsmills atrocity with the Northern Ireland Coroner. There was also a wider commitment in relation to other atrocities committed in the Border area over the years.
"The initial batch of papers is being prepared for the Northern Ireland Coroner to inspect and if necessary, a visit to Dublin will be facilitated to inspect papers there. This was warmly welcomed by the victims' families who wish to see progress as quickly as possible.
"I am pleased that the Taoiseach visited Bessbrook in south Armagh to inform the families directly.
"After 39 long years there is a belief that very significant progress has been made in the quest to obtain maximum justice for the 10 men who were so cruelly and brutally murdered on 5th January 1976 and who have never been forgotten."
Read more news:
Armagh gain promotion after battling win against Louth
Man who died when tree fell on minibus is named
British Heart Foundation confirms city shop closure to Armagh I
Co Armagh churches get share of £30 million repairs fund
Broadband works in rural county Armagh 'eight months behind schedule'
Sign Up To Our Newsletter
Sign up to our newsletter for major breaking news stories as they happen – right to your inbox.