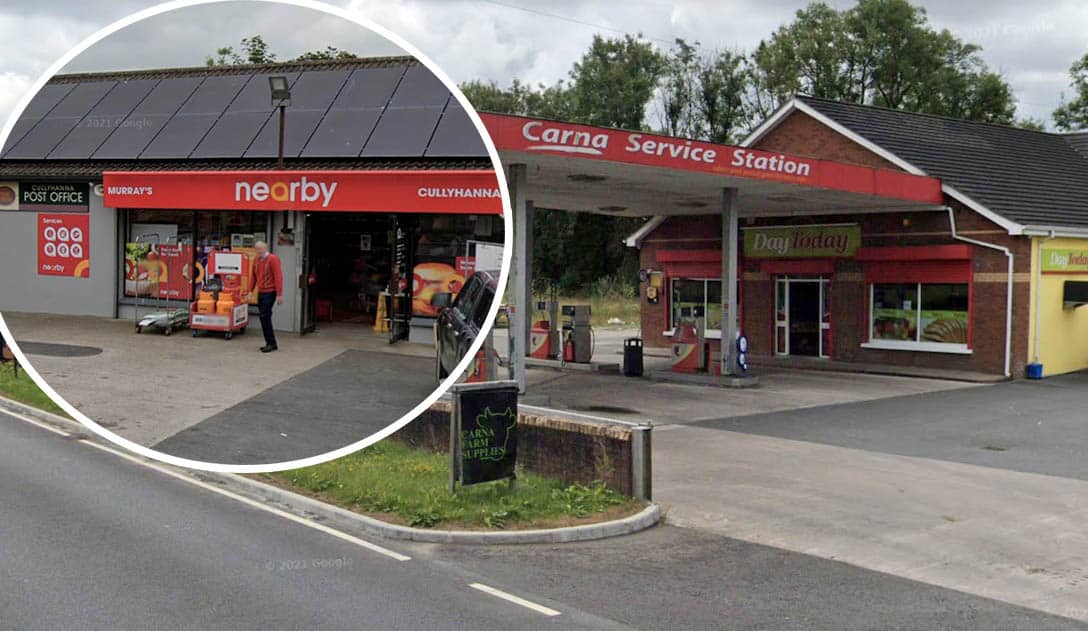 A Jonesborough man accused of robbing a service station in Keady and attempting to rob a Post Office in Cullyhanna has been refused bail.
Objecting to the release of Finbar Stephen Maguire, of Bay View, a detective constable told Newry Magistrates' Court that he believed the 33-year-old "owes a significant amount of money" and that "this is putting pressure on him to commit these offences".
Maguire, who appeared via videolink from Banbridge Custody Suite on Wednesday, faces multiple charges including: two counts of robbery; attempted robbery; and two counts of possession of a firearm with intent.
The court heard that on October 5, a masked man entered Cullyhanna Post Office wielding a firearm and demanding cash. He was chased off by the shop owner, leaving the premises empty handed, before driving off in a black Mercedes bearing a false registration plate.
On Tuesday, October 11, at approximately 7.30pm, a black Mercedes arrived at Carna Service Station along the Castleblayney Road in Keady.
This time, two masked men entered the store – one with a handgun and one with a wheelbrace. Working in the shop alone was a 16-year-old shop assistant. They demanded money from her before leaving with approximately £100-200 pounds in cash. The till had been cashed up for the day.
Within half an hour of that, again a black Mercedes, bearing a false registration plate, turned up to the XL shop in Hackballscross.
Two men entered – one wielding a firearm, the other wielding what was described as a metal bar – demanding cash.
They got approximately 100-200 euros and left.
Following a number of police inquiries the defendant was subsequently arrested.
The detective constable told the court that Maguire was linked to the offences "in terms of CCTV footage" adding that there was audio footage from the robbery in the Republic of Ireland, in which "one robber referred to the [other] robber as Finbar".
He added: "When the defendant was arrested, he was wearing the same trainers that were seen on the footage from the robberies in both Keady and Hackballscross."
Police have recovered the vehicle they believe to have been used in these robberies.
The detective told the court that on October 11, after the robberies in Keady and Hackballscross, the vehicle suspected of being used was seen parked outside the defendant's house.
"From footage of the robberies in Keady and Hackballscross the gunman was wearing a distinctive black Superdry hoodie with orange writing," he added.
"Police have footage of the vehicle in the Damolly Retail Park [in Newry] several hours before these robberies on the 11th with a male in the passenger seat wearing a distinctive black Superdry hoodie with orange writing.
"In the footage, that male carrying out the robberies matches the height and build of the defendant, and is referred to by the other suspect as Finbar. There's audio footage of him saying 'let's go Finbar'. At the time of his arrest, he was still wearing the trainers that were used in those robberies and have been seized by police."
The court also heard how Maguire has 39 previous convictions on his record.
The detective added: "We have not yet recovered the firearm which has been used and this presents, for us, an unsatisfactory risk to the general public.
"We're in receipt of information that the defendant owes a significant amount of money. We believe that this is putting pressure on him to commit these offences and is currently on bail for drugs offences, which is relevant to what we believe to be the debt that he owes.
"In terms of failure to surrender previously, there's eight previous bench warrants and the most recent is in May of this year. We believe he was evading us."
The detective said he had personally made several attempts to arrest him at his home and recently searched his house with a TSG unit but did not find him.
Maguire's defence solicitor, in putting forward an application for bail, contested that his client has made attempts to arrange police interview but to no avail.
He noted that, despite the 39 previous convictions, there was nothing relevant which involved robberies or firearms.
Questioning the detective, the defence solicitor said: "…a person came into the Post Office and you believe it is not Mr. Maguire; you're saying that, outside there was a Mercedes vehicle and you say that you believe Mr. Maguire was the driver of that."
The detective confirmed this to be the case.
The defence added: "There is absolutely nothing to connect [Maguire] to Cullyhanna Post Office apart from the fact that you say that he is in some way tangentially connected to that vehicle. So, you accept he wasn't in the Post Office. You think he might have been outside the Post Office. There's no evidence that he was anywhere near the Post Office as things stand today."
Adding that the "reason that you brought that charge [robberies in Keady and Hackballscross] was because someone said the name Finbar. I haven't looked up how many Finbars are in this area."
He also argued that the clothing was not uncommon.
"This is an application to remand someone on the thinnest of evidence, because there actually is no evidence that could satisfy the court that this man should be remanded."
District Judge Eamon King, in refusing bail, said: "The court is satisfied that the defendant can be connected to these offences; that the investigation is at an early stage and that will take its course. Bail is refused for the risk of further offences, failure to turn up, and interference with witnesses."
Maguire is due back in Armagh Magistrates' Court on November 22.
Sign Up To Our Newsletter