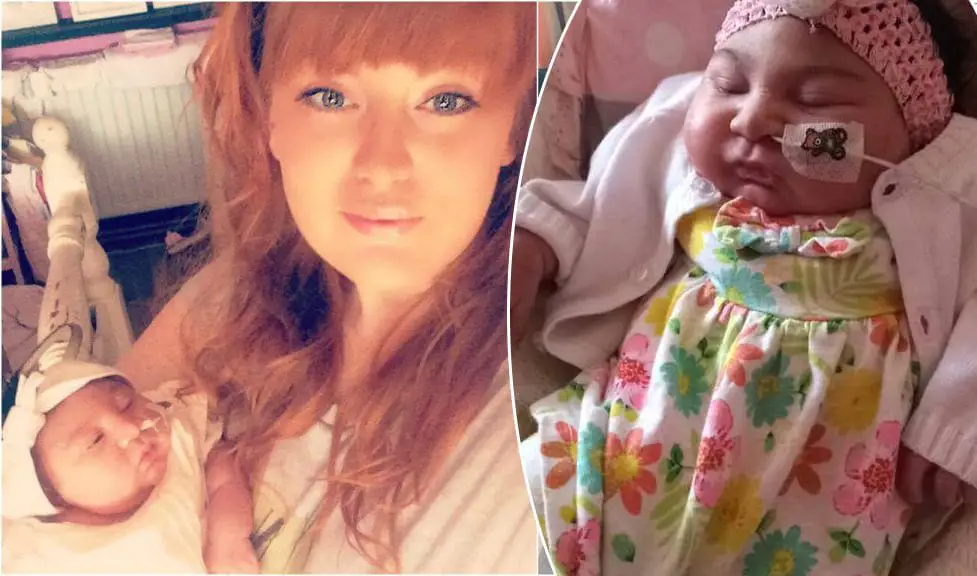 A Keady couple touched by the plight of baby May Rose Gibney have vowed to help raise money to send her overseas to seek specialist medical help.
Born with the rare brain condition, Encephalocele, doctors here have essentially said they are powerless to do anything.
Darren McNally and his girlfriend, Karen, who celebrated the birth of their own baby girl nine months ago, are asking the public to come out and support a five mile run or walk to go towards the costs of sending May Rose and mum Analee to Boston.
Analee, 24, originally from Newtownhamilton and now living outside Moy, told Armagh I she was living hour by hour. Doctors have told her May Rose had a limited chance of survival and it could be hours, days or months at the very best.
The first-time mother was handed the devastating news, that her baby had the brain condition, 20 weeks into her pregnancy.
May Rose – born on March 9 – has battled against the odds, defying doctors' opinions, and giving her mother the strength needed to fight on for her daughter.
Consultants in Belfast have ruled out surgery because of several complications along with May Rose's fragile condition, but Analee is determined to save her daughter.
She said: "I am adamant that more can be done, and I will continue to fight for my daughter. The funds that have been raised so far, will go towards getting second opinions on neurosurgery, and third opinions, if that's what it's going to take. I can't imagine my life without my daughter, I really am blessed to be her mother."
Analee has set-up a Go Fund Me page to help pay for additional appointments and help.
Now it is hoped to raise enough money to send Analee and May Rose to Boston to meet with specialists.
Darren and Karen had a baby girl nine months ago and they were moved to tears by May Rose's story, so much so that they knew they had to do something.
For that reason this special fundraiser will take place on Saturday, May 13 – and the couple want the public to come out and lend their support.
Darren, a local ABC councillor, said it had been Karen's idea.
He told Armagh I : "She first brought the story of little May Rose to my attention a number of weeks ago when she saw it on social media. Since then we were following developments.
"We remembered how happy we were at our 20 week scan and contrasted that with Analee's experince. We were absolutely heartbroken by a story that basically said, despite May Rose defying all the odds so far, there was nothing more doctors could really do for her.
"We quickly became aware that the family were trying to raise funds to get May Rose to Boston to see specialists.
"Karen turned to me and said: 'Everyone is sharing these Purple Hearts on social media in support but there doesn't seem to be anyone trying to run an event, can we not do something here in Keady for her?'
"So after a discussion we decided on a five mile walk / run as there is a history in Keady of locals coming out to show support for wee angels who have needed help in the past.
"We then sought the family's blessing and, after approaching the PSNI about a street collection and talking to the Parades Commission about a walk, we then decided on the date of May 13."
Darren is confident that local people will once again do all they can to help.
"We have been overwhelmed with the response and offers for help so far," he added. "We would like to ask everyone to turn out for the walk on the 13th to show support for this wee lady."
The event starts at 1pm, with registration at 11.45am in the Tommy Makem Centre.
Anyone willing to help out with the street collections can get in contact with Darren or Karen – your support would be much appreciated.
"This is only one event and will only go a small way to the grand total," said Darren. "The family need more people to organise events or donate to the Go Fund Me page (LINK AT BOTTOM) to reach their total."
Analee's best friend Therese Maguire is also having a bouncy castle in the Cally after the walk and holding a raffle also. She has sponsor sheets for anyone wanting to make donations that can't take part in the walk.

If you would like to help, please click on the link here.
Sign Up To Our Newsletter