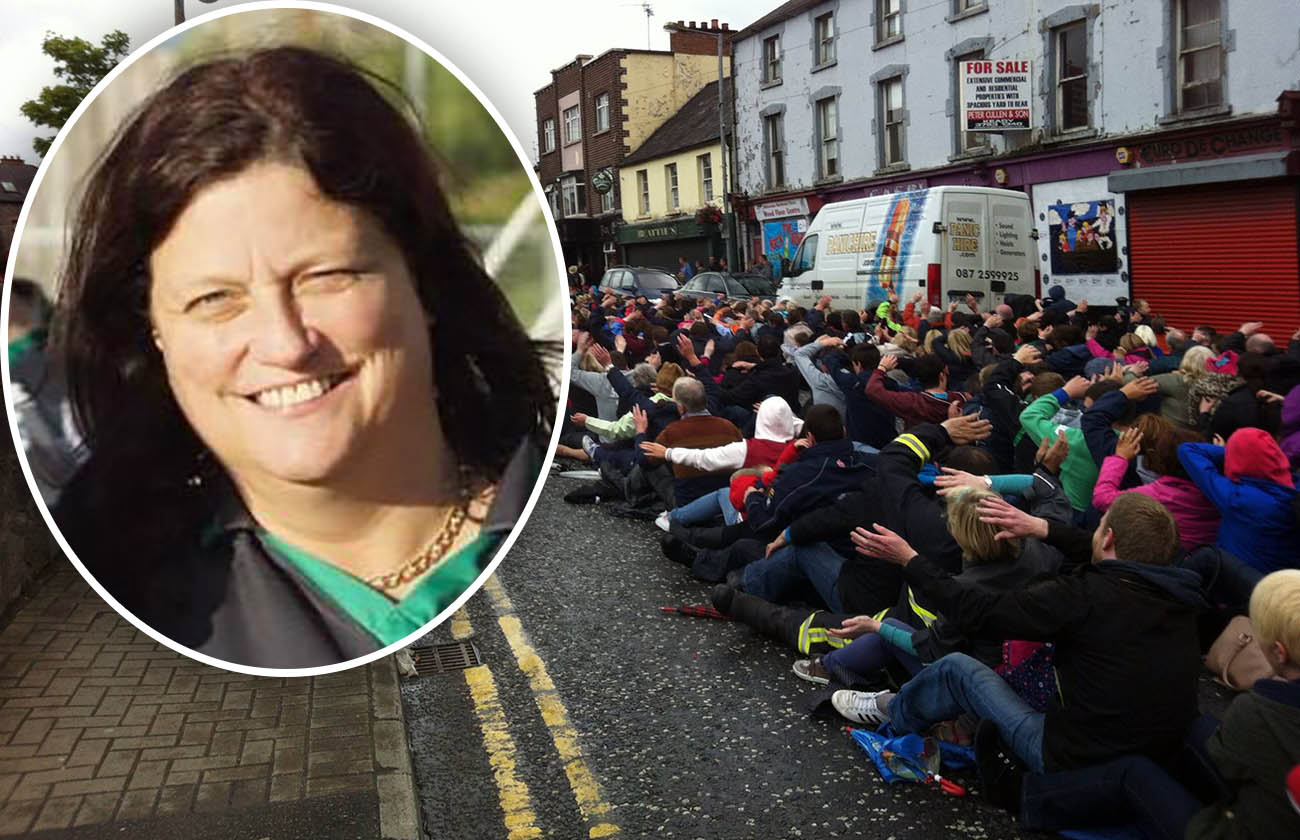 The family of an inspirational Keady woman who raised thousands of pounds over the years for charity are planning to keep her memory alive with another Guinness World Record attempt in the rown.
Breda McAtavey passed away peacefully at home in Keady following a brave battle with cancer last summer
She was well-known for her fundraising exploits and was the driving force behind the town's world-record 'Rock the Boat' in 2013.
A leading light in community relations, Breda's fundraising efforts were legendary, pulling together hundreds of people for her concert and fun day in Crossmore Green in 2012 – an event which ran from morning until night.
It was then she decided to go one bigger with the 'Rock the Boat' fundraiser where thousands lined the Main Street in Keady, smashing the previous record.
Her efforts were all in aid of Cancer Research, a charity close to her heart.
Now her family are preparing to keep her fundraising legacy alive by attempting to smash another World Record for a dance craze.
The Macarena will be the record of choice this time around.
Breda's daughter Eve reveals plans for the big event, to take place on Sunday, July 29.
She shared her idea on social media this evening and it has gone down a storm!
Eve described her mum as one known for many things… making people laugh, keeping foolishness in Keady town alive and above all finding a cure for cancer.
She said she and brother Ryan and sisters Amy and Mia had, with privilege, watched her put her heart and soul into raising money for the cause she cared most about.
"From the Walk in the Park to the Green Reunion, Rock the Boat, the Climb, the Blood Bank and everything in between, our Ma put every bit of her energy into helping cure this disease that sadly took every inch of her in the end," explained Eve.

"Like most things, she took it with humour and like a champion, and, as hard as it was to watch in the end, it was the only way she had to go, with so much strength and the people she loved by her side.
"With that, as most of you also know, she would be giving us a kick up the ass if she caught us moping around and not doing what Breda McAtavey did best in the face of grief.
So with her motley crew and nautical girls on stand-by we're ready to go again! Buoyed up by the success of 'Rock the Boat' we want to keep her enthusiasm for Cancer Research and the craic alive.
"This time with everyone's help, we want to break the Guinness World Record for the Macarena.
"The current record of the macarena stands at 2219 people, which we're hoping we will smash since over 2500 rocked the boat on a wet Sunday afternoon.
"We also want to do this on the weekend of Ma's Birthday – Sunday 29th July – to make the woman who deserves all of this very proud.
"As there isn't anyone else on this planet with the enthusiasm, passion or determination my Ma had, we would love the support from everyone in the town and beyond."
Sign Up To Our Newsletter