Six-year-old Co Armagh boy Blake McCaughey is a lively lad who lives life to the full.
Blake, who attends Ceara Special School in Lurgan, has won the hearts and admiration of all he meets.
The brave Portadown boy suffers from an undiagnosed neurological muscular disorder; he cannot swallow food or liquids into his stomach without aspirating into his lungs, causing pneumonia.
Despite this, the inspirational Blake, who is fed through a tube, has never given up. And nor has the community in Co Armagh and across Northern Ireland, who stepped up to the mark and raised the money necessary to buy Blake a special custom-made lightweight wheelchair to aid his mobility.
Numerous fundraisers, including a car wash, sponsored walk, quiz and 'jail and bail' event have been held and the goal was reached! Mum and dad Christine and Andrew, from Brae Lodge, were absolutely thrilled when the wheelchair was presented just before Christmas – the best gift of all.
The family – which includes devoted little sister Pixie – have been moved and are extremely grateful for all the generosity shown to them, as it has made such a huge difference to all of their lives.
They are also very thankful to the Make-A-Wish Foundation for giving their son smiles, laughs and memories to cherish.
Over the past two-and-a-half decades, the charity has granted more than 8,000 magical wishes to children and young people, aged between three and 17 years, who are fighting life-threatening conditions.
That very first wish was granted to Anthony, from Liverpool, who dreamed of travelling with his family to meet the larger-than-life Disney characters at Disney World in Florida.
And, like Anthony, Blake wished for the same – it is, after all, every young child's dream!
Thanks to Make-A-Wish, Blake has been able to live that dream, travelling to Disney World and savouring the sights, the spectacle and the excitement of this magical place.
The Liverpool-mad football fan also had the chance to meet one of his own biggest fans – Portrush golf ace Graeme McDowell, who gave him a tour of his Nona Blue Restaurant in Orlando!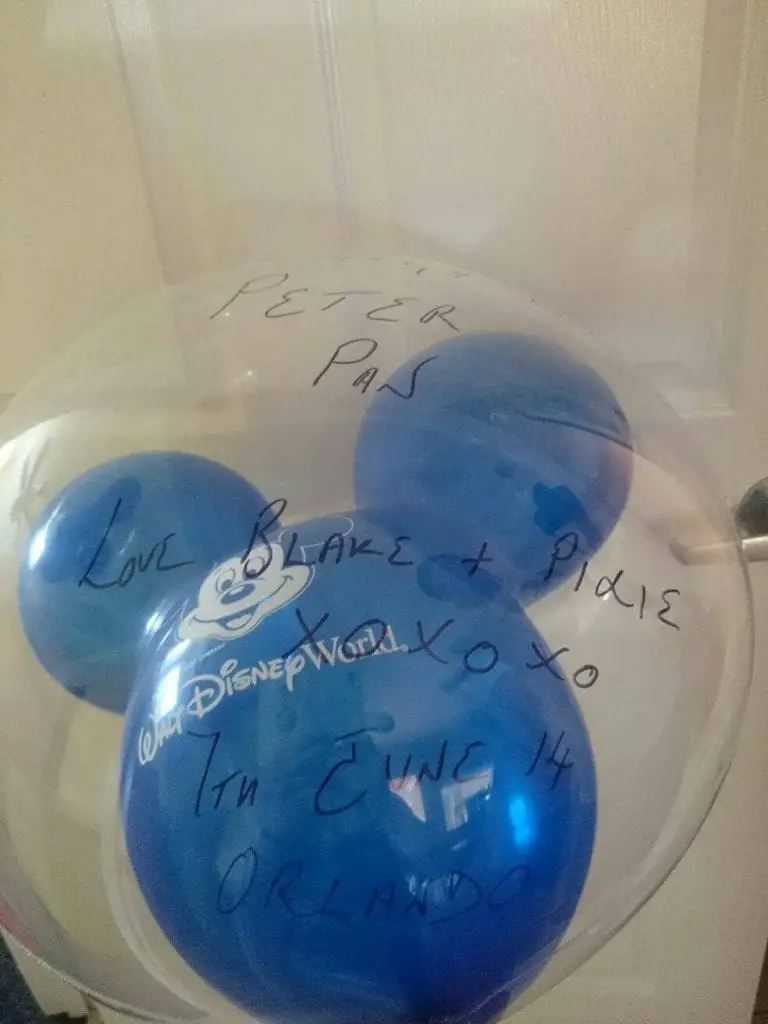 The fun and the fantastic was also tinged with poignancy on Saturday, as the McCaughey family paid their own special tribute to another amazing and inspirational young man – Oscar Knox.
Five-year-old Oscar, from Co Antrim, inspired countless numbers across the Province and right around the world during his brave battle with neuroblastoma, a rare form of cancer.
Devastatingly, Oscar died last month, his mum Leona telling mourners of her son's favourite movie 'Peter Pan' – all that it stood for and the comfort it brought.
There was no more fitting place than Disney World for the courageous schoolboy's tribute, as he released a Mickey Mouse shaped balloon in Oscar's memory. Written on it, in black marker, were the following words: 'Peter Pan. Love Blake + Pixie xoxoxo. 7th June 14. Orlando. #team Oscar fly high with Peter Pan Oscar xxxx'
A simple, but beautiful, gesture, from one amazing little man to another!
To keep updated with this story follow @BlakesWheels on Twitter and Blake's Wheelchair Fundraiser on Facebook
@Graeme_McDowell THANK YOU from a very grateful fan Blake McCaughey. Xx pic.twitter.com/bB0SNvqqhB

— Blakes Wheels (@BlakesWheels) August 29, 2013
Sign Up To Our Newsletter