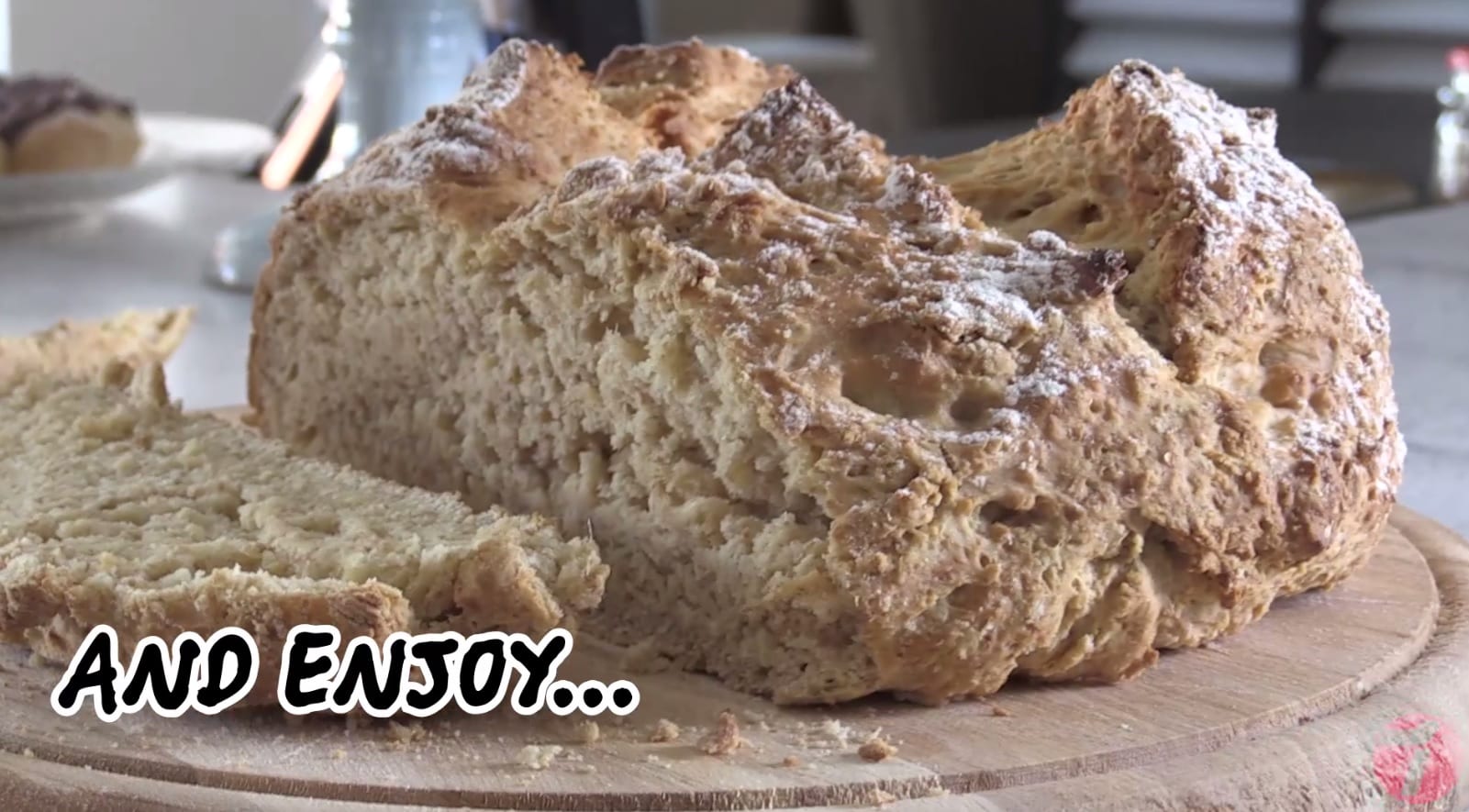 Unlike traditional bread, this one doesn't contain yeast. The raising agent is bicarbonate of soda, so there's no time to sit around waiting for it to rise, its pretty instant.
You'll need some very basic equipment, nothing you wouldn't normally have in the kitchen, and you don't need a bread tin (though you can use one if you prefer a more sliceable loaf).
***********
380g plain flour
120g wholemeal flour (you can use strong wholemeal if it is easier to find)
1tsp bicarbonate of soda
1tsp salt
1tbsp black treacle, or dark muscavado sugar
2 tbsp seeds of your choice  (optional)
40g rapeseed oil
380ml natural yoghurt or buttermilk. You can also use milk with a teaspoon of lemon, it will curdle the milk but that's fine
**********
Mix all the dry ingredients together in a large bowl with the treacle or muscovado sugar. Break up any clumps of sugar with your fingertips.
Add the rapeseed oil and mix again. Break it down roughly again with your fingertips.
Add the salt
Then add the yoghurt and mix it all together again stirring in with a butter knife. Then get your hands in and give a final mix to insure that they dry ingredients are all incorporated. Your hands will get messy, so be sure to have some water on hand to give them a quick rinse.
Flour your baking tray and empty the ball of dough on to it, using wet hands to shape the dough into a ball.
Dust the top of the loaf with a little more flour, and using a sharp knife cut 2 slashes in a cross across the top, going down about a third of the way.
Place in a pre-heated 200*c oven for around 35 minutes.  To check whether it is cooked, pick it up using an oven glove and tap the bottom, if it sounds hollow it is done. If not, pop it back in the oven for another 5 minutes and check again. Another tip to make sure that it is fully baked is to gently press into the cross that you have cut into the top. If it is soft give it another five minutes
Let it cool, and enjoy!
Soda Bread doesn't keep fresh for long and is best eaten within 24 hours but it does freeze well
Sign Up To Our Newsletter