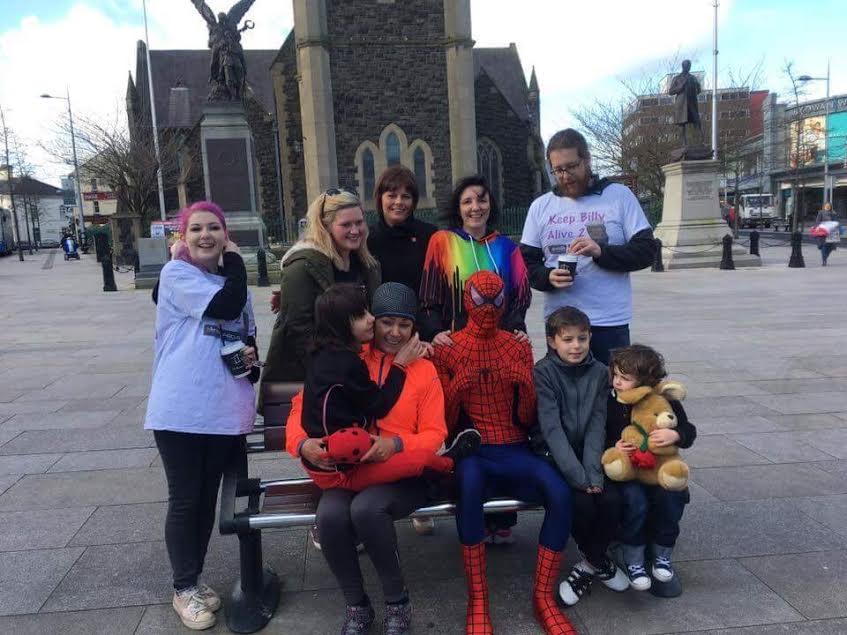 A campaign to give a Co Tyrone child access to life-saving medicinal cannabis has today (Wednesday) ended in success.
Billy Caldwell's mum Charlotte embarked upon a 150-mile trek, from Castlederg to the Royal Victoria Hospital in Belfast, to highlight their plight and denial to a drug they so desperately need.
They now hope for a law change here – passing a Bill in Billy's name – so that others may also benefit.
Billy, from Castlederg, suffers from epilepsy and the medicinal cannabis, which he has been provided in the United States, has meant he has been seizure-free.
But the family have been denied access to the drug here.
Eleven-year-old Billy accompanied his mum Charlotte, town to town, to raise awareness of their plight, travelling through Banbridge, Markethill, Portadown and onwards over the past few days.
Supporters met them in every stop along the way and it was that backing which helped them en route to keeping their appointment at the RVH this afternoon.
The hospital has now granted Green Light medicine the authotity to continue to prescribe to Billy the medicinal cannabis upon which his life depends.
The family had been living in the USA since last year to allow access to treatment.
But now they can come home for good, as permission has also been given for his medical care to be taken on over here, working in conjunction with the team in the United States which had been treating Billy.
Mum Charlotte is thrilled beyond belief and cannot thank everyone enough for their support.
She revealed the long road to success after the appointment this afternoon.
Charlotte confirmed: "History has been made. This is the first child in the whole of Ireland to get prescribed medicinal cannabis without licence. This opens the doors for other children like Billy who desperately need this medication.
"We will now be submitting 'Billy's Law' Medicinal Cannabis Bill, which has been drawn up with the help of clinicians and politicians, to Stormont, and we are pushing for it to be passed urgently to end the suffering of so many people in Northern Ireland."
Thanking supporters, she said it never would have happened without their help.
Added Charlotte: "Thank-you to each and every one of you for staying by our side during this long campaign. We are truly indebted to you all."
Sign Up To Our Newsletter