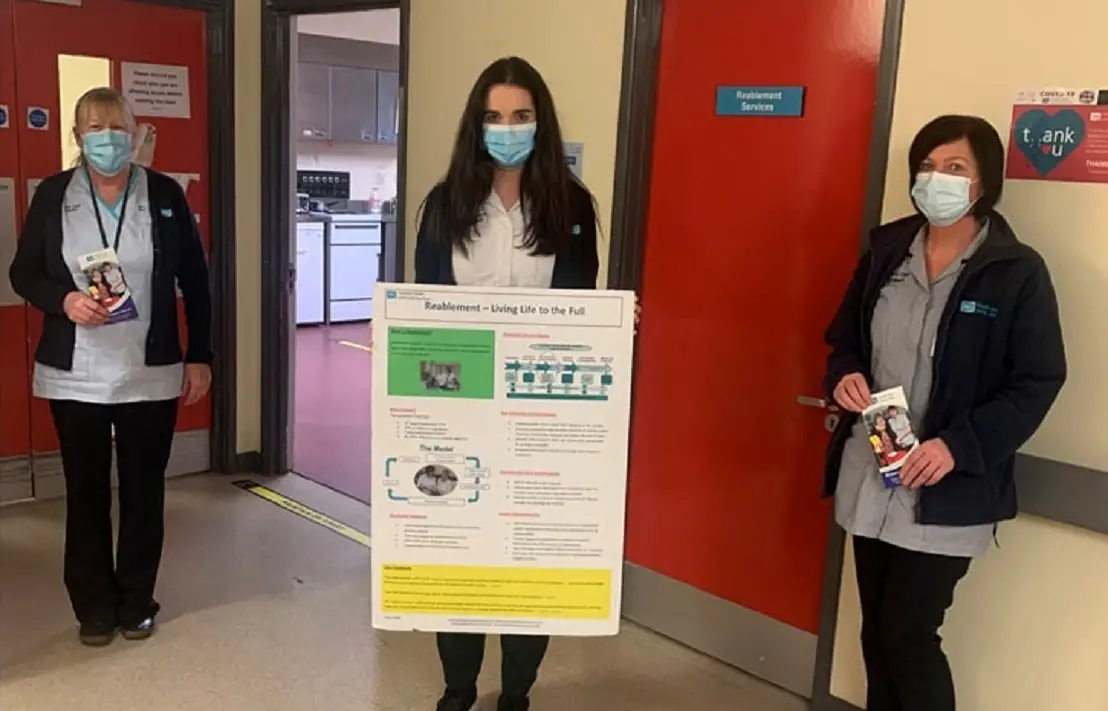 The Trust's Reablement team will be working throughout Christmas Day, helping those with little or family support.
For support workers Maureen Murney, Theresa Connolly and Shirley Sleator, along with Occupational Therapist, Maeve Harnett, it will be business as usual.
With the year we have all had, they will be making sure to go the extra mile to bring a smile to their patients' faces this festive season.
Have you worked Christmas Day before? (If so what has it been like or if not what are expecting?)
Maureen, who has indeed worked Christmas Day before, said: "I enjoy working Christmas as I get to spend time with our clients and see them getting ready to go and spend time with their families and listen to their own Christmas stories. It can be a lonely time for staff and clients."
Theresa has worked Christmas but not in this role; Shirley on the other hand has, and commented: "It's been rewarding helping clients who may have no family support or visitors."
Maeve worked Christmas last year and reflected: "It was busy for the Reablement Support Workers calling with clients who have little to no family support."
Obviously, Christmas Day is going to be very different for many of the patients, how are you going to keep spirits high this year?
"Always being positive and in good spirits and going that extra mile to make the person feel valued," said Maureen.
Theresa is going to be relying on a positive cheery attitude, whilst Shirley said: "I will be assuring our clients are in very capable safe hands and lifting their spirits."
Maeve said: "This year has been very difficult for both our clients and reablement support workers, with all the uncertainty regarding Covid-19.
"However, we try and make every contact with clients count and provide a positive experience for our clients at all calls, with an extra special effort around the festive period. Some clients have very limited family support so even calling at their homes and providing social contact can be very beneficial for client's health and wellbeing."
Describe how it has been working through the pandemic?
Looking back, Maureen said: "Not knowing what to expect but once the first Covid-19 home visit is completed and you are competent in donning your PPE, one becomes less anxious. PPE can be uncomfortable to wear but fortunately due to the nature of our job role we do not have to wear it for long periods."
Theresa stated: "It's been a difficult year for many but now with the vaccine being rolled out everyone can finally see a light at the end of the tunnel."
Meanwhile Shirley said: "It has been very different but you are more aware you are helping clients who are very frightened and need support. Plus it was nice to get all the support of the community."
Maeve added: "It has been very challenging with changes in staffing due to isolation or shielding and at times this has impacted the service, however everyone within the reablement service are very supportive and we all pull together and work as a team, and at the end of the day we are all empowered to do our bit to overcome the pandemic. There has been plenty of laughs along the way too."
In what has been a difficult year, are there any positives which you have been able to take from it?
Maureen commented: "Clients and the public were very supportive of our efforts."
And Theresa said: "It's been great to see the community come together and help each other."
For Shirley, it made her realise how important family, friends and clients and local community are to her.
Maeve said: "Within work it has been lovely to see how everyone across services pull together to support each other.
"I would say a main positive personally is getting to spend more time with my family and appreciate all the lovely nature spots we have on our doorstep."
How do you feel about the reaction from members of the public to the work you have done?
"I think that the public appreciate that the health service are providing such an excellent service," said Maureen.
Theresa and Shirley both commented that the support from the public had been positive and heartwarming for the most part.
Maeve added: "It has always been positive, within our service we aim to help increase clients independence and confidence in their homes. Clients and families are always so grateful for our input."
What are your plans for Christmas, how will you be celebrating this year?
For Maureen it will be a quiet one at home, whilst Shirley and Theresa will be looking forward to Christmas dinner with her family after her shift.
Shirley commented: "It will be very quiet compared to other years, but I am hopeful for a happy new year."
Maeve said: "I will be spending it with my family and I am very grateful for that."
Sign Up To Our Newsletter