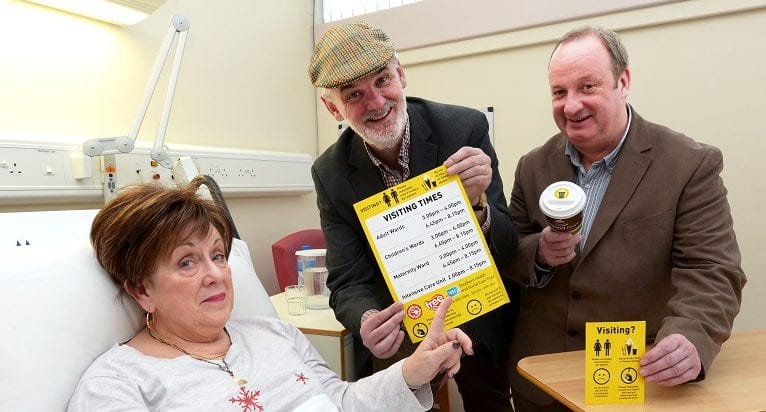 Stars from local comedy show 'Give my head peace' have teamed up with the Southern Health Trust to launch a new hospital visiting campaign.
'Ma' 'Da' and 'Cal' from the series feature in a short video designed to increase public understanding of hospital visiting rules and promote important safety messages on hospital wards.
The 'Respect our Rules' information campaign also uses eye-catching bright yellow signage in Trust hospitals as well as posters, information cards and stickers.
Trust Medical Director Dr Richard Wright explains why it is vital that hospital visiting rules are followed: "Visitors are always very welcome to our hospitals and having visitors can help with patient recovery and wellbeing. However patients in hospital are often more vulnerable to infection and that's why it's so important that visitors do not come if they (or anybody at home) have any symptoms that could be contagious like a cough, runny nose, rash, vomiting or diarrhoea. One cause of infection outbreaks on wards is visitors carrying infections in during visits.
"It is really important that everybody cleans their hands using soap and water, or alcohol hand rubs when they enter or leave a ward or other areas of the hospital.
"Sick patients often get tired very quickly and need plenty of time to rest and recuperate so the number of visitors each patient has should be restricted to a maximum of 2 at a time. Visitors can stagger their visits so they come at different times instead of coming all at once.
"We would urge all visitors to respect our visiting times to ensure that patients get the rest that is so important in their recovery and which also allows our staff enough time to provide important care and treatment.
"I would appeal to everyone, particularly as we move into the busy winter period when there are more bugs in the community, to please assist us in our continued drive against infection and in ensuring that patients receive the best possible care. You can really help us protect patient dignity, privacy and safety by respecting our simple visiting rules"
Dr Lorraine Doherty, Assistant Director of Public Health at the Public Health Agency also reminded people that the same rules apply when visiting people in nursing and residential homes or attending other healthcare facilities such as GP surgeries.
"It's not unusual to see an increase in the winter vomiting and diarrhoea virus at this time of year, so we are urging people to take extra care with hand hygiene and, if you have the illness, take simple steps to prevent the spread.
"It is very important that people who have symptoms do not visit hospitals, their GP surgery, or nursing and residential homes. We can all play our part in keeping it at bay and helping to protect more vulnerable people, to whom it can present a more serious risk."
Read more news:
Six people including two children escape injury in Craigavon shooting
Police investigating suspected shooting at Co Armagh house
First Minister confirms Armagh will host National Holocaust Memorial Day 2017
Shock and anger as three dogs found dumped in river
Norovirus forces Criagavon Hospital to cancel inpatient surgeries
Prisoner found dead at Maghaberry Prison; third in this month
Pensioner in her 80s left shaken after buglary targets Bessbrook home
Palace Park would be 'natural choice' for Pope to host open-air mass
Is Jamie Clarke poised to make another return to the Orchard County?
Sign Up To Our Newsletter