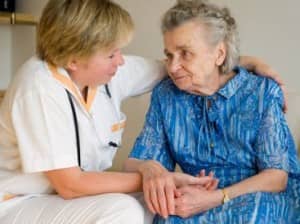 FEARS have been expressed that a month-long move to hand over local home help services to the private sector might become more permanent.
Private sector union NIPSA has warned that job losses could result from the decision taken by the local Southern Health Trust to feed out services during July.
But the Trust has said said staff will continue to commission appropriate care and no jobs will be lost as a result of these changes, which will be reviewed at the end of the month.
It said this would be irrespective of whether the package is delivered by independent or directly employed staff.
Alison Millar, from NIPSA, said union staff who had met with the Southern Trust had been told it was aimed at saving money.
But she added: "The reality of the situation is that once this happens we don't believe it will only be for the month of July. If this is a cost saving measure for the month of July then it will be a cost-saving measure going forward."
The union official said staff were concerned about job losses and the impact on the elderly and vulnerable older people.
Angela McVeigh, director of older people and primary care for the Trust, said the service is provided by either their own staff or by carers employed by a number of independent sector providers.
"During the month of July the Trust will be giving the first offer of new packages of care to the independent sector providers. If the independent sector providers are unable to take on the new package of care within an hour of being offered it, this will revert to trust domiciliary care services," she explained.
"The Trust will ensure individuals who are assessed as required domiciliary care services will continue to receive the service. Trust staff will continue to assess need and commission the appropriate care arrangements irrespective of whether the package will be delivered by independent or directly employed staff."
Newry and Armagh Sinn Féin MLA Mickey Brady said he was concerned at the handover. 
Mr Brady – a member of the Assembly's Health Committee – told Armagh I: "This is a concerning development in the Southern Trust and there is obviously a fear that this will not only be for the month of July.
"It is also a concern that this could be the future of domiciliary care, not only in the Southern Trust but in the Health Service as a whole.
"Sinn Féin have raised these very concerns about a privatisation agenda since Transforming Your Care was first published and we also raised these issues at a recent meeting with the Health and Social Care Trust.
"We have asked for a further meeting with the Chief Executive when we will be seeking clarification on the delivery of home help services." 
"Sinn Féin believes health services should be provided by the Health Service free at the point of delivery.
"Questions need to be asked if the private sector, operating as a business and driven by profits, is best placed to deliver these services and in the best interest of those in need of domiciliary care."
The move follows recent reports that a Meals on Wheels service was no longer to be made available after a company providing the service found cut backs had made it no longer financially viable.
Join Our WhatsApp
Don't miss a headline with a daily round-up as well as major breaking news. Message 'News' to 07938050001.