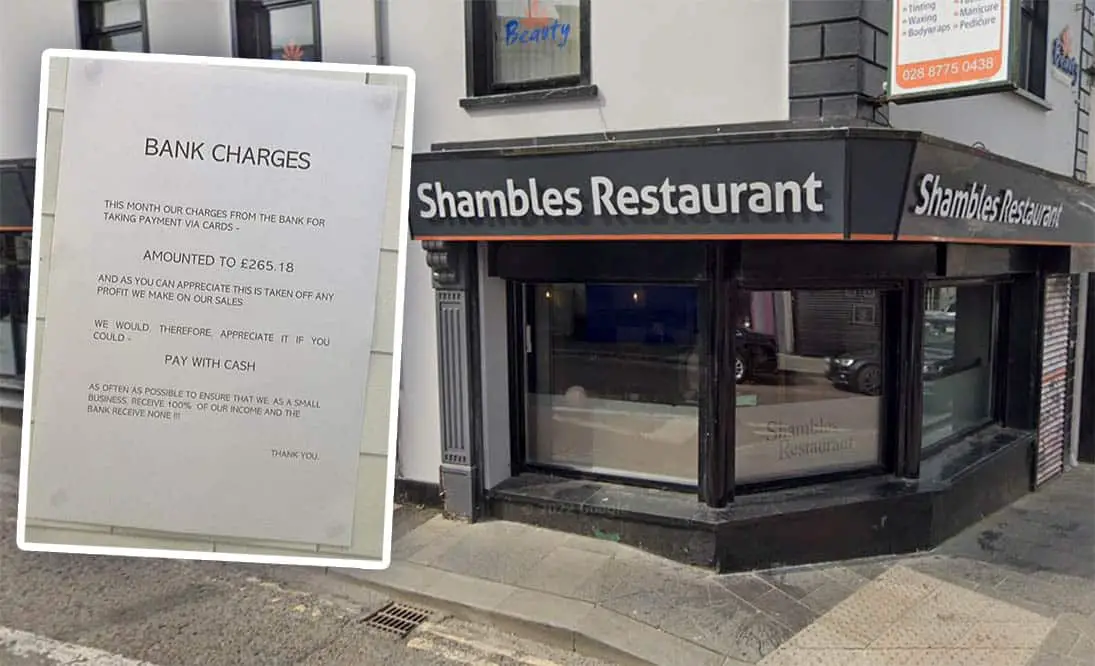 A Dungannon-based restaurant has weighed into the 'cash v card' debate after revealing it had forked out a whopping amount in bank charges because of the latter.
The Shambles Restaurant is a family-owned restaurant at Irish Street which offers dine-in and in-store collection service.
But it has been hit in the pocket because of the number of people who have been paying by card.
The owners shared details on social media and have again added their voice to the 'cash is king' choir because of the ongoing losses due to contactless payments.
The Shambles Restaurant has detailed its costs and posted them in public on the premises in the hope of persuading customers to continue to carry cash.
This comes at a time when many venues are encouraging people to pay by card and say they will no longer accept cash as currency.
According to the Shambles, it should be quite the opposite, as it paid a total of £265.18 in charges to the bank over the past month as a result of taking payment via cards.
The restaurant posted: "As you can appreciate this is taken off any profit we make on our sales.
"We would therefore appreciate it if you could pay with cash as often as possible to ensure that we, as a small business, receive 100% of our income and the bank receive none!!!"
Already people are rushing to offer their support and have voiced approval for the restaurant detailing the charges to encourage people to cut the card and carry cash.
One, upon reading of the charges, wrote: "That's a disgrace."
And another added: "Paying with card is disrespectful!"
What are your thoughts on the subject? Do you agree with venues saying they will no longer accept cash? Which means of payment do you favour and would information such as that provided by the Shambles Restaurant make you change your ways?
Sign Up To Our Newsletter