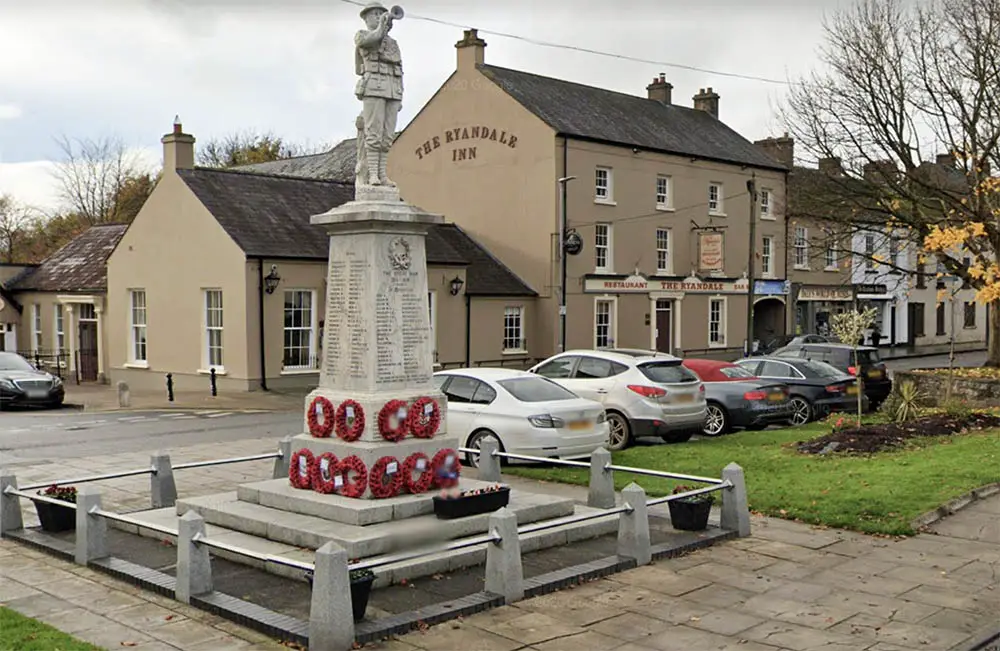 Concerns have been raised after charges against three men already dealt with for damaging a Royal British Legion War Memorial in Moy, were reinstated with a defence barrister warning this prosecution "cannot proceed."
Brothers Sean Hughes (20) and Bernard Hughes (19) of Corliss Road, Crossmaglen, as well as Jordan Burns (20) from Railway Road, Newry were jointly charged with damaging the wreaths on the memorial with intent and attempting to cause criminal damage.
Both brothers were also charged with using disorderly behaviour and resisting arrest, with the elder further accused of assaulting police.
All matters related to an incident in The Square, Moy on June 12 2022.
Previously, Dungannon Magistrates Court heard the charges were being withdrawn after all three agreed to accept a police caution and pay for the damage caused, which amounted to £285, split equally amongst them.
The defence advised the funds were ready to be handed over immediately and the charges were ordered to be withdrawn once the cautions were administered and compensation paid to the Royal British Legion.
However, last month the case appeared back on the court lists and the defence sought time to discuss this with the prosecution.
At the most recent court sitting a prosecuting lawyer explained the cautions "were overturned on review and the charges are proceeding with some amendments."
The defence responded, "There's an issue here and the cart is being put before the horse. We say this prosecution cannot proceed, therefore amending the charges is premature. These matters will have to go back to the original judge. We say what is purporting to be done, cannot be done. It is a clear abuse of process."
He continued: "These cases were previously withdrawn for cautions on the basis the defendants agreed to pay for the damage and while that was underway another prosecutor looked at the case and overturned that decision. It's quite clear that cannot be done and there is no basis for it.  Accepting cautions and paying for the damage becomes detrimental to the defendants. They paid the cash to their solicitor who in turn tried to pay it to police to cover the damage, when it appeared there was a change in position."
Deputy District Judge Trevor Browne agreed the matter needs to be examined further and adjourned the case until March 6.
Meanwhile the Public Prosecution Service were asked why the decision was taken to reinstate the charges but have not replied at the time of publication.
---
Follow all the latest court news here.
https://t.co/fHvFV7RA7R
'Our combined action is a warning to employers that workers are not prepared to accept real terms pay cuts and the destruction of services'

— Armagh I (@ArmaghI) February 20, 2023
Sign Up To Our Newsletter