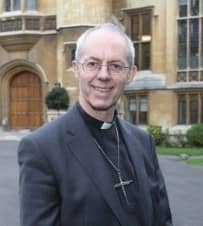 Representatives of the other main churches in the city are expected to attend a special service when the Archbishop of Canterbury, Rev Justin Welby, visits Armagh in the autumn, according to the Diocese of Down and Dromore.
The Church of Ireland Primate, Archbishop Richard Clarke, will welcome the Archbishop  to the Cathedral Church of St Patrick on Thursday, October 2.
The Diocese, in a statement posted under its 'news' category on the official website, said the Rev Gregory Dunstan, Dean of Armagh, was very much looking forward to welcoming Rev Welby to the Ecclesiastical City of Armagh and to St Patrick's Cathedral.
"Since his appointment to Canterbury, Archbishop Welby has become known for thoughtful and clear–sighted Christian leadership, both in the Church of England and in the worldwide Anglican Communion," reads the statement.
"He comes to Armagh as guest of our Primate Archbishop Clarke. His visit, however, is to Ireland as a province of the Anglican Communion, and to the city and diocese of Armagh, with its ancient inheritance from St Patrick."
Read more news:
Hawthornes Garden Stores in Armagh up for sale
Fire crews from three counties battle deliberate blaze at historic Scarva estate
Commonwealth Games Bronze Medal rower Tiernan delights Summer Scheme kids
Twenty suspected victims of human trafficking taken to safety as arrests made
Welcome for new labelling to allow all Ireland cattle trade without penalty
Archbishop of Armagh Sean Brady has offered his resignation to Pope Francis
County Armagh company to create 348 jobs with £54m investment
Newsletter
Sign up for our weekly newsletter here.