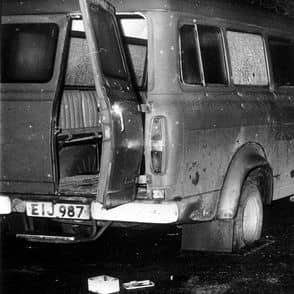 The decision not to prosecute a suspect in the Kingsmills massacre has been met with major disappointment.
Assembly candidate Danny Kennedy has expressed his bitter disappointment at the PPS decision not to prosecute a suspect whose palm print was found on a van believed to have been used by to murder ten Protestant workmen
"The families and the sole survivor have waited over 40 years in their pursuit of maximum truth and justice for this brutal and barbaric sectarian crime," said Mr Kennedy.
"So the news that the PPS has decided not to prosecute the suspect whose palm print was found on a vehicle believed to be used by the IRA gunmen responsible for the Kingsmills massacre, is indeed a setback.
"I will be seeking clarification on whether or not all the available evidence has been completely and exhaustively explored in relation to the palm print. It is scarcely credible that this case has not been able to move forward as a result of this potential evidence
"It is now imperative that the coroner's inquest should proceed with all haste in its work to uncover the truth of what happened at Kingsmills. It is my hope that it may yet uncover opportunities and truths to bring to justice those Republicans responsible for one of the most barbaric crimes of the entire Troubles.
"I pay tribute to the sole survivor, Alan Black and the Kingmills families, who after 41 long years, remain determined to establish the truth about Kingsmills. I fully support them and will continue to assist them in any way possible."
Read more news:
Concerns grow for missing man, 50, last seen in Portadown
Weather warning in place as temperatures set to plunge below zero
European arrest warrant obtained for suspect in prison officer David Black murder
Men arrested following series of violent incidents in Portadown
Boy praised for reaction after finding shotgun cartridges in abandoned building
Co Armagh farmer handed suspended prison sentence
Borough ratepayers to face 1.76% increase
Armagh bar up for sale just over a year after reopening
Newsletter
Sign up for our weekly newsletter here.