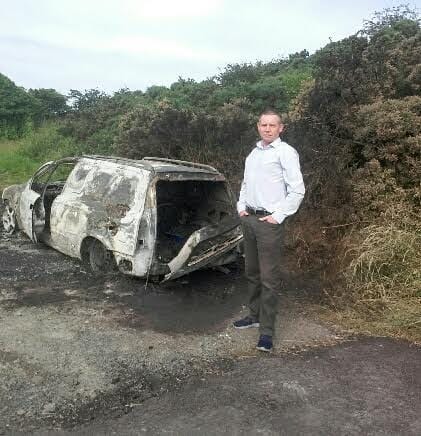 A van containing barrels of toxic sludge has been burned out in south Armagh.
It happened on the Cloghinnea Road near Forkhill.
The diesel launderers responsible torched the vehicle under the cover of darkness.
The arson – branded an "act of criminality and vandalism" – has been condemned by Sinn Féin Councillor Mickey Larkin, who said residents have "had enough of those profiting from disfiguring our landscape".
He explained that the van had contained several barrels of toxic waste and added: "When the Fire Service arrived at the scene the van was destroyed. The plastic barrels had melted, with their poisonous contents oozing out onto the road.
"I am at a loss to understand the mindset of those who would desecrate our beautiful countryside.
"The village of Forkhill is situated at the foot of Slieve Gullion, an Area of Outstanding Natural Beauty, cherished by those who live here and thousands of visitors throughout the year.
"Whilst at the scene I spoke to a number of residents who are disgusted at the actions of those who profit from this poison. On top of the cost of clean-up, acts like these pose a profound risk to the health of local livestock and plant life."
Councillor Larkin said he had spoken to the PSNI, who are investigating, and reported the waste to Newry, Mourne and Down District Council.
"The Environment Agency was also contacted to ensure that this destruction is cleaned up as a matter of urgency," he confirmed.
Sign Up To Our Newsletter