A delegation representing the four main parties on Armagh City, Banbridge and Craigavon Council have accompanied senior officers for a meeting with a prominent internet technical expert to discuss the future of broadband provision across the borough.
The meeting, facilitated by the Irish Central Border Area Network (ICBAN), saw Mike Kiely – an expert with more than 20 years experience as a network engineer and designer – discuss their ambitions for a world class broadband network across the council area.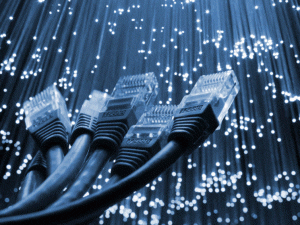 Mr Kiely shared with the delegation plans to drive forward initiatives aimed at creating a 'fibre-optic to the home network' across the region as a key component of the council's economic development strategy.
The cross-party delegation included Sinn Fein Councillor Garath Keating, DUP Councillor Freda Donnelly, Ulster Unionist Councillor Sam Nicholson, and SDLP Councillor Mealla Campbell.
Speaking afterwards, a delegation spokesperson said: "We appreciate entirely the difficulties many in our constituency have with regard to poor broadband provision, particularly so in our rural settings, and the central importance of finding a solution to those problems.
"We see this key issue as one of the most important infrastructural projects of our time and we are keen to be to the forefront of progress on this matter.
"As a local authority with increasing ambitions in terms of economic and social development, we want to ensure that we set the bar as high as possible to reflect those ambitions."
ICBAN chief executive Shane Campbell described it as a "serious regional development project" and "one that impacts very directly on all business and people in the area".
" I am delighted that this council is approaching that challenge with a progressive attitude and seeking ways to push the issue to the forefront of the agenda," he added.
"This meeting is part of a process of technical engagements to assess how best an effective broadband network can be rolled out in this area and what potential partners the council can work with to advance that project."
Read more news:
Major Keady housing development to be approved more than five years on…
Public inquiry into controversial north-south interconnector to reconvene in June
First look inside new trampoline park at the Outlet Business Park
Police in urgent appeal to help find 'high risk' missing person David Duprey
Picture Exclusive: Memorial Battle of the Somme seats for Armagh and borough's towns and villages
Top fire officials state case for cutbacks in Armagh as firefighters attend fatal blaze
Sign Up To Our Newsletter