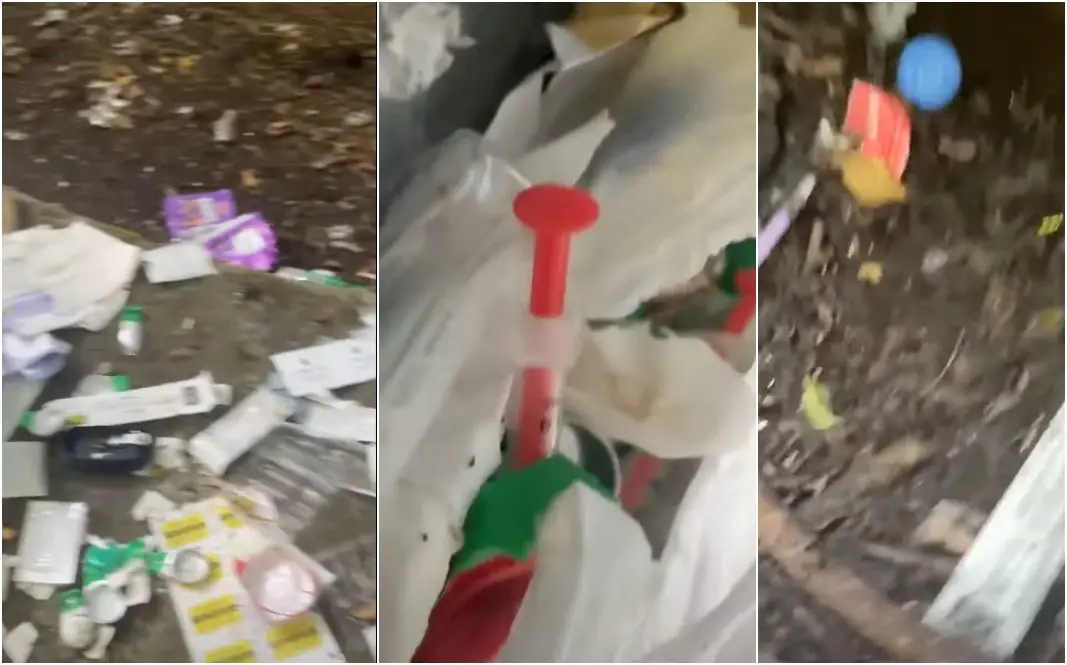 A young Craigavon mum has said she is "shocked and appalled" after drug paraphernalia, including needles, was found in the Rowan Park area of Moyraverty.
The woman, who does not wish to be named, said the wooded area and path are near a football pitch, primary school and a church, and that a child could easily have been injured.
"It was actually shocking," she said. "It was my sister and boyfriend found it and I went down to have a look. There was still drugs in one of the needles. It was sticking up out of the ground.
"It's an area where kids play hide-and-seek quite often. I played around there when I was a child.
"Anyone veering off the path into the trees, whether it's a child or a dog walker, could have stepped on anything. They could have found someone dead or off their head there.
"There were needles everywhere. And the packs looked fairly new. I stood on a rock because I didn't want to step on anything. I felt so dirty walking in there. It was disgusting.
"From what I know, it looked like heroin they had been injecting. I knew it happened in Belfast and other areas but I didn't think people would be using heroin here in Craigavon."
Concerned at what she had seen, she reported it to police and the council.
"I rang the council and they sent someone out but he couldn't find the location so I went to meet him and show him where it was," she said.
"He came out with a tiny sharps box and a litter picker. He thought it was just a few needles lying about. But when he saw it all he got straight on to the council to get someone properly dressed to remove it and to get the police out."
She added: "Thankfully, my wee one is only two and he's not old enough to be running around in the trees without me. A tiny bit of drugs could kill a small child."
A police spokesperson said they received a report on Monday that a large number of needles had been discarded on a path near Rowan Park in Craigavon.
He said the council was notified and the needles were safely removed.
No arrests have been made at this time and enquiries into the matter are ongoing.
Neighbourhood Policing Team Sergeant, Brian Hull said: "Our advice to anyone finding a syringe or needle is to not touch it but contact police or their local council who will dispose of it safely.
"We would also remind those who use needles of the risks to others that they cause by discarding these items so wantonly. Such items can be dangerous, especially to younger children who may not be aware of what they have found.
"Police will continue to use high visibility, targeted patrols and every method at our disposal to disrupt and arrest drug dealers involved in the sale and supply of drugs, and put them before the courts.
"Drug and substance misuse and dealing is a policing priority and we will continue to work with communities and partner agencies to reduce the threat of harmful and illegal activity. We are asking everyone for their support and co-operation in tackling this problem through the criminal justice system."
Anyone wishing to report a crime or incident should ring police on 101, report online at www.psni.police.uk/makeareport or speak directly to the Neighbourhood Team.
Armagh City, Banbridge and Craigavon Borough Council was also contacted for comment.
Sign Up To Our Newsletter