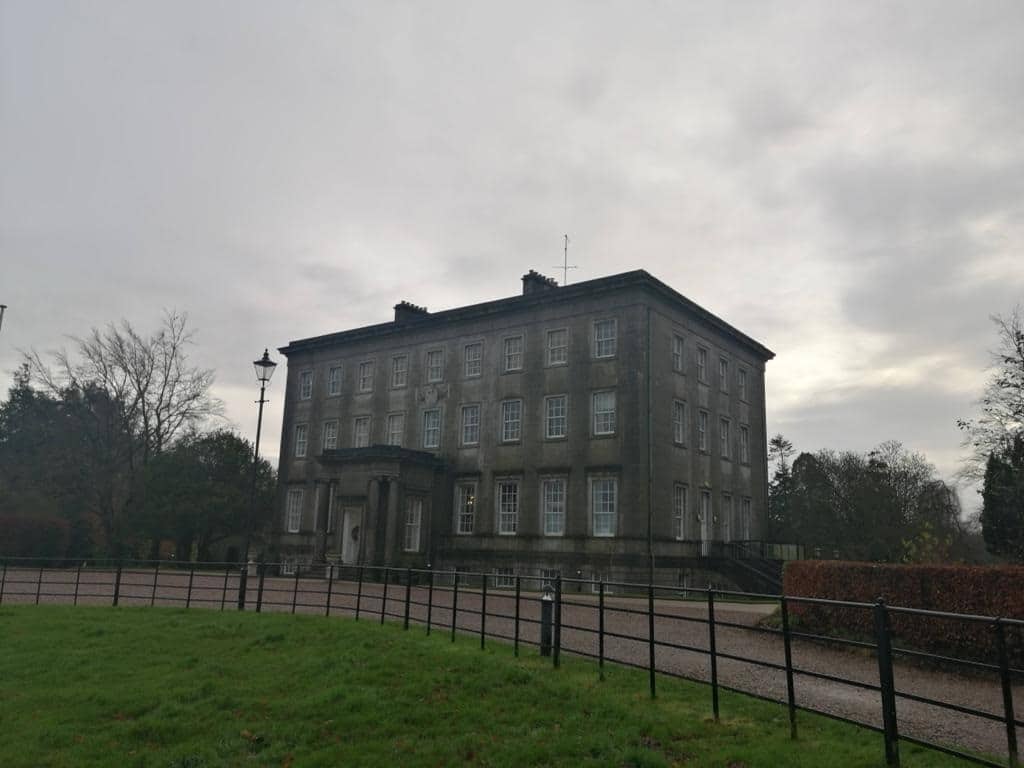 Civic buildings in the borough are to be lit up blue and green for one week in November to mark the centenary of Northern Ireland.
The decision was taken at Armagh City, Banbridge and Craigavon Borough Council's monthly meeting.
It followed an earlier decision by Sinn Fein's group leader, Councillor Liam Mackle, to reject a request from the Northern Ireland Office (NIO) to light up civic buildings on Friday, October 22.
Civic buildings across the UK, including the Cabinet Office in London, Dundee's V&A museum and the Welsh government building in Cardiff were all illuminated on October 22, as was the British embassy in Washington DC.
However, the local council's buildings were not and speaking at the meeting on Monday, DUP group leader, Councillor Mark Baxter labelled Councillor Mackle's decision to reject the request as "petty, narrow-minded and sectarian".
"Over the last number of years, there have been many requests to illuminate council buildings to highlight a particular cause or charity," said Councillor Baxter.
"Unfortunately, when this request came, we all replied in the affirmative with the exception of Sinn Fein, who took a very petty, narrow-minded, sectarian and republican view that was essentially, 'we want to be inclusive as long as it does not include unionism'.
"Clearly when Connolly House put out the diktat that councils were not allowed to do it, that transpired here as well.  I am very disappointed that we could not take part and I propose that we do light up our buildings to mark the centenary."
Councillor Baxter's initial proposal was for the council's civic buildings to be lit up for 100 hours, broken down into 10 hours a night for 10 days and suggested it could be done from December 6.
Describing Sinn Fein's "intolerance" to this request as "unbelievable", UUP group leader, Alderman Jim Speers, proposed the buildings were illuminated for seven days from November 5 to 12 and Councillor Baxter indicated he would be happy to amend his proposal to these dates.
Independent Councillor Paul Berry said he was happy to support the proposal, which he described as "very fitting" and said he is not surprised by the "fork-tongue of Sinn Fein" and its "one-way approach" to "equality, respect and tolerance".
Acknowledging there are differing views on the partition of the island, Alliance Party Councillor Eoin Tennyson described it as a "significant event in our shared history" and said he thought the NIO's request was "quite modest".
"We light buildings for a range of issues and there was no reason why we were not able to do so on this occasion," he added.
"I think Sinn Fein, by blocking this proposal, were petty, to an extent ungenerous and took quite a narrow view on this issue. However, I believe this proposal to light the buildings for seven days is excessive.
"I would propose we light the buildings for one night as deemed appropriate by officers."
This proposal was seconded by Councillor Peter Lavery.
Independent Councillor Darryn Causby recalled how Sinn Fein have run elections with slogans such as "building an Ireland of equals" and focusing on "equality, respect and integrity".
"Day after day, in this country those of us from the unionist community appear to be lectured on these issues," he said.
"Yet the political party that has espoused none of those values in this decision shows what an Ireland of equals really means.
"It is clear that one is only equal if you subscribe to a Sinn Fein agenda."
SDLP group leader, Councillor Thomas O'Hanlon said he was disappointed to see the chamber descend into a debate of this nature and described the events of 100 years ago as the "greatest travesty that happened this island".
However, he said he was of the view that stepping back and recognising there are others in this borough who have a different view in no way "undermines" his own political beliefs and he would be happy to see the buildings lit up for one night.
Addressing the chamber, Sinn Fein group leader, Councillor Liam Mackle said as an Irish Republican he views partition as a disaster and explained his decision to reject the NIO's request.
"As an Irish Republican I cannot and will not do anything that celebrates this historic calamity," he said.
"I have, nor has my party, any desire to be part of a British Government plan to celebrate partition. I said no then and I say no now."
Cllr Baxter's proposal, seconded by Alderman Jim Speers, was then put to a vote and was passed with 22 votes in favour, 13 against and three councillors choosing to abstain.
All unionist councillors present voted in favour of the proposal, all SDLP and Sinn Fein councillors present voted against the proposal while the three Alliance Party elected representatives chose to abstain.
Sign Up To Our Newsletter