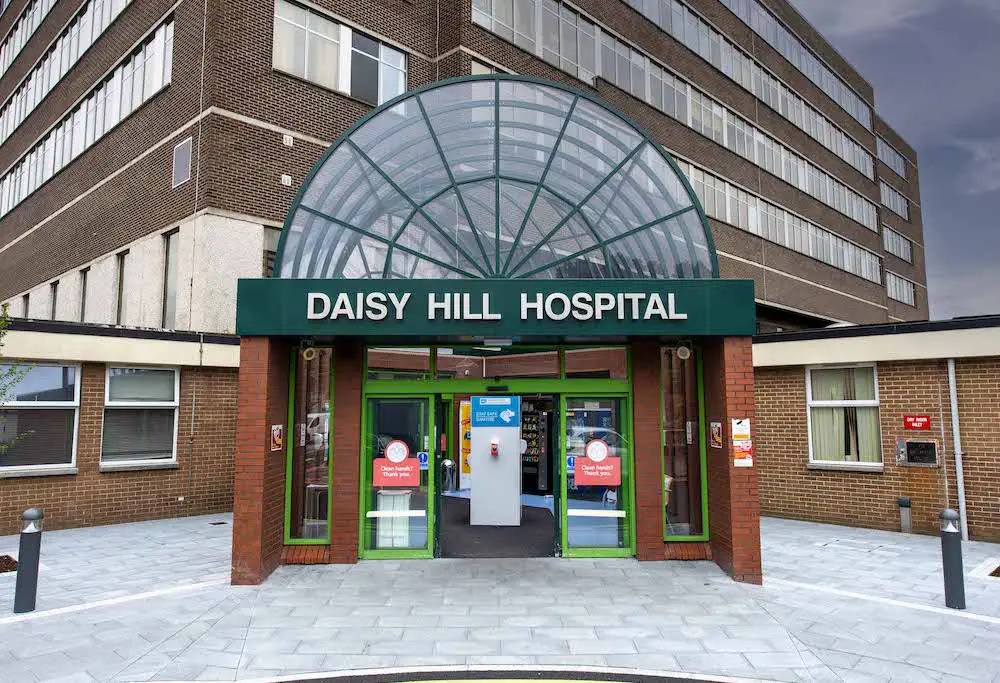 The Southern Trust's General Surgery team is asking for public support with a proposal to stabilise their service.
The plan, currently open for public consultation, recommends that all Emergency General Surgery Services for the area are delivered from the Craigavon Hospital site on a permanent basis.
General Surgery specialises in abdominal organs such as stomach, gallbladder and bowel.
Recruitment and retention of general surgical consultants has been an ongoing challenge across Northern Ireland.
Last year, in response to a shortage of general surgeons and to maintain safety of the service, emergency general surgery was consolidated from two hospitals, Daisy Hill and Craigavon, to a one site model at Craigavon.
The regional Review of General Surgery, has highlighted new standards and specialist resources required to deliver safe, high quality surgical care.
Amie Nelson, Head of General Surgery Services explains: "The staffing challenges we have faced are a symptom of using an outdated model. Hospitals with lower volumes of emergency general surgery find it difficult to recruit and retain doctors and many are unable to provide the supporting services that modern surgical centres require. Having trialled this approach over the past year and based on regional guidance, delivering all emergency general surgery from Craigavon is the only way we can safely meet best practice standards.
"This approach offers back up from sub specialist colleagues, intensive care and MRI, giving our patients the safe, high quality, modern care that they deserve."
Clinical Director, Mr Adrian Neill, added: "All we want to do is provide a safe service for our patients that achieves the best clinical outcomes. With our infrastructure and workforce issues, splitting our services and staff across both sites is simply not sustainable. Moving emergency general surgery to one site is much safer for patients. As a result of having emergency general surgery at Craigavon, we will also be able direct more elective surgery to Daisy Hill to benefit more people who have been waiting far too long for planned procedures."
Kevin McElvanna, Consultant General and Colorectal Surgeon, continued: "We understand that the term 'emergency surgery' can cause alarm. But in reality, this refers to the overall service we provide. This could mean specialist advice, admission for tests and for some patients, an operation. The majority of our patients don't have an operation and it is rare for a patient to actually need immediate surgery for an immediate, life-threatening condition, but we can assure you that we have the plans in place, should this happen."
Trust Chief Executive, Dr Maria O'Kane, said: "The NHS is a dynamic organisation continuing to develop in line with best practice and constantly striving for excellence. It is important for the people of Newry and Mourne that their surgical outcomes are not compromised by outdated models of care.
"We can reassure anyone concerned that there will be absolutely no change to the busy Emergency Department at Daisy Hill which will continue as a Type 1, assessing patients with both medical and surgical symptoms.
"Daisy Hill as a very wide range of vibrant acute medical specialties including renal, maternity, obstetrics and gynaecology, which we are very proud of and keen to develop. We have excellent paediatric surgical facilities on site, have been investing in staff training and equipment over recent years and are already doing more surgery than ever at the hospital.
"We are currently progressing plans to develop a regional Elective Overnight Stay Centre and are well equipped to undertake most specialities. The £9million investment from the Department of Health to upgrade the electrical infrastructure is another very welcome commitment to the future of our hospital, offering great potential for further development of services."
Mr McElvanna concluded: "We really welcome public support in helping us improve the service for everyone. Unless we change to a modern model which meets the highest standards, we will not be able to recruit, retain and train specialist staff to care for our patients, nor tackle lengthy waiting lists. This is not just a change for now, it's an investment for emergency and indeed elective surgery for the future."
The Public Consultation is open to 21 st April 2023. For access to all consultation documents
https://southerntrust.hscni.net/involving-you/consultations/
To request copies of documents in other formats, email consultations@southerntrust.hscni.net
Public Meeting
The Daisy Hill Hospital Future Group, in partnership with the Daisy Hill Pathfinder Group, are organising a public meeting with the Trust's senior management and surgical teams on Wednesday 22 nd March at 6pm in the Canal Court Hotel, Newry.
Sign Up To Our Newsletter