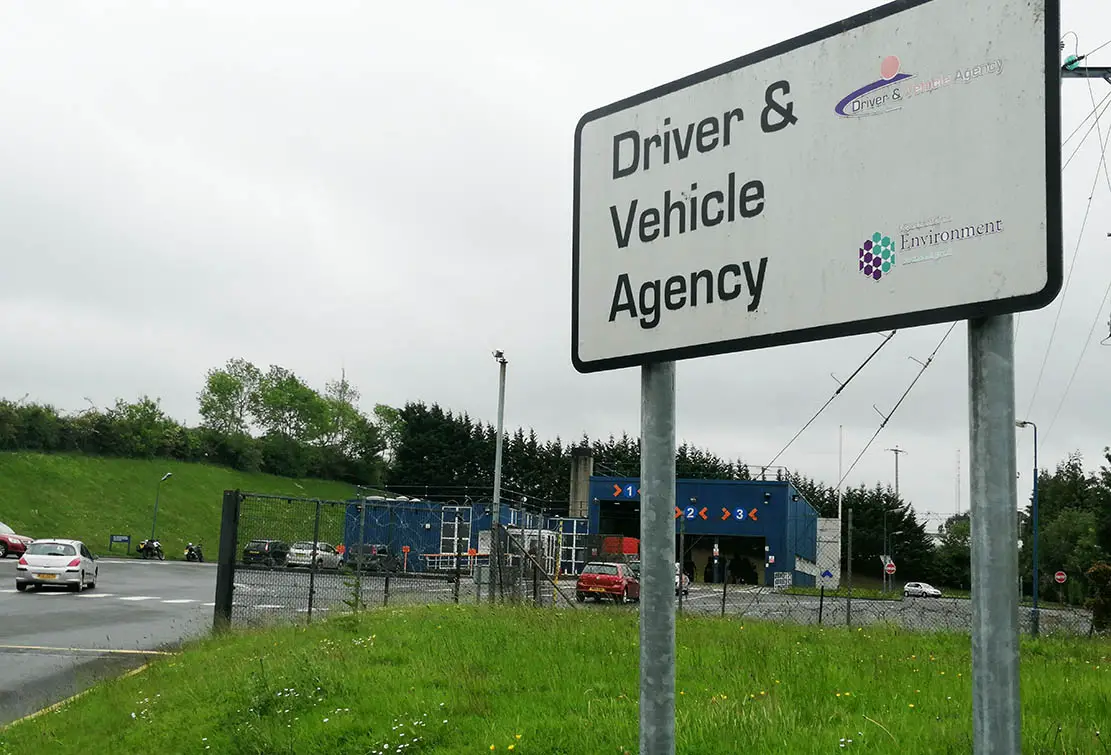 Staff at an MOT testing centre in Armagh say the repair works carried out on faulty equipment is "not good enough".
The facility, at Hamiltonsbawn Road, had been shut to allow repairs on hydraulic lifts to take place.
Despite concerns from staff in the centre they have been told to "carry on" with their work.
Photos sent to Armagh I highlight the concerns of staff with questions being raised over cracks and the welding work which has not been stressed tested.
Workers' union NIPSA said they are aware of ongoing health and safety concerns regarding the safe operation of vehicle lifts across the Northern Ireland vehicle testing centres.
A spokesperson for the union said: "We are aware that the testing of heavy vehicles and vehicles pre-booked to the HGV lanes – lane 1 are unaffected but that, as a precautionary measure, the testing of cars on the car lanes has been suspended in 10 centres.
"In a number of other centres some testing lanes have been closed. It is our understanding that the Department for Infrastructure, in conjunction with contractors, are taking steps to inspect all affected lifts and repair where possible but ultimately replace the lifts.
"NIPSA is satisfied that this is a proportionate and timely response to protect the health and safety of our members and the public.
"We will seek assurances that all the repair work is completed to the satisfaction of all necessary parties before the lifts are used again and will continue to closely monitor any repaired lifts.
"Separately to this issue, NIPSA members who work in the testing centres will be on strike tomorrow (Friday 24th) in a continuing dispute over pay and conditions.
"The members are angry about below inflation pay increases which have resulted in pay cuts of between 15% and 20% over the last nine years.
"We expect that this strike action will cause further significant disruption to testing across Northern Ireland but trust that the public will be sympathetic to civil servants' demands for fair pay."
Meanwhile, there were also concerns raised in Craigavon this morning after motorists arrived to find the centre closed.
DUP MLA William Irwin MLA said he had been contacted by a constituent who had booked an appointment through the cancellation process on Thursday morning and travelled to the centre unaware that the particular centre was closed and the online system had accepted the payment and taken the booking.
"This has been a concerning issue for constituents who have booked a slot and paid their money only to turn up and find the MOT centre in Armagh closed for necessary repairs.
"I would have imagined given the fact that the lifting systems for vehicles are being assessed that the department central website would have temporarily put a stop on bookings, especially cancellations on the same day, in order that people would neither waste their time or their money on an appointment that cannot be fulfilled in their chosen or nearest centre, if it was closed.
"The Department should address this matter urgently and ensure that anyone who has booked a test that could not be honoured by the centre, have their money returned or the option of going to another test centre.
"This is important and I trust that the Department will take these steps urgently."
DUP MP Carla Lockhart said she had received a number of complaints regarding the closure of the Craigavon centre.
"The staff are advising that it is closed owing to the ongoing safety issue with the equipment being used within the centres," she explained.
"No communication was made with those who had booked appointments and there are people whose cars run out of MOT tomorrow.
"The poor staff are left without any information and no manager to advise people of the next steps.
"I have made urgent contact with the Chief Exec of the DVA and the Minister of Infrastructure concerning this issue.
"People accept that it had to closed owing to the safety aspect but are frustrated with the lack of communication."
A spokesperson for the Department for Infrastructure – in a statement released at tea-time on Thursday – said: "DVA is continuing to carry out checks on vehicle lifts in its MOT test centres, following the identification of faults. This is precautionary and to ensure the safety of staff and customers.
"Some checks and repairs have been completed and it is anticipated that remaining inspections will be completed tomorrow and any necessary repairs will be carried out as soon as possible.
"As and when test centres have been inspected and any necessary repairs completed, they will immediately become operational. Boucher Road, Cookstown and Newbuildings test centres are now fully operational and all MOT tests are being carried out.
"At present, there are limited tests being carried out at most MOT centres and appointments are being rescheduled while inspections and repairs are completed.
"Mallusk remains the only test centre not carrying out car and light vehicle tests; heavy goods vehicles and bus tests remain unaffected.
"DVA is making every effort to contact customers to reschedule appointments and will prioritise customers who require an immediate test.
"All other test centres remain open and customers should attend their MOT appointment unless contacted by DVA.
"A number of test centres will open on Sunday to provide additional tests.
"DVA sincerely apologises for the inconvenience caused.  It is working to resolve this issue as quickly as possible."
Sign Up To Our Newsletter