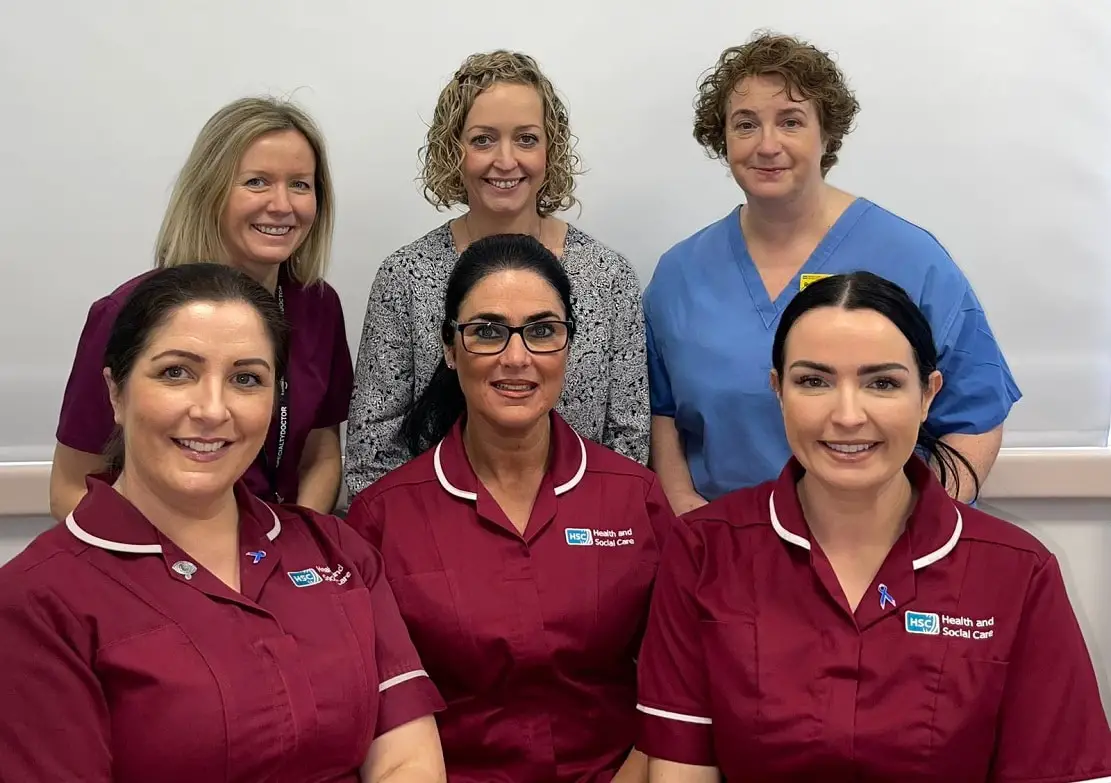 Two midwifery teams have been shortlisted in the respected Royal College of Midwives Awards 2023 for their commitment to delivering excellent bereavement care and for championing diversity and inclusion.
Midwives Shivaun McKinley and Oonagh King have been shortlisted in the 'Pregnancy Loss and Bereavement Care Award' for working alongside parents to continually improve bereavement care in the Southern Health and Social Care Trust while Ita McCaughey and Julie McKenna have made it to the final five in the 'Equity, Diversity and Inclusion Award' for establishing the dedicated East Timorese Antenatal Clinic (ETAC).
The RCM Awards, organised by the Royal College of Midwives, celebrate, reward, and share outstanding achievements in midwifery across the UK.
Shivaun and Oonagh have been instrumental in establishing a Pregnancy Loss and Bereavement Working Group to ensure that the perinatal bereavement service evolves to meet the needs and wishes and service users.
They also founded 'The Listening Rooms', a dedicated facility which offers a private and comforting space for families that have suffered baby loss and is valued highly both service users and staff.
The East Timorese Antenatal Clinic (ETAC) was founded by Ita and Julie in 2015 and has supported and cared for nearly 600 women of East Timorese origin, who are said to be at greater risk of adverse outcomes in pregnancy.
Thanks to their weekly dedicated clinic, run by these two midwives and a female interpreter, it has improved clinic attendance, vaccination uptake and perinatal outcomes for this group of mothers.
Caroline Keown, Assistant Director of Maternity, said: "I am so proud of the five teams that entered these awards. Each applicant is making a difference for women within maternity services in the Southern Trust.
"I am delighted that two of our teams have made it to the final shortlist in these awards, which is one of the highest accolades in the profession."
She added: "Service user involvement is vital to improving our maternity services and Shivaun and Oonagh have great compassion and dedication to the multi-disciplinary bereavement team and their engagement with the working group has resulted in many new initiatives being introduced to improve bereavement care.
"Ita and Julie have not only promoted equity, diversity and inclusion in midwifery care for the women they care for through the ETAC, but have carried these principals throughout the maternity care service in the Southern Trust."
Three other teams from the Southern Trust were nominated for the awards but just missed out on the shortlist.
Brid France and Naomi Murphy were nominated in the 'Outstanding contribution to Midwifery Services: Digital' for creating their postnatal information discharge video, Michelle O'Hagan and Aisling Ferris were nominated for the 'Excellence in Midwifery for Public Health' for increasing the rate of Skin-to-Skin contact in maternity theatres and the Birth at Home team, consisting of Paula Murray, Amanda Dharmaratne, Sadie Porter and Andrea Prichard, were nominated for the 'Partnership and Team-Working' award.
The winners will be announced on Friday, May 19.
Sign Up To Our Newsletter