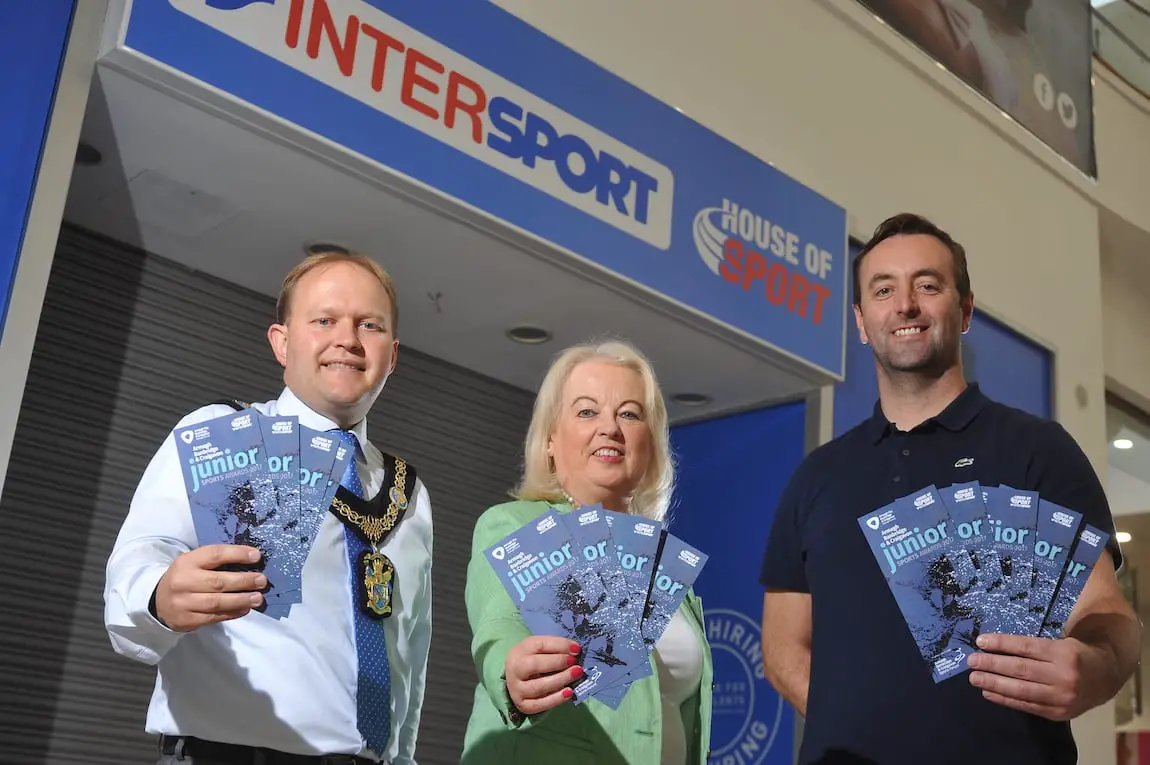 Nominees have been shortlisted for the Armagh Banbridge and Craigavon Sports Forum Junior Sports Awards which will take place on Friday, September 29.
The event, which is being sponsored by House of Sport, Intersport will take place in Craigavon Civic and Conference Centre at 7pm.
Lord Mayor, Alderman Gareth Wilson said: "I am delighted to announce the shortlisted nominees for the Junior Sports Awards. It is fantastic to see the high standard of young athletes from within our Borough and I am looking forward to a night of celebrating their sporting achievements."
Padraic McKeever, Managing Director of House of Sport Intersport added: "House of Sport Intersport have been a proud category award sponsor of past Armagh Banbridge and Craigavon Junior Sports Awards events, but we are delighted to now be named as the Headline Sponsor for these prestigious awards.
"We would like to congratulate all those young people nominated and I know the selectors had a difficult task given the very high standard of sporting achievements.
"We are looking forward to the awards evening and getting to meet all our local sports stars of the future."
The nominees are:
Sports Person with a Disability
Anna Whittle (Aquatics)
Josh McCauley (Aquatics)
Joseph Russell (Athletics)
Nevin Kelly (Athletics & Bocce)
Simon Orr (Bocce)
Caolan McConville (Skiing)
Ellie Connelly (Swimming)
Stefan Nugent (Swimming)
Junior Male of the Year
Odhran Hamilton (Athletics)
Clepson Dos Santos (Boxing)
Sam Topping (Cricket)
Alberto Balde (Football)
Senan Carr (Gaelic Football)
Ben Robinson (Karate)
Adam Wilson (Swimming)
Josh Roney (Athletics/Cross Country/Football/Volleyball)
Junior Female of the Year
Zoe Minish (Lawn Bowls)
Nikkala Pokojski (Karate)
Jesse-Jane McParland (Martial Arts)
Julia Knox (Swimming)
Nicole Larmour (Table Tennis)
Jodie McKew (Tae Kwon Do)
Casey Mullan (Gaelic Football)
Junior School Team of the Year
Tandragee Junior High School Year 8 Athletics Team
Kingspark Primary School Boys Cross Country Team
Kingspark Primary School Girl Cross Country Team
Kingspark Primary School Boys Football Team
St Patrick's Grammar School Armagh Year 8 Boys Gaelic Football Team
Killicomaine Junior High School Junior Cup Girls Hockey Team
Banbridge Academy U13 Girls Table Tennis Team
Christian Brothers Primary School Gaelic Football Team
Junior Club Team of the Year
Lurgan Town Football Club U12 Boys Team
Portadown Youth Football Club U14 Team
Tir-Na-Nog Gaelic Football U14 Boys Team
Banbridge and Rathfriland Karate Club Junior Team
Youth Male of the Year
Pauric Donnelly (Angling)
Jake Walsh (Archery)
Troy McConville (Athletics)
Jack Moffett (Lawn Bowls)
John Buller (Cycling)
Callum Ferris (Football)
Daniel Wiffen (Swimming)
Caleb Ralston (Tennis)
Mathieu Outwaite (Volleyball)
Jack Dowey (Weightlifting)
Youth Female of the Year
Rebekah Nixon (Athletics)
Lucy Johnston (Eventing)
Annabel Wilson (Golf)
Alana Doyle (Hockey)
Hannah Irwin (Hockey)
Victoria Bushby (Karate)
Katie Canniford (Rowing)
Leah McGoldrick (Rugby/Camogie)
Youth School Team of the Year
St Patrick's High School Keady Senior Camogie Team
Banbridge Academy Girls Hockey 1st XI Team
Royal School Armagh Rowing Team
Dromore High School U16 Rugby Team
Royal School Armagh U15 Medallion Rugby Team
Craigavon Senior High School U16 Boys Volleyball Team
Youth Club Team of the Year
Keady & District Angling Club Junior Team
City of Armagh Rugby Football Club U18 Team
School Coach of the Year
Jonathan Denvir (Gaelic Football)
Noel King (Gaelic Football)
Neil Madeley (Hockey)
Paul Doyle (Gaelic Football)
Club Coach of the Year
Zoe Allen (Golf)
Sue Gibson (Hockey)
Kevin Broderick (Karate)
Volunteer
Victoria Bushby (Karate)
Katie McCauley (Multi Sports)
Megan Grimason (Tag Rugby)
For further information on the Junior Sports Awards contact the Sports Development Unit on
028 3831 1693.
Sign Up To Our Newsletter