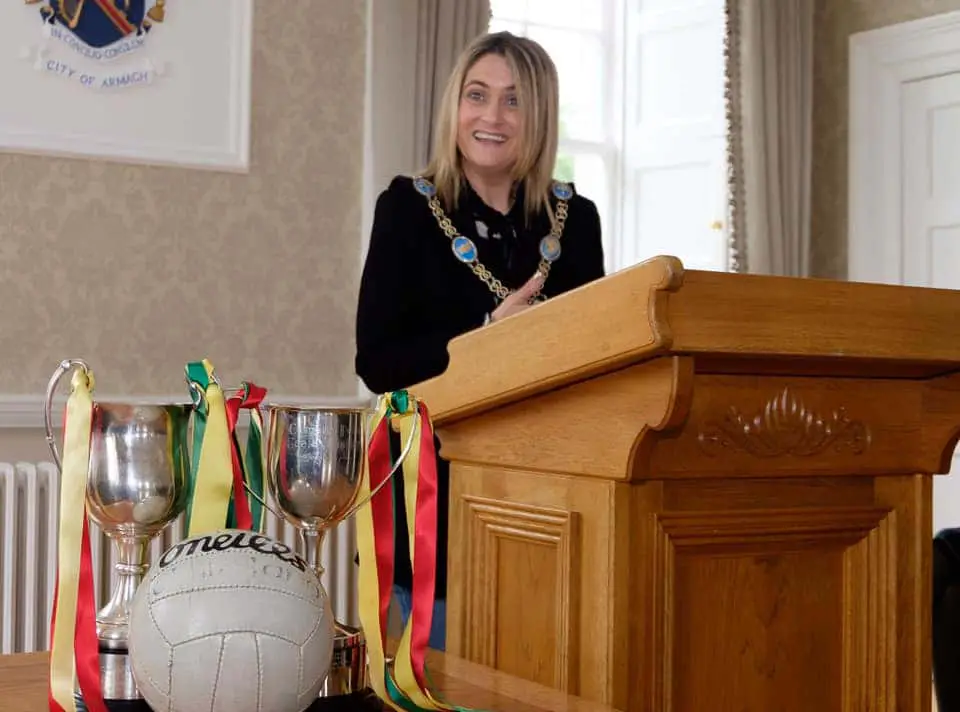 The SDLP contingent on Armagh City, Banbridge and Craigavon Borough Council will look considerably different in 2021 with one third of its members retiring from Council.
Councillors Mealla Campbell and Joe Nelson have announced their decision to retire from Council, with the entire chamber sending both members their best wishes for the future at December's monthly meeting.
The pair have a combined experience of 25 years as councillors. While it was an open secret that Councillor Joe Nelson had been toying with the idea of retiring from Council for some time, the announcement of Councillor Campbell's decision came as something of a shock.
First elected in 2005 as Councillor Mealla Bratton, Councillor Campbell has been active within her local community and has worked tirelessly to assist constituents with a range of related queries such as DLA, ESA, JSA, Carers Allowance, Social Fund Loans and grants and housing issues.​
She also served as Lord Mayor of Council in 2019-2020, with her weekly social media videos at the outbreak of the COVID-19 pandemic bringing a crumb of comfort to many throughout the borough.
Speaking at Council's last meeting of 2020 she thanked members for their kinds words and told of how she was "taken aback by the lovely comments" and had mixed emotions about her decision.
"On the one hand I have a very heavy heart leaving the role I have been honoured to hold while at the same time I am excited to be beginning a new chapter and pursue other ambitions," said Councillor Campbell.
"I have been humbled to represent Armagh City Council and the Armagh DEA for the past 15 years. I have had great support from the local community and I hope that I have gone some way to improving the lives of others.
"I have been in the SDLP for 29 years and my colleagues are an extension of my family. I certainly could not have done what I have without the amazing support of those in our local branches.
"I also want to thank fellow councillors past and present, for their friendship throughout the years. This role has been a little less daunting thanks to the friendships across the chamber."
Councillor Campbell also singled out her party group leader, Councillor Thomas O'Hanlon who she described as "more than a colleague" and a "true friend" and thanked Council's Chief Executive, Roger Wilson, for his help during her time as Lord Mayor.
She concluded by thanking her family who she said she "owes everything to" and wished the chamber and her constituents a "happy and safe Christmas".
Councillor Joe Nelson said it was "incredible how hard councillors work trying to make people's lives better" and that from his student days he knew it was important to stand up for the "disadvantaged and the marginalised".
"I like to fight my corner and have always done so. Ten years is a fairly long time, I have made a lot of friends and hopefully not too many enemies.
"I have made some great friends and have had some great trips during my time on Council and I will miss it."
Councillor Nelson then told a story of how he and Councillor McKinstry travelled to the Somme and were having a bit of a sing-song. Cllr Nelson claimed to know the first verse of every song ever written but admitted to faltering somewhat after that.
To his surprise, following their return, Councillor Nelson was presented with a song book by Councillor McKinstry. Upon opening the book, he discovered that the first verses of the songs were missing, with Councillor McKinstry explaining she knew he had no need for them.
"I want to thank Councillor McKinstry for that," said Councillor Nelson. "I will miss that camaraderie from across the chamber.
"It is an end of an era for me but hopefully it will be a longer chapter than the 10 years I have spent on this one.
"I also want to thank everyone for the support they have given me and the nice words, this is all rather embarrassing for me – thank-you."
The SDLP have remained tight lipped so far as to who will replace these two councillors on Council but an announcement is expected in the coming days.
Sign Up To Our Newsletter