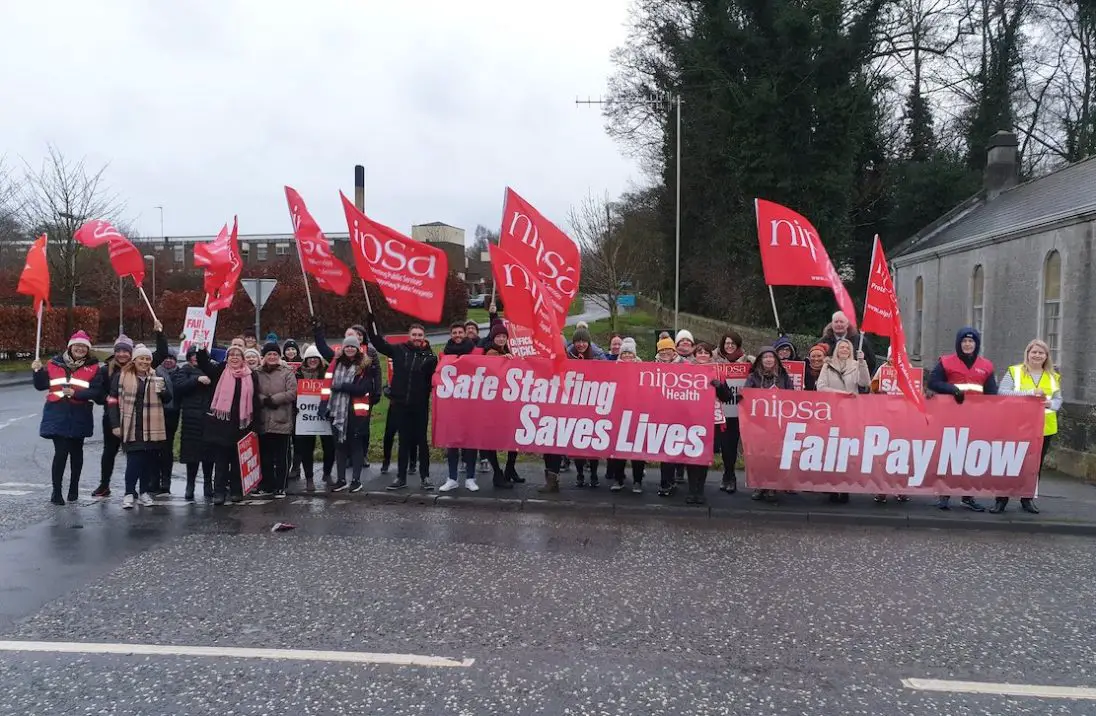 Thousands of nurses have gone on strike across Northern Ireland this morning (Wednesday).
Approximately 15,500 nurses are taking action in a dispute over pay and working conditions.
There are strikes at St Luke's in Armagh, Craigavon and Daisy Hill Hospitals among others in Co Armagh.
Nurses walked out at 8am this morning, with the strike lasting 24-hours; the Royal College of Nursing strike will last 12 hours – the first time they have ever taken strike action.
The strike, however, will lead to significant upheaval in the service locally.
Seventy-five people have had planned in-patient and day-case surgery postponed.
A total of four planned operations have been cancelled. All those patients affected have been notified, says the Trust.
Emergency surgery is going ahead.
All of us in .@SDLPlive support our Nurses and Health Sector Workers

☔️ 🌧 Despite the atrocious weather, health teams remain resolute and determined.

Pay justice now! Step Up For Public Services! Safe Staffing Saves Lives! pic.twitter.com/OaZO8hqhoH

— Justin McNulty (@JustinMcNu1ty) December 18, 2019
Lurgan Hospital picket line. pic.twitter.com/X69JOVqj1L

— NIPSA (@nipsa) December 18, 2019
St Luke's Hospital, Armagh this morning. pic.twitter.com/MbdEbjJHxY

— NIPSA (@nipsa) December 18, 2019
@NipsaHealth craigavon area hospital #nipsa #craigavonareahospital #southernhealthtrust @nipsa @NipsaStrike pic.twitter.com/nAAxmyKYTj

— Seana McC (@SeanaMcconville) December 18, 2019
Great turnout at Portadown Health Centre ✊ #safestaffingsaveslives #payparity pic.twitter.com/AOCZtYQKtH

— Craigavon TC (@CraigavonTC) December 18, 2019
Current scene at Daisy Hill. Union reps predict there'll be 2000 people here at midday @BBCNewsNI pic.twitter.com/iOdvuIHpAE

— Cormac Campbell (@Campbell_Cormac) December 18, 2019
And in Craigavon pic.twitter.com/P7F9HvIrSV

— Cormac Campbell (@Campbell_Cormac) December 18, 2019
Myself & @JohnODowdSF joined nurse & healthcare workers on the picket this morn. In 1948 the NHS was born out of the motivation that the current healthcare system was insufficient & needed to be revolutionised. That same motivation has forced staff out today. #Solidarity pic.twitter.com/LL0HBtw5mk

— Catherine Nelson (@CatSeeley) December 18, 2019
Every politician in Northern Ireland should be embarrassed that our nurses have been forced to strike today. I know I am. Let's stop the political games and sort it out.

— Colum Eastwood (@columeastwood) December 18, 2019
Numbers growing on the Royal Victoria Hospital picket line as nurses finishing the night shift join their colleagues pic.twitter.com/zGtengqbyU

— Rick Faragher (@R_Faragher) December 18, 2019
Sign Up To Our Newsletter