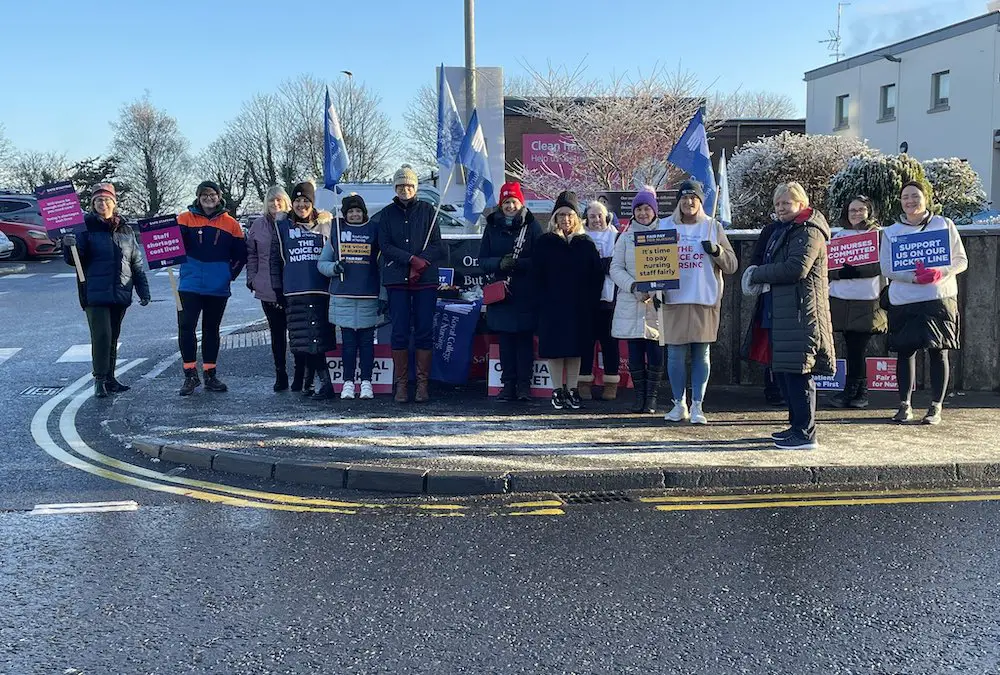 People are being advised to avoid using the Emergency Departments at Craigavon and Daisy Hill Hospitals today (Thursday) unless absolutely necessary, as nurses take strike action.
The Southern Trust has said that while the departments remain open, it is expected they will be "under pressure with long waits expected".
"Where possible, individuals should avoid attendance unless they feel they are in need of urgent attention," they added.
Today's strike by the Royal College of Nursing (RCN) is considered the biggest industrial action in the NHS's history, with nurses in Northern Ireland being joined by colleagues from England and Wales.
While emergency and urgent care will continue to be provided, other services in the Southern Trust will  be disrupted.
The Minor Injuries Service at South Tyrone Hospital is closed but will also reopen at 9am tomorrow (Friday).
A total of 183 outpatient appointments have been cancelled and a number of outpatient appointments have not been booked across acute, maternity and older people and primary care divisions.
Most Read: Cold Weather Payments extended to additional postcode areas
Twenty day cases and four inpatient appointments have been cancelled and 317 appointments will  not go ahead within older people and primary care.
In the Primary Mental Health Care service, 30 reviews and three urgent reviews have had to be rescheduled.
The Phone First service will not be operational but will reopen at 9am tomorrow.
The trust said it had contacted  patients and service users impacted by strike action.
Pat Cullen, general secretary of the RCN, said nothing has been done to try to avert the strike and that the "government has turned their back on us".
She said industrial action could be called off if the UK health secretary negotiated over pay but this had been rejected by the government.
The union is calling for a pay rise of 19.2 per cent.
On Tuesday, the director of the Royal College of Nursing in Northern Ireland Rita Devlin visited the Emergency Department at the Royal Victoria Hospital and told the BBC the scenes were shocking, distressing and heartbreaking.
She said she felt like "weeping for staff" when she saw the pressures they were working under in the over-crowded department.
Dungannon man and Sinn Féin MLA Colm Gildernew, chair of Stormont's health committee, said such reports are "deeply concerning".
"A lack of care packages in the community means many patients deemed medically fit for discharge cannot leave and not enough beds are available for urgent care," he said.
"I recently met with the Royal College of Emergency Medicine, and it was clear that this is a system wide issue that needs Executive intervention.
"We need an Executive now to deliver a three-year budget and to invest an extra £1 billion in the health service to hire more doctors and nurses and tackle waiting lists."
Yesterday, the Department of Health NI said it was "extremely concerned" by the scale of the pressures on health and social care services, particularly the "cumulative impact of repeated strike days".
It said "sustained and long-term action to secure greater capacity" is required.
Members of three of Northern Ireland's biggest unions Unison, Nipsa and GMB staged a 24-hour strike on Monday and a second RCN strike is planned for next Tuesday.
Sign Up To Our Newsletter