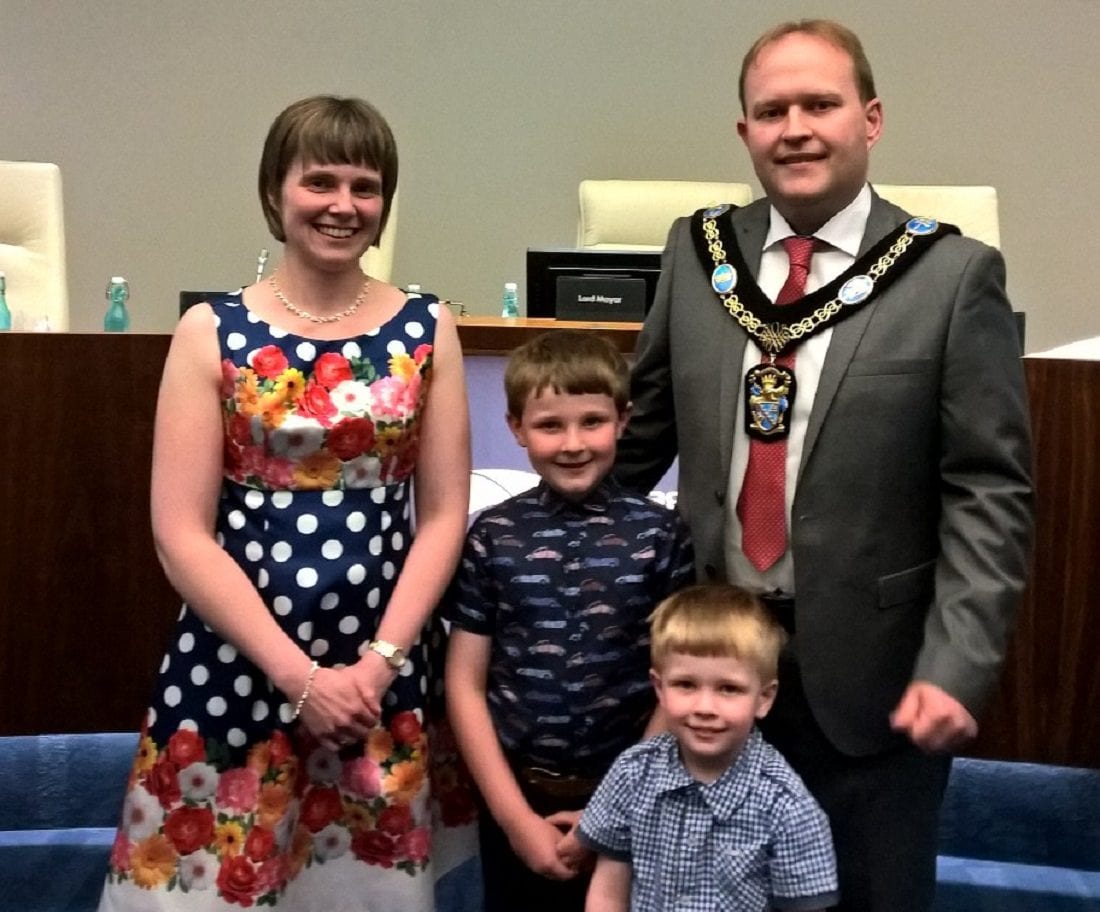 DUP Alderman Gareth Wilson has taken up the chains of office as the new Lord Mayor of Armagh City, Banbridge and Craigavon.
He was elected to the high office at tonight's (Monday) annual meeting of Armagh City, Banbridge and Craigavon Borough Council, replacing Sinn Fein's Garath Keating.
Ulster Unionist Councillor Sam Nicholson is the new Deputy Lord Mayor, taking over from Councillor Paul Greenfield.
For the new Lord Mayor Wilson, this honour marks another achievement for the 38-year-old married father of two who, due to his extensive experience in previous leadership roles, was an obvious choice among his DUP party members to take up the high-profile ambassadorial role.
Alderman Wilson, who has represented the Cusher district electoral area since 2005, previously served as Deputy Mayor of Armagh City and District during 2009/10.
He was later selected by his party to become its group leader on Armagh City and District Council in 2014.
Last year, his party members once again recognised his outstanding service contribution when they elevated him to the title of Alderman.
The University of Ulster graduate also successfully chaired the new Planning Committee during its first year of operation.
He became involved in politics at a young age because he is passionate about helping people.
In addressing the chamber, Alderman Wilson said he was delighted with the new role, stating: "It's a huge privilege and the proudest moment of my political career to be asked to serve as Lord Mayor of the borough. My greatest wish is to see it become an economic powerhouse where opportunities abound for citizens and businesses alike.
"During my term, I pledge to do all I can to maximise opportunities to see all parts of the borough develop socially and economically.
"The key message I will be conveying to all I meet during my tenure as Lord Mayor is that our borough is an open, inclusive, welcoming and inspiring place to live, work, invest and visit."
Alderman Wilson also congratulated the outgoing Lord Mayor and Deputy Lord Mayor Cllr Garath Keating and Cllr Paul Greenfield, on their "sterling representation of the borough in the 2016/17 term" and said he wanted to "continue to build on the work they had carried forward."
Sign Up To Our Newsletter