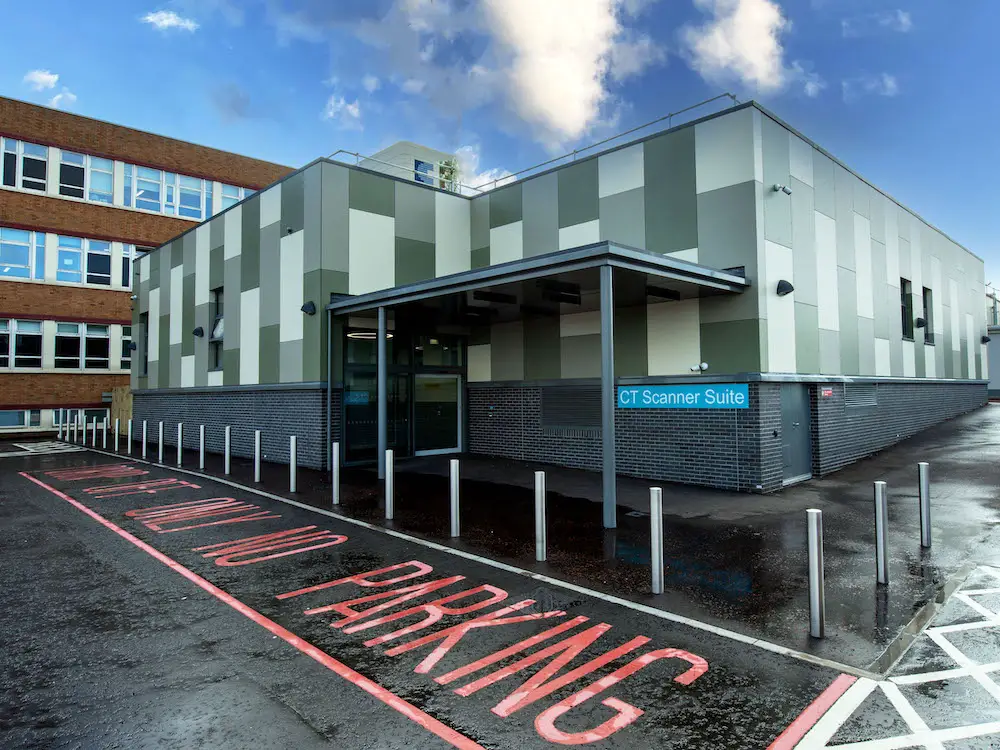 A new state-of-the-art Twin CT Scanning Suite has opened its doors at Craigavon Area Hospital.
The building, which has been purpose built, provides two high specification CT Scanners – a dedicated inpatient CT Scanner together with a CT Scanner for outpatient appointments – which will enhance the work and patient flow.
The £6.8million development has been dedicated in memory of former Southern Trust Clinical Director of Radiology and Associate Director for Cancer and Clinical Services Dr Stephen Hall, who passed away suddenly shortly after his retirement.
The new unit features a plaque which was unveiled by his family and colleagues during a dedication ceremony recently.
The project, which commenced in May 2021, has involved the construction of a two-storey building on the former maternity car park and has also delivered enhanced clinical and ancillary accommodation within the Maternity Outpatients Department.
Denise Newell, Head of Service for Radiology, said: "Dr Hall was fiercely protective of all our services and a very dedicated and innovative person.
"He always advocated for his patients, he was a very straight talker and could be relied upon to deliver high quality, safe and effective service. Dr Hall was an absolute gentleman and would have been very proud to see this amazing new suite dedicated in his honour.
"The new suite means patients will be seen and treated in a calm, modern, state of the art environment with the best patient care at its heart. Within the suite there are two patient preparation areas which means that we will be able to support outpatients in one area and in-patients in another area, providing more privacy and dignity for patients and ensuring a more timely service for their needs.
"The close proximity to the Emergency Department will improve our response to diagnosing patients with severe trauma."
Cathrine Reid, Director of Surgery and Clinical Services, said: "This is a significant investment in our radiology services which will improve the standard of care delivered to patients by cutting waiting times. The new scanners are much more advanced which will aim to improve imaging services for stroke, cancer and cardiac patients.
"Providing this advanced scanning on site will not only improve service capacity but also improve patient accessibility to diagnostic services closer to home.
"Ensuring we have the right equipment to support our clinicians to provide the highest quality of care and treatment for our patients is hugely important to the Southern Trust and was also important to the person the suite has been dedicated to.
"Dr Hall was an excellent colleague who was very knowledgeable and highly respected for his opinion in radiology and we are delighted that we are able to honour him in this way.
"A special thanks also to our estates and planning teams and contractor for their hard work and dedication throughout the entire project."
Sign Up To Our Newsletter