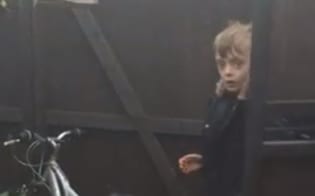 A Co Armagh schoolboy was left speechless after a treasured bicycle he thought was lost forever was returned.
Nine-year-old James Brewster's bicycle was the last gift given to him by his late father.
But on Monday the boy was devastated to find it had been stolen from the yard of his house in the Pinebank area of Craigavon.
Mum Una Magee Brewster made an impassioned plea for those who took it to bring it back.
And on Friday they did just that, something which she described as a "miracle in Pinebank".
Hundreds had shared the appeal for the stolen bike and Una took to Facebook to update them and reveal the great news.
She even recorded it on video to get James' reaction of the moment he realised the bicycle was back.
Una had been leaving home to do the school run and she discovered the bike.
"You can imagine the anticipation I had to watch James's reaction," she shared via Facebook. "Now I want to share it with you. What a beautiful ending to this story and one I had faith was going to happen, the reason being the incredible outpouring of concern and help from so many people to have it returned….from all those friends and strangers who shared my post, those who searched for it, to all who offered to replace the bike…..you were unbelievable!!! We will never forget it!
"And lastly to whoever returned the bike, you have done an amazing thing!! An incredible thing!!!!…and made James one very happy boy. Thankyou ….x".
Video: Una Magee Brewster.
Sign Up To Our Newsletter