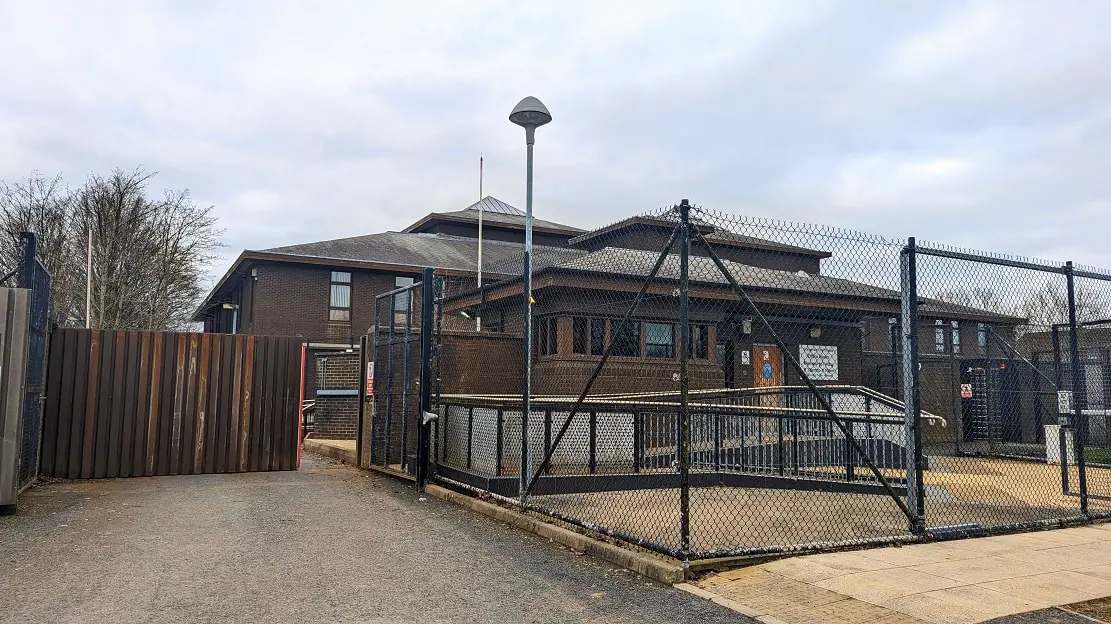 A Craigavon man accused of kidnapping and robbing a young vulnerable adult at knifepoint, while claiming to be a member of the IRA, has been denied bail.
James Maughan, with an address in Enniskeen, is alleged – alongside a 17-year-old co-accused – to have approached the victim on the Black Paths at around 5.40pm and accused him of carrying out "a serious sexual assault against a girl", before taking him to the Carraigart area where he "was left to his own devices".
The 22-year-old appeared before Craigavon Magistrates' Court on Friday charged with a number offences stemming from an incident on Monday, including: robbery; attempted robbery; possession of an offensive weapon; kidnapping; two counts of fraud by false representation; and theft.
Detective Constable Simon Duffin, opposing bail, said the victim's bank card was then used to withdraw £140 from a nearby Eurospar. It was also used a few minutes later to buy alcohol from a nearby off-licence.
Det. Const. Duffin said various pieces of CCTV footage led to the identification of Maughan and his co-accused. He also outlined how the pair allegedly approached a teenage boy earlier – at around 4pm – and "effectively befriended him" before attempting to rob him, however, the youngster "refused to turn out his pockets" and they moved on.
Opposing bail, the detective constable told the court how the two victims were not known to the defendants and that "they've just randomly picked a randomer walking down the street, have accosted them, stolen their goods, threatened them, and also threatened them that they were from a proscribed organisation".
He added: "I do admit this will be unknown to the defendants in this case, but this gentleman who ultimately suffered the robbery is a vulnerable person…in that he has autism…who was obviously very, very shaken up by this whole incident."
District Judge Bernie Kelly said the alleged offences would have taken "quite a bit of planning".
"Think about the two statements that were made," she said. "They're members of a proscribed organisation and that they have been made aware that their victim is the subject of investigation in relation to child sex abuse. Well, that's pretty stunning to put those two pieces of information together; fairly frightening for anyone, particularly a vulnerable individual."
Maughan's defence counsel, in arguing for bail, said he could offer up an address in Belfast which ultimately could manage any risks around interference with witnesses. He also said there would be no issue in having his client barred from entering the county while also pointing out his relatively limited record.
Refusing bail, Judge Kelly, said: "There are a number of features that do give me cause for quite a lot of concern…the level of thought and planning that would have gone into that would suggest to me that this is an activity that could very well be replicated."
She added: "This is going into an area where everybody in society would know, if you were painted as a child sex abuser, it would make your life very, very difficult.
"To be accused of that by someone who purports to represent a proscribed organisation. This is well beyond just producing a knife and saying 'hand it over' and that's what's concerning me, is the detail and the level of planning that has gone into this; that has given me grave cause for concern."
Maughan was remanded into custody to reappear before Craigavon Magistrates' on April 21.
His 17-year-old co-accused – who cannot be named for legal reasons – also faced the same charges minus the theft and one count of fraud by false representation. He was also remanded into custody, to appear before magistrates on April 14.
Sign Up To Our Newsletter