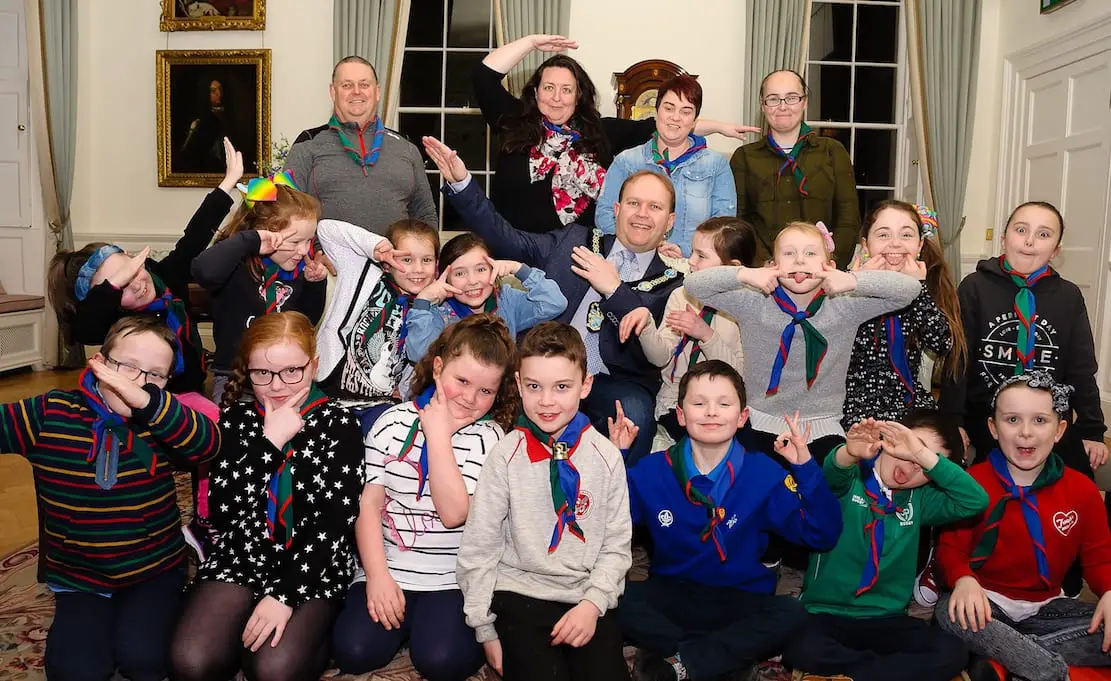 Lord Mayor of Armagh City, Banbridge & Craigavon Borough Council Alderman Gareth Wilson has held a special reception for local girls who competed in the Dance World Cup in Offenburg Germany.
The girls all belong to the Jennifer Marshall School of Dance based at Richhill and the Lord Mayor welcomed Jennifer and her team of dancers to a special reception to honour their achievements in competing in the international dance competition.
Alderman Wilson said, "What a great group of girls and they are all so clearly dedicated and competitive in what they do. They have a great instructor and teacher in Jennifer Marshall and they pride themselves in doing the very best they can to achieve success."
He added: "The girls had put together a slide show of their Germany trip and it was a massive event for them to take part in and they all learned so much through this international competition. What was so obvious is that they all had a great time doing what they love to do.
"I wish Jennifer and all her dance pupils well as they continue to dance and make preparations for competitions closer to home. With huge emphasis now placed on kids to exercise more, Jennifer's pupils with their high tempo routines certainly have no trouble staying fit and active. Well done to them all on representing our Borough on a world stage."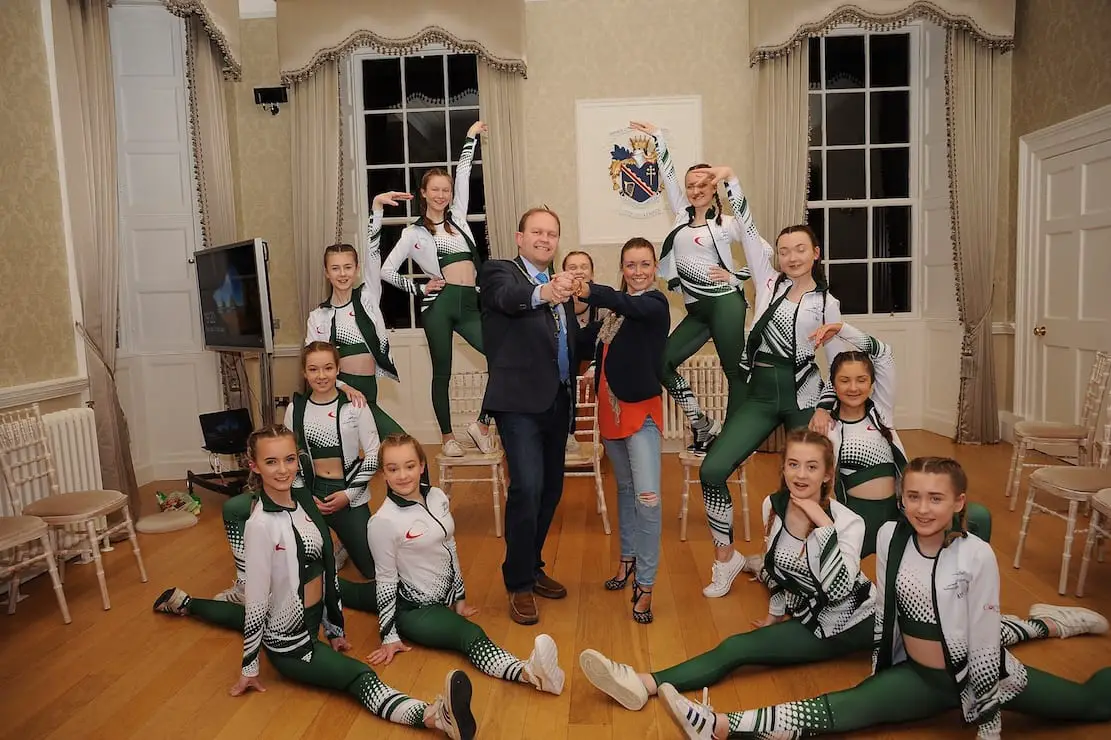 Lord Mayor of Armagh City, Banbridge and Craigavon, Alderman Gareth Wilson hosted a reception in Banbridge Civic Building for Geoff Hylands from Banbridge Angling Club who won 2017 "World Cup" Trout Fly Fishing Competition on Lough Mask, included are Club Chairman Sam Watt and Club President Sam Vage.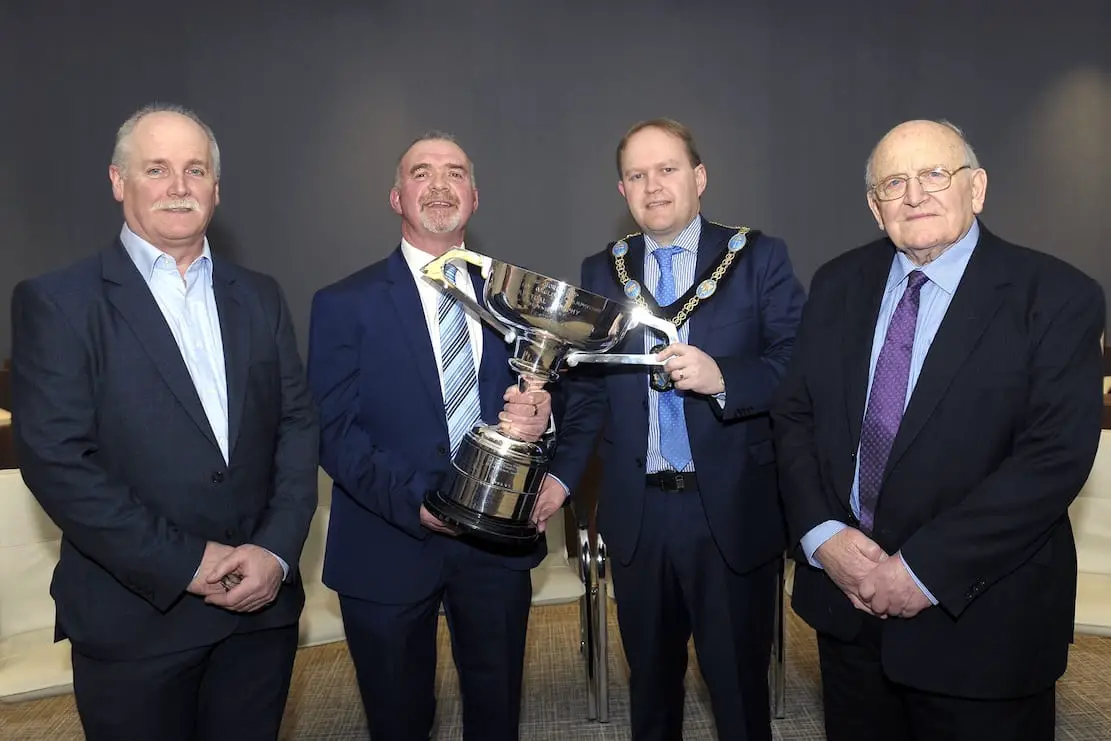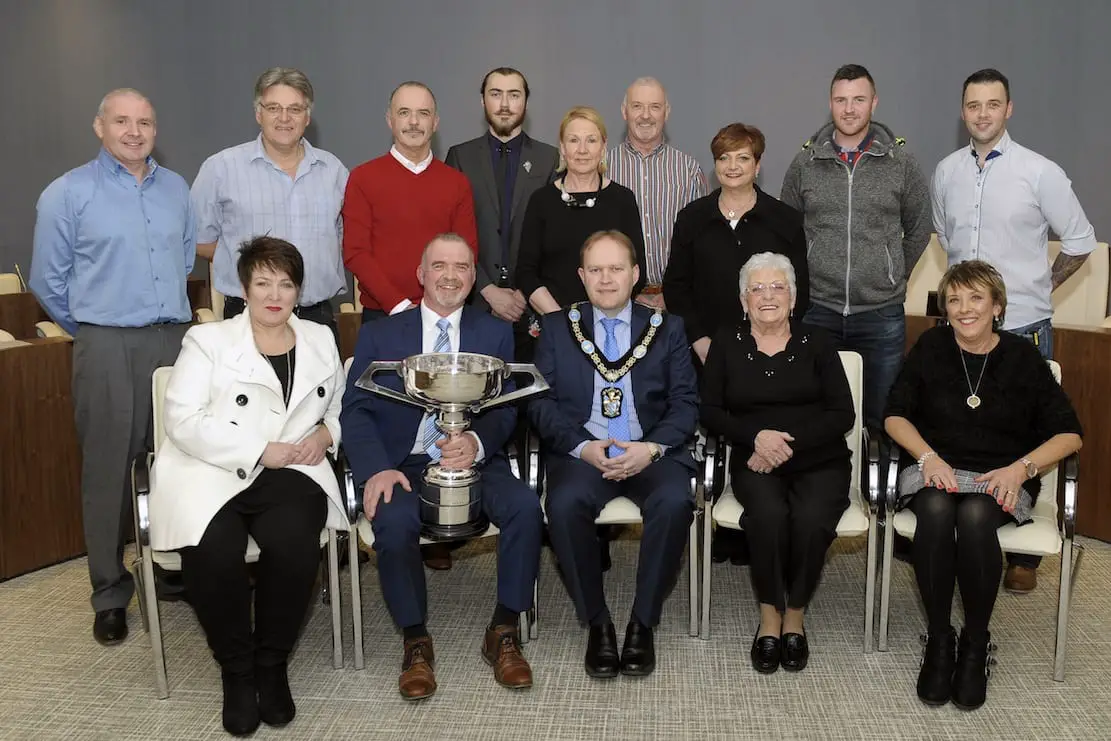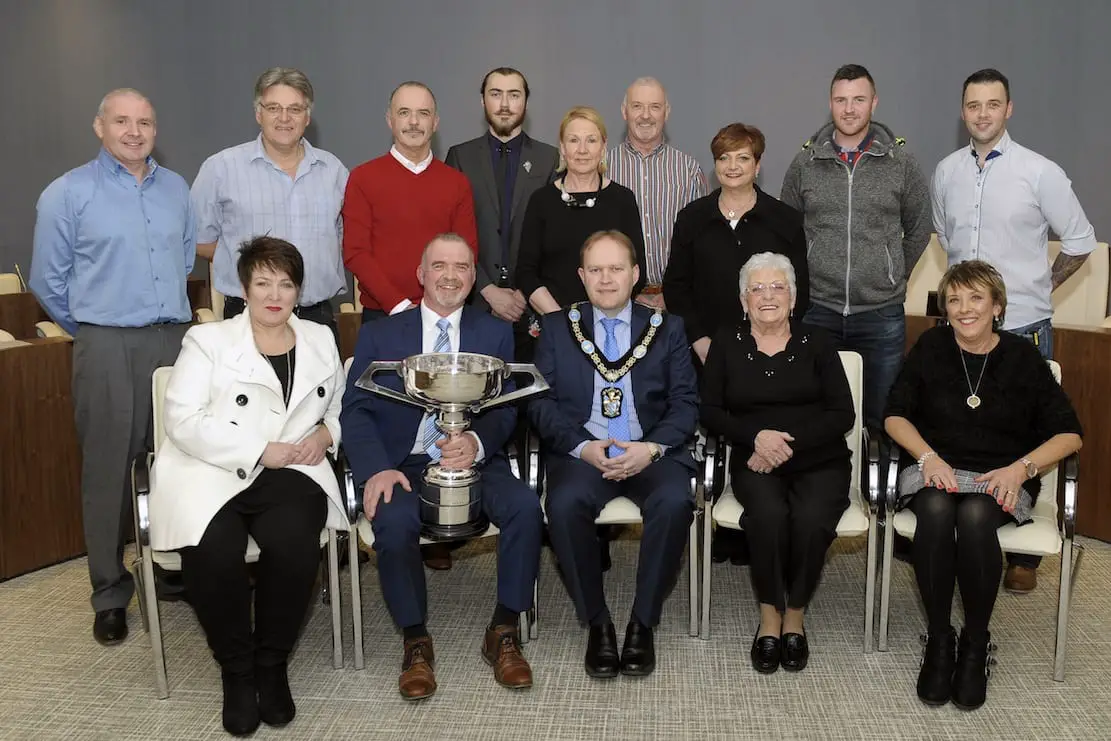 Members of St. Mark's Portadown Mothers' Union had a tour of the Palace building, the historic church and enjoyed afternoon tea.
Lord Mayor Alderman Gareth Wilson stated: "Mothers' Union groups across the Province contribute so richly to society and provide an important function in allowing ladies to meet together for fellowship and also take forward charitable and community work, all with a firm focus on faith."
He added: "The Mothers Union at St Mark's is one such group that very clearly puts so much time and effort in providing this important resource for local ladies. They are always on the lookout for new members to join them and they operate to promote the value to society of stable family units, the importance of marriage and encouraging parents to develop the faith of their children."
He concluded: "In my tenure so far it has been so beneficial and interesting to meet with groups promoting Christian faith in the public square and I wish St. Mark's Mothers' Union well in the year ahead as they plan events and meet together each month."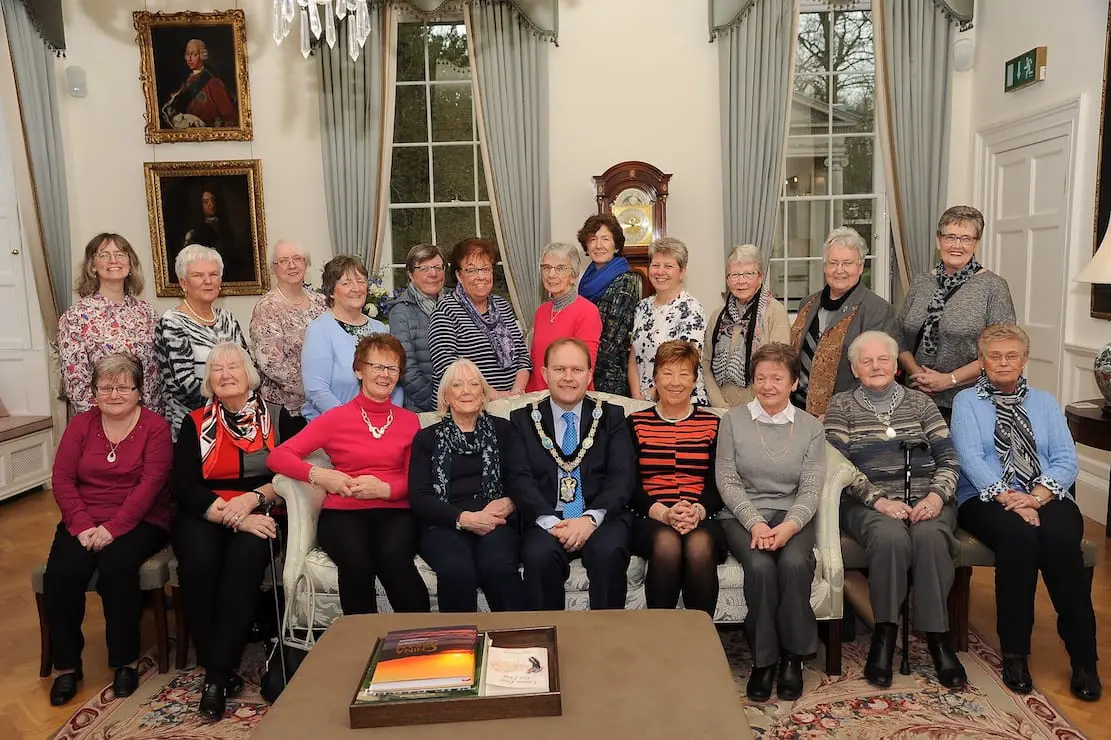 Lord Mayor, Alderman Gareth Wilson has hosted kids and Leaders from Portadown Beavers.
The group of enthusiastic kids enjoyed a tour of the Palace building in Armagh and a tasty supper.
Alderman Wilson said, "This was such a great evening and I really enjoyed having the Beavers over to the Palace for this special reception. The kids were a real credit to their Leaders and parents and were so inquisitive which made the evening a lot of fun."
He said, "It was nice to be able to show the kids around the building and the highlight was a trip down to the depths of the Palace and a walk along the servants tunnel, which provided a few screeches when the lights went out!"
He concluded, "I wish the Portadown Beavers well for the year ahead and I know they have a very exciting programme of events planned which will teach the kids lots of skills and disciplines that will stay with them throughout their education and development."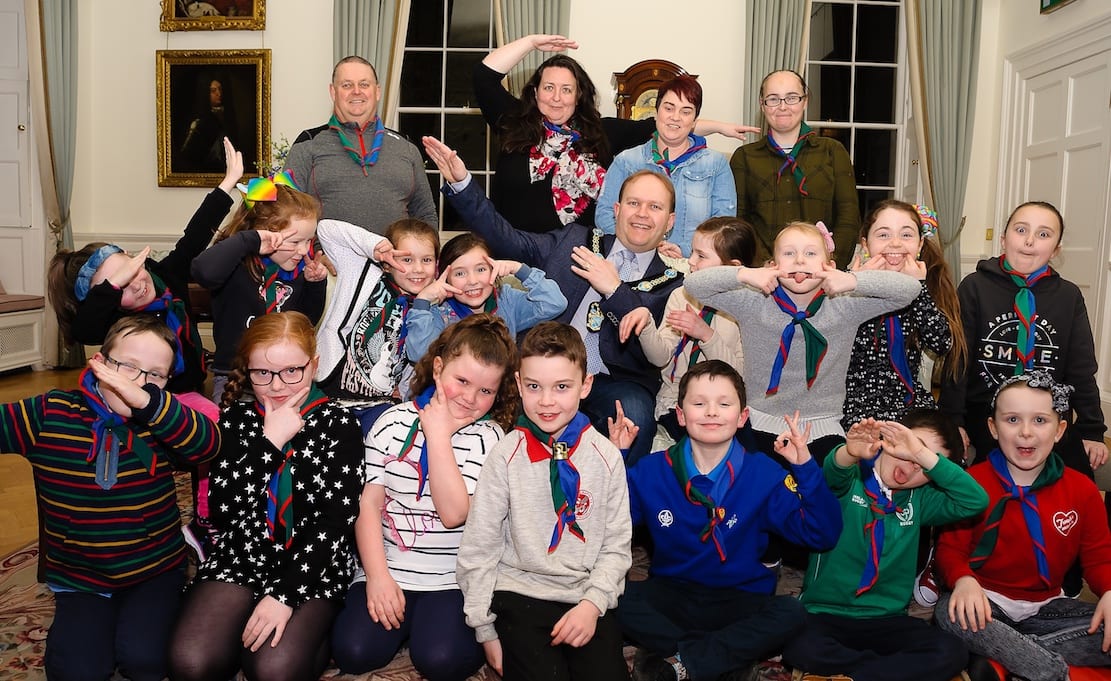 Lord Mayor of Armagh City, Banbridge & Craigavon Borough Council Alderman Gareth Wilson has hosted the members of Armagh Motorsports Association at a reception in the Palace Building.
The reception was in special recognition of the assistance the Association provided in the organising and running of the Lord Mayor's special Cars and Coffee charity fund raiser last August which raised £2000 for the Northern Ireland Air Ambulance.
He stated: "It was important to recognise the tremendous assistance the members of Armagh Motorsports Association were to me and our Council in organising my Cars & Coffee fund raiser for the Northern Ireland Air Ambulance last year. The event couldn't have been staged without the input of the very helpful members of AMA and it was a great opportunity for me to get them all together to say a big thank you for their hard work."
He concluded: "I'm planning a Cars, Bikes & Coffee event on Thursday 3rd May at Craigavon Civic Centre and Armagh Motorsports Association have very kindly agreed to again come on board again and assist me. The public were so supportive of the previous fund raiser and I know folk are keen to see another event staged in support of the Air Ambulance, my charity for the year."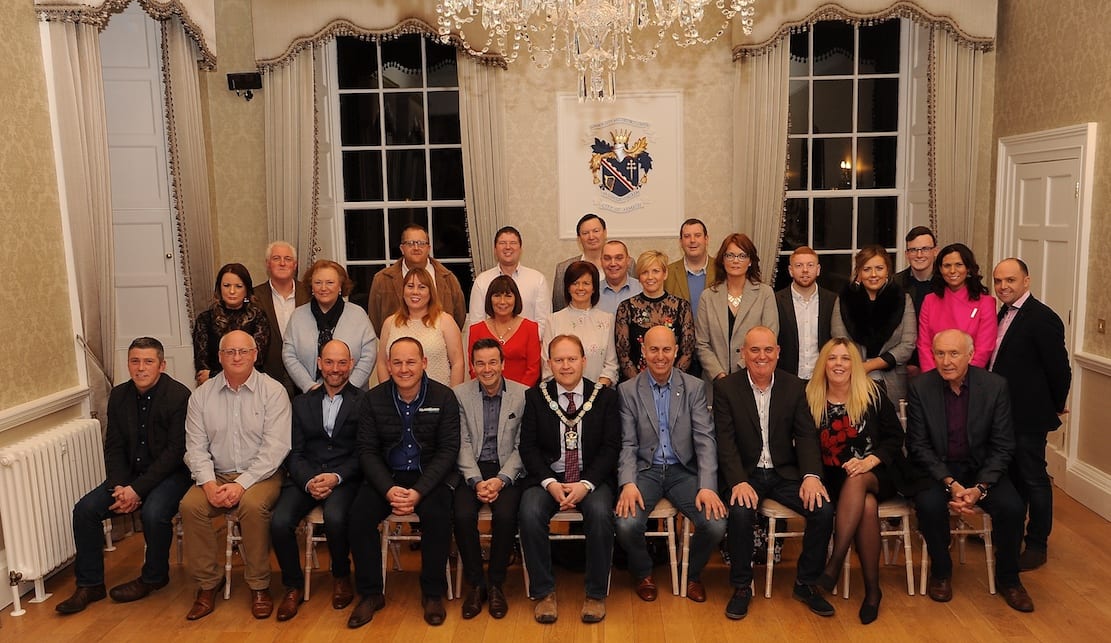 Alderman Gareth Wilson has hosted the members of the Board of Governors of Tandragee Junior High School.
The Lord Mayor is a past pupil of the school and recently was invited as a guest to address the school Assembly and was delighted to host pupils from the Learning Support Class for tour of the Palace building in Armagh in October 2017.
Alderman Wilson said: "As a past pupil of Tandragee Junior High and having fond memories of my education at the school, it was great to be able to host the Principal Wayne Brown and the Board of Governors for a reception at the Palace building."
He said: "The members of the Board do tremendous work behind the scenes in the running of the school and this commitment and dedication is much appreciated by everyone associated with the school."
He concluded: "Tandragee Junior High, under Mr Brown's leadership, is performing strongly thanks to the hard work of staff and pupils that are ably assisted by a great team of Governors who want to see the school continue to thrive. I wish everyone at the school well in the term ahead."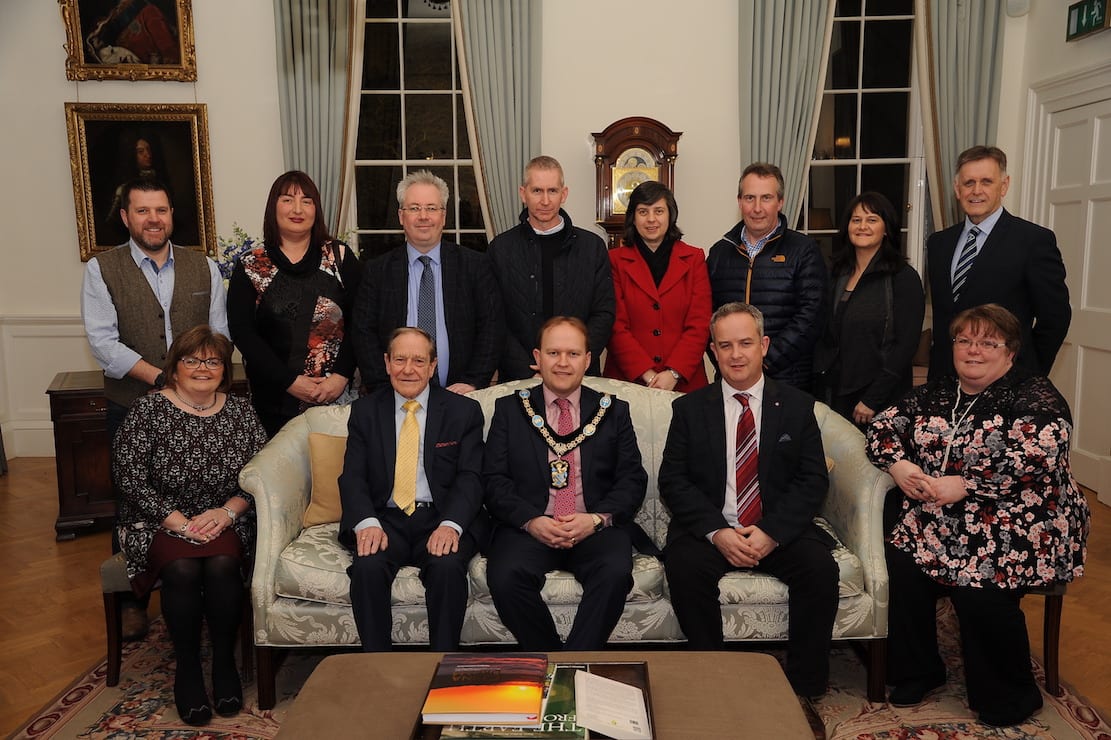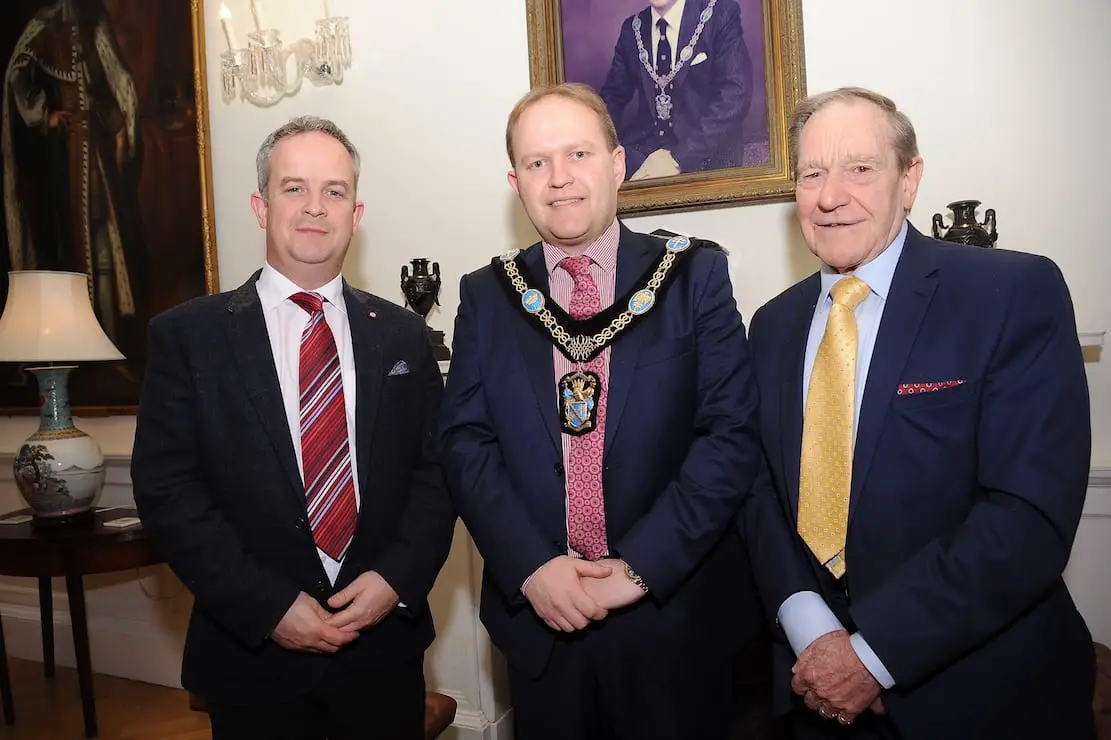 Lord Mayor, Alderman Gareth Wilson has hosted the Hardy Memorial Primary School Council at the Civic Centre in Craigavon.
The pupils were joined by their Principal Mrs Elaine Anderson and Chairman of the Board Alderman Jim Speers.
Lord Mayor Alderman Wilson said, "It was really interesting and enjoyable having the kids from Hardy Memorial visit the Civic Centre, especially as they were all members of their own school Council."
He added: "They had a great time seeing around the building and also taking their seats in our main Council chamber. The chair of the School Council Caitlin certainly enjoyed taking my chair at the top table for the morning, where she very ably fielded questions from her fellow pupils on all sorts of topics from what my role entails as Mayor to what the word 'Alderman' means."
He concluded: "They are a great group and I wish all the pupils well as they continue their studies under the leadership of the very capable and hardworking Principal Mrs Anderson."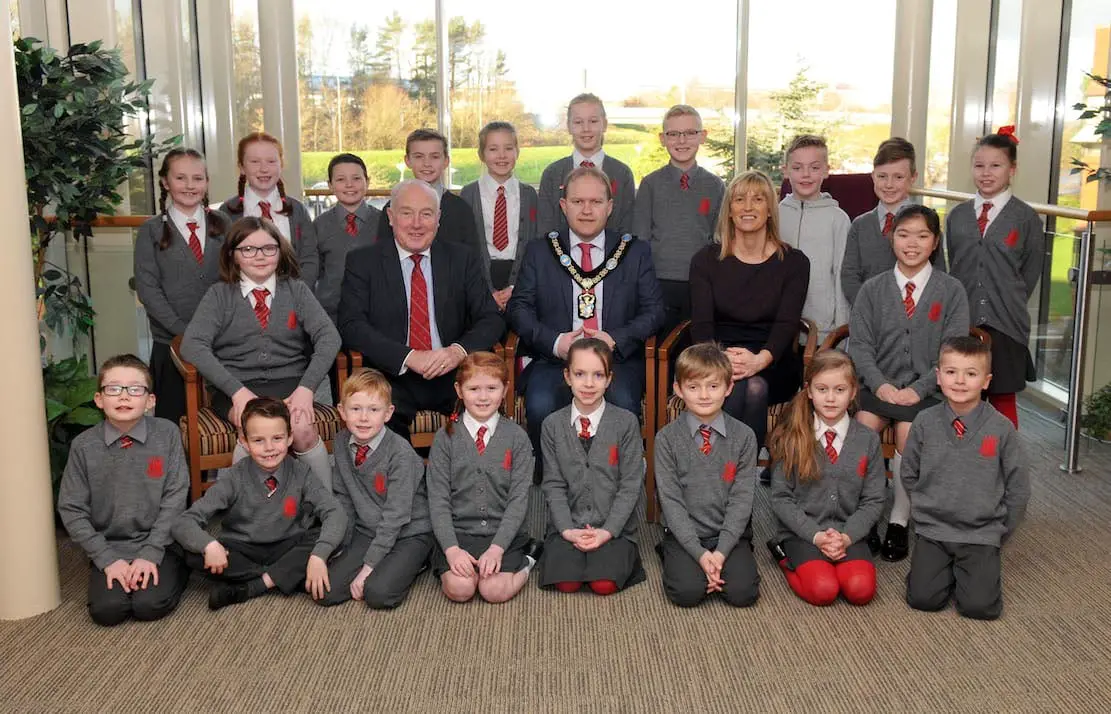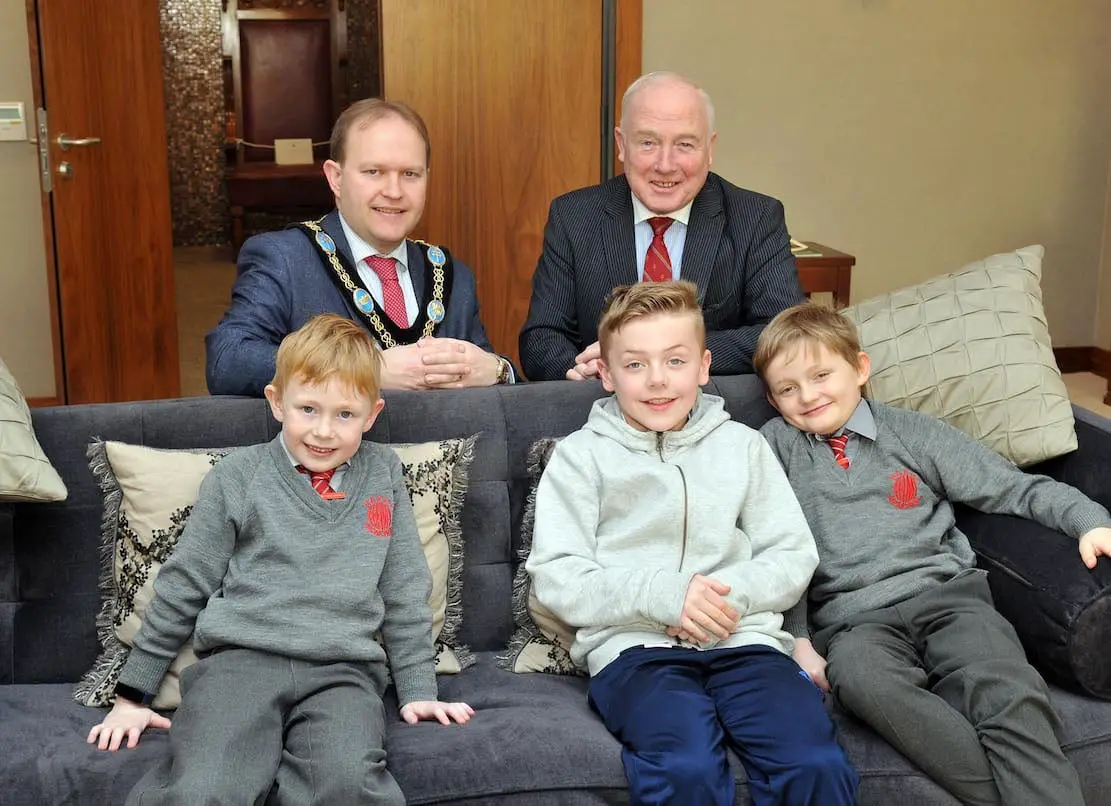 Lord Mayor, Alderman Gareth Wilson has commented on his visit to a Trade Fair organised by Young Enterprise NI in Rushmere Shopping Centre on Thursday February 1.
Up to 40 groups of primary, post primary and special school students attended to sell their products to the public.
"I was really impressed by all the sales pitches," commented the Lord Mayor.
"The products were fantastic and the amount of preparation put in by the young people was evident to see, it was wonderful to see their creativity and innovation, I hope they all had a successful day!"
Students attended the fair from across the Southern Region which spreads across Kilkeel, Newry, Newtownhamilton, Armagh, Craigavon, Portadown, Lurgan, Banbridge, Dromore, Dungannon and Keady as well as a school from across the border in Dundalk.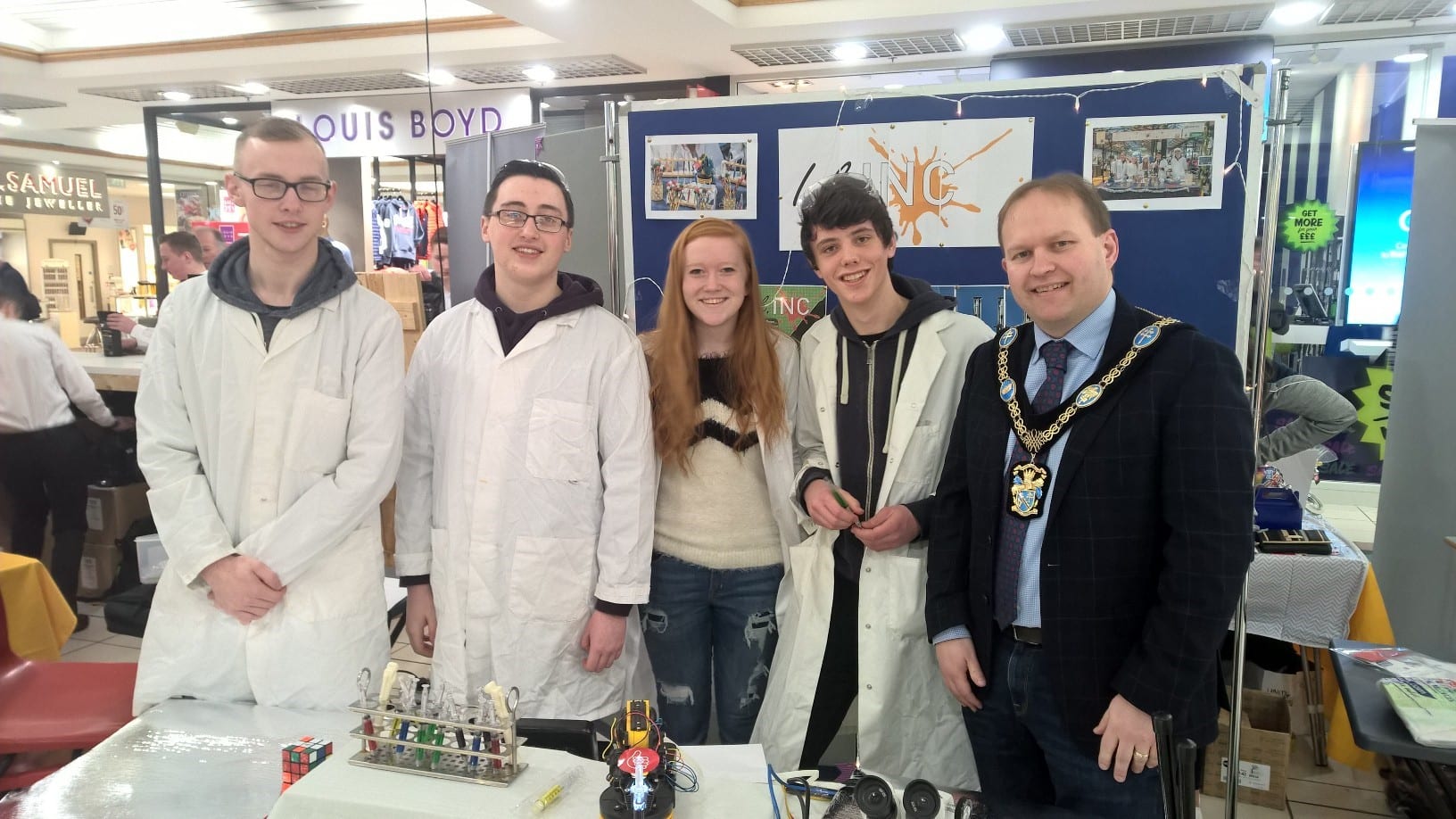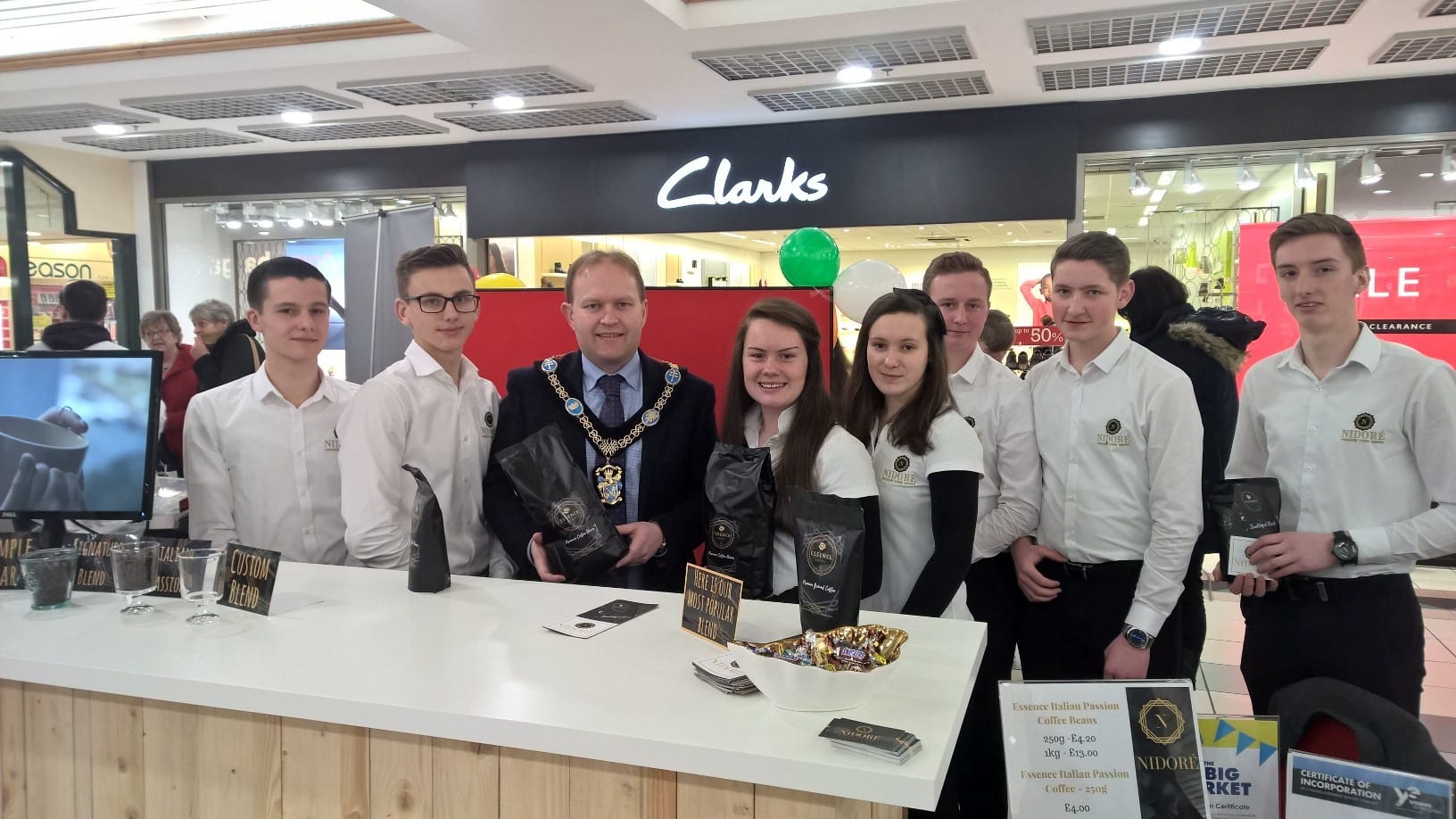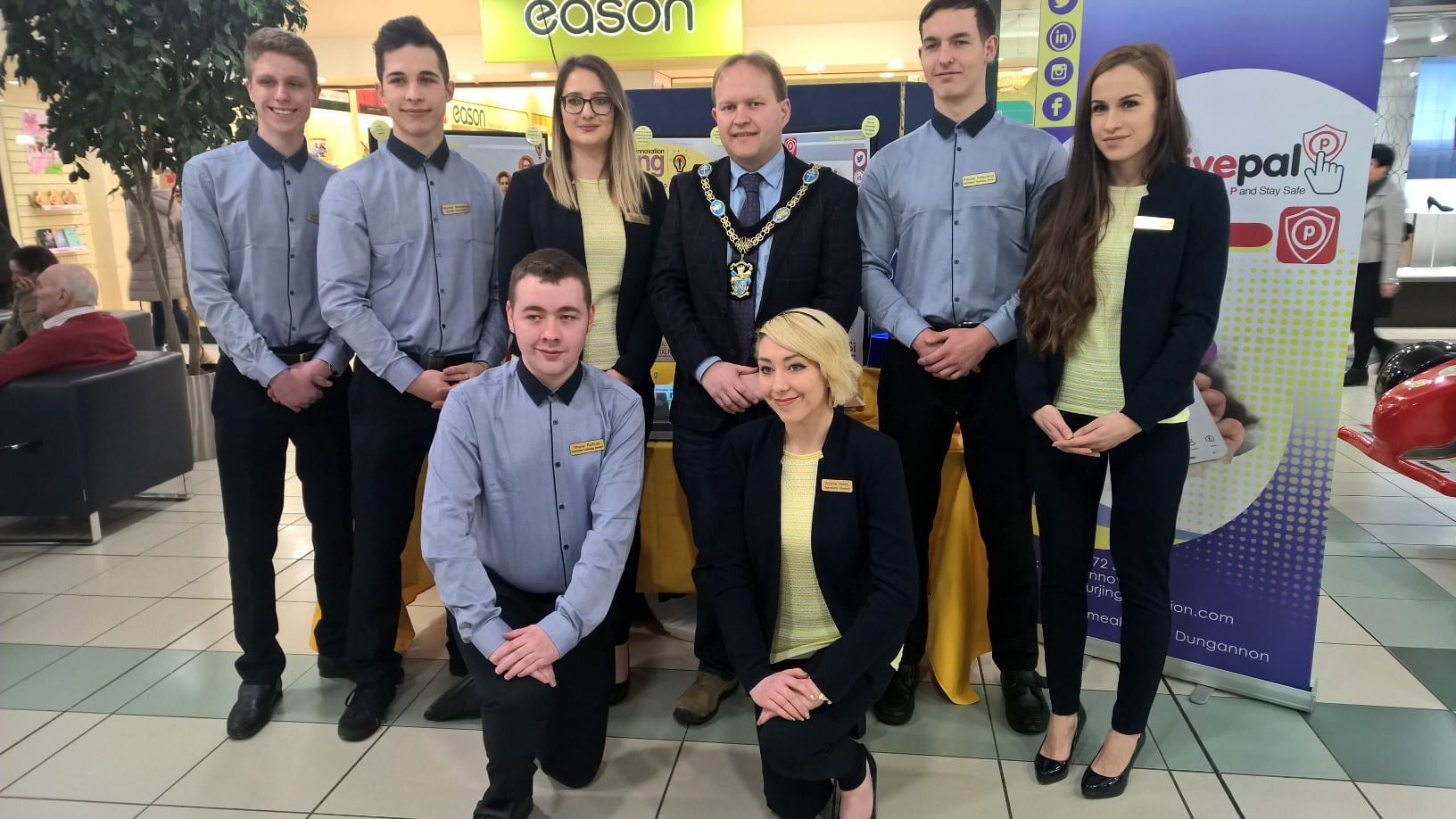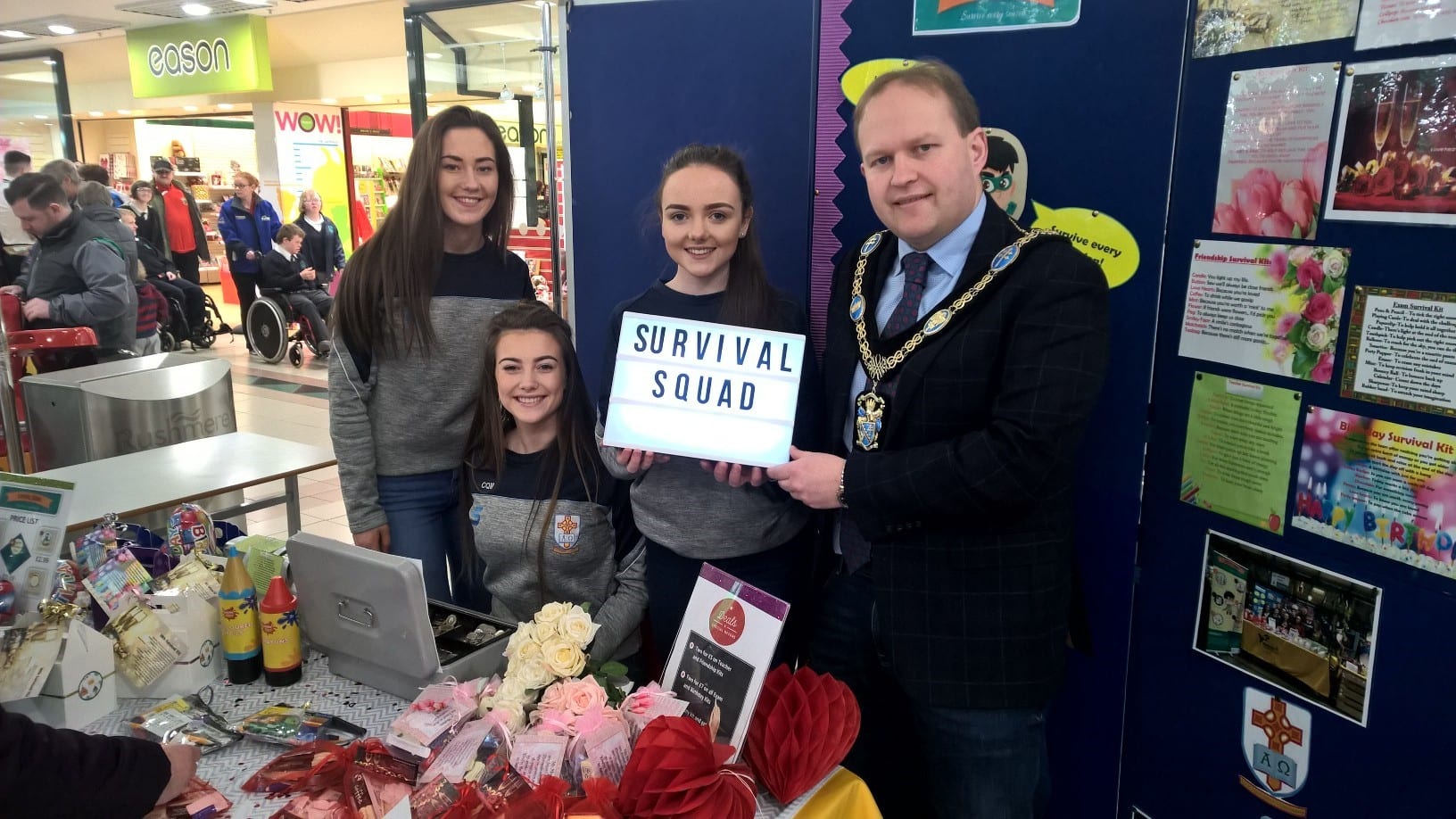 The Lord Mayor has hosted the Phoenix Players at Craigavon Civic Centre.
This year sees the Phoenix Players celebrate 30 years as a theatre group performing a wide range of productions involving both junior and senior casts.
The Lord Mayor and his family officially attended Bugsy Malone at Portadown Town Hall last August, a production which received widespread acclaim in the Borough.
Commenting on their 30th Anniversary Alderman Wilson said, "Groups such as the Phoenix Players have contributed massively to the life of this Borough down through the years. They have brought both vibrancy and talent to the stage and warmed the hearts of the public in such a fun filled and happy way. That type of contribution is so worthy of honour."
He added, "Caroline Cullen and her hard working team of volunteers deserve great credit for the significant investment they have made in both time and effort staging numerous productions.
"Many of the kids who perform in Phoenix Players have started out so young and stayed with the team contributing year on year and providing stability and friendship for fellow performers. That is such an important part of the group."
He concluded: "Phoenix Players are always on the look out for helpers and performers and I know that Caroline's door is always open and a warm welcome and great friendship is guaranteed. I wish them all well for 2018 and no doubt another fun filled year lies in store for everyone involved with the Phoenix Players."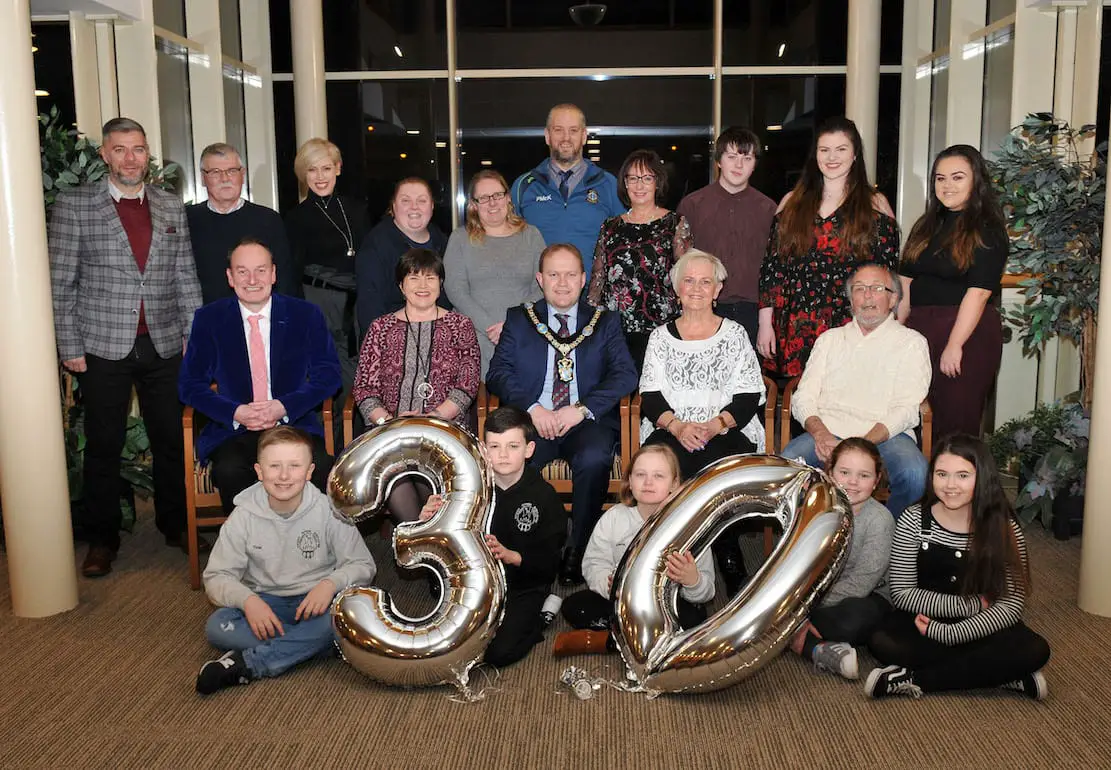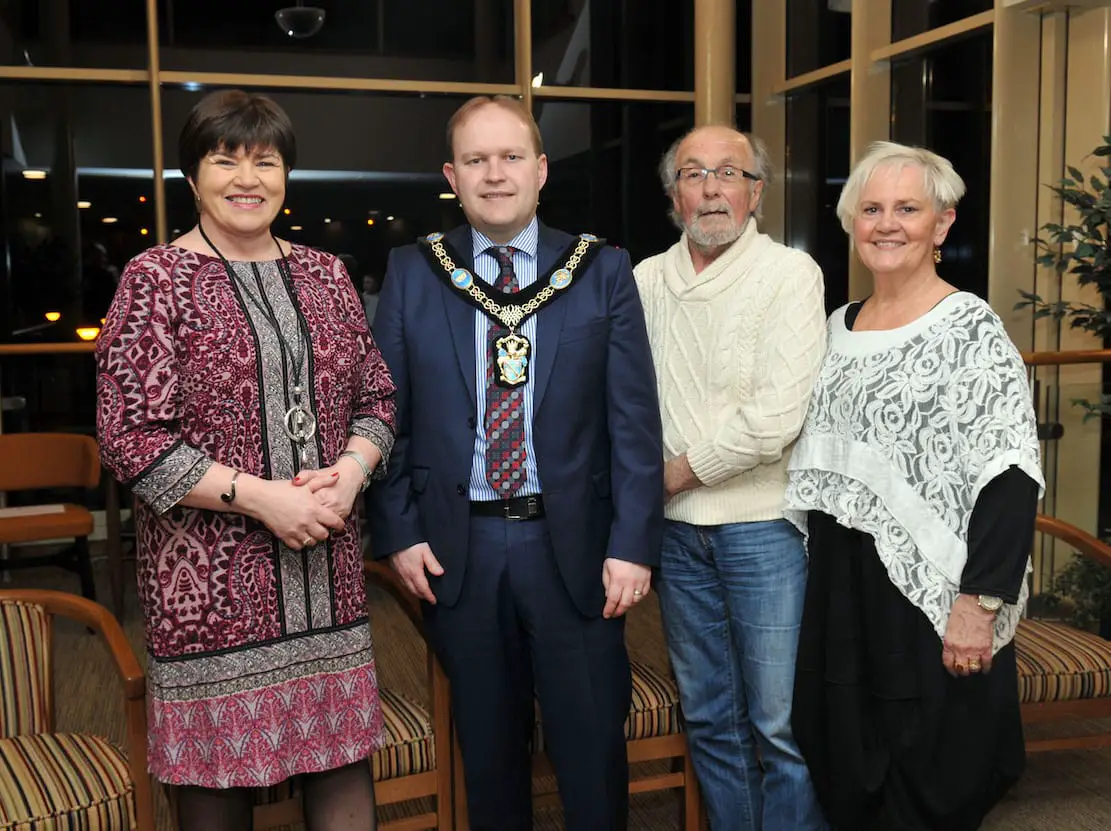 Sign Up To Our Newsletter