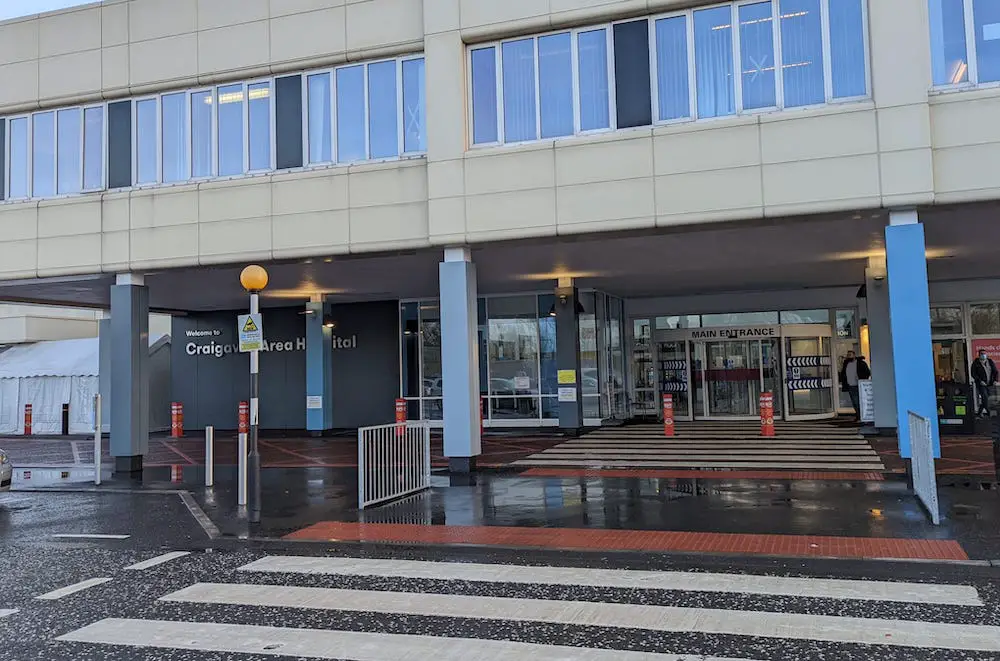 A man who assaulted a fellow patient and staff members at Craigavon Hospital has received a six month custodial sentence.
Noel Copeland, 54, was appearing before Craigavon Magistrates' Court on Friday, via videolink from Maghaberry, charged with seven counts of common assault.
The court heard that on January 11 police received a report of an aggressive patient causing a disturbance at Craigavon Area Hospital.
When officers arrived they found the defendant being restrained by medical staff.
The court was told that there had been a verbal altercation between the defendant and another patient, which led to the defendant punching the patient in the face, "causing pain and swelling".
Subsequently, hospital staff attempted to intervene in the altercation, at which point Copeland lifted a zimmer frame and "threw it in the direction of medical staff".
Due to his behaviour, the medical staff then locked themselves in various bays to avoid injury. The defendant attempted to gain entry to the bays but was unsuccessful, the court heard.
As the situation developed, security staff arrived and the court heard that a hospital porter had said that Copeland had "managed to get his arm around his throat and squeeze tightly".
The defendant was then sedated and restrained until police arrived.
Copeland's defence counsel said: "He was admitted to bail, but he just simply has not been able to perfect that.
"There has been ongoing correspondence between myself and the Southern Trust and the Western Trust to pinpoint a proper placement for this man who obviously has serious mental health issues."
District Judge Bernie Kelly commented: "He has not entered a plea of guilty, therefore he is entitled to no credit. He has a particularly poor record for offences of violence.
"So I am going to certify these offences given their very heinous nature that took place in a hospital involving all but one, members of the hospital staff."
Copeland was sentenced to six months in prison for each charge, to be served concurrently, with a £25 offender levy to be paid for the first charge.
Sign Up To Our Newsletter