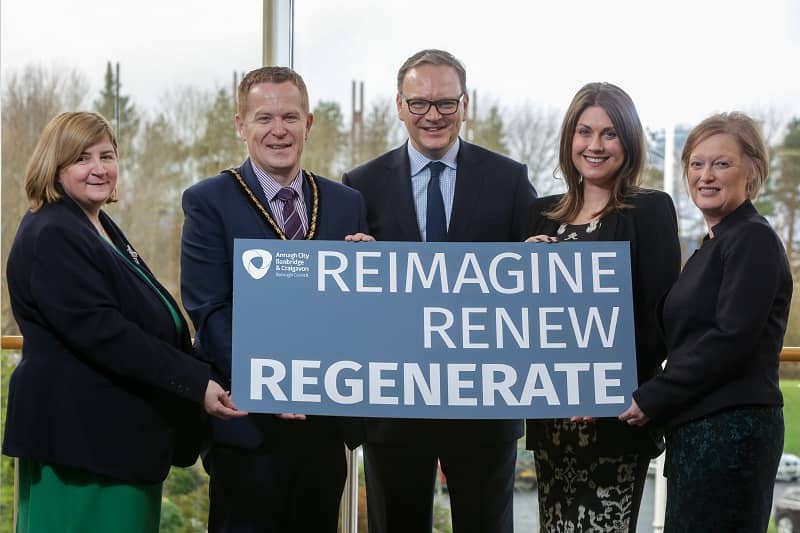 Armagh City, Banbridge and Craigavon Borough Council today unveiled details of its inaugural "Sharing Our Potential" regeneration conference which takes place at Craigavon Civic and Conference Centre on Wednesday, February 22.
In a first among Northern Ireland's local authorities, leading business and industry experts, regeneration and heritage specialists – including global design innovator and built heritage champion Wayne Hemingway MBE – will share their insights and expertise on regeneration and place shaping for the future and how these can deliver real benefits for the region's towns and cities, their communities and the economy.
CBI Northern Ireland Chair David Gavaghan, formerly Chief Executive of Titanic Quarter Limited, has built an enviable career in regenerative real estate and business leadership, is included among the impressive speaker panel. Gavaghan was also Chief Executive of the Strategic Investment Board where he advised ministers on the infrastructure programme across the region.
Distinguished speaker and urban planning expert Debra Mountford from the Organisation for Economic Co-operation and Development (OECD) will also lead the discussion, providing a holistic overview on the importance of economic leadership in regeneration, while Dr Steve Millington from Manchester Metropolitan University's Institute of Place Management will focus on the future of town and city centres. Millington is currently developing tools to allow those in the place management industry to make strategic decisions.
The event will be hosted by broadcaster and business coach, Sarah Travers.
Deputy Lord Mayor of Armagh City, Banbridge and Craigavon Borough, Councillor Paul Greenfield said: "As a forward-thinking council with a priority to develop our local economy, we are thrilled to spearhead this landmark event which is a first-of-its-kind in Northern Ireland and which will assist in underlining and driving forward the vital roles of regeneration and place management in our vision for the future.
"By hosting these dynamic leaders in the field this is an exciting opportunity for us to learn and positively impact our town and city centres.
"The Council's Regeneration and Development Strategy is finely focused on investment, growth and development as a key priority which will encourage and support accelerated economic growth and enhanced community benefit."
The event has already attracted strong interest from across the local and NI commercial and residential property sector, town centre management divisions, chambers of commerce and heritage trusts. However, all those who will benefit from topics such as heritage-led regeneration, rural regeneration, customer trends in town centres and capital and infrastructure development are invited to attend.
The Deputy Lord Mayor added: "With a keen focus on the future, investment and how our towns, villages and cities can positively change and develop, our enviable speaker panel will clearly outline the many opportunities available for company directors, developers, planners, policy makers and investors alike who will be encouraged by the insights, advice and potential investment opportunities available."
Internationally-acclaimed fashion designer, co-founder of the Red or Dead fashion chain and urban heritage expert Wayne Hemingway MBE leads the speaker panel.
A champion of architectural heritage, Hemingway is a currently a specialist professor in the Dept. of the Built Environment at Northumbria University and sits on the Design Council's Commission for Architecture and the Built Environment.
For more information and to secure your place, visit www.armaghbanbridgecraigavon.gov.uk/business/events
Sign Up To Our Newsletter