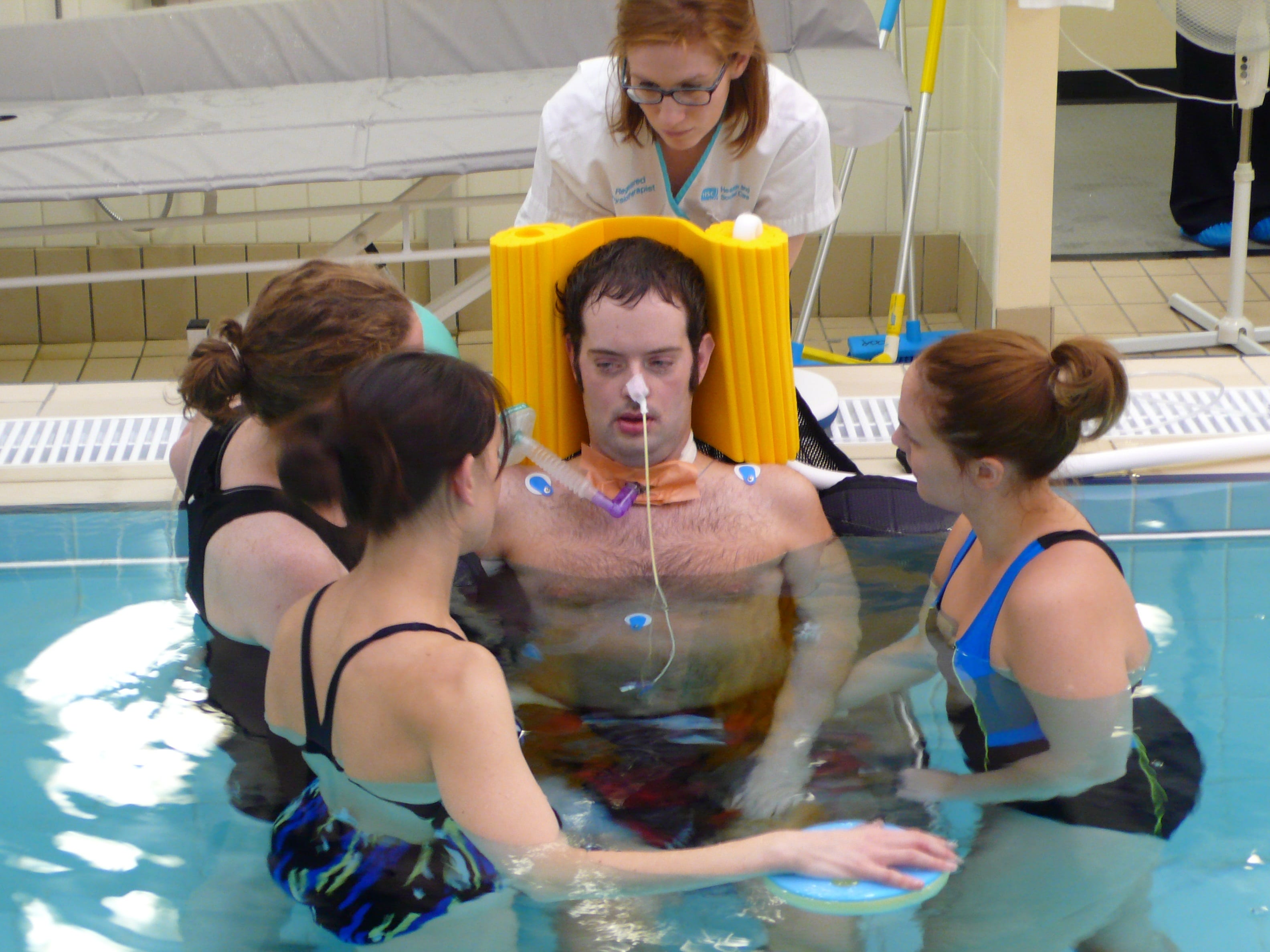 A young County Armagh man who suffered paralysis and respiratory failure as a result of a rare illness has returned to work just 20 weeks after being admitted to intensive care.
And Gareth Galway has hailed the support and help of the physiotherapists at Craigavon Area Hospital, who have helped him.
The 27-year-old Portadown man has even hosted a fundraising coffee morning and made a very generous donation to the intensive care unit to say 'thank-you' for the exceptional treatment.
The team of physiotherapists from Craigavon Area Hospital have become the first in the UK to introduce a ground breaking aquatic therapy to treat critically ill patients.
The benefits of aquatic physiotherapy are well known for pain relief and helping to improve flexibility and strength following illness or injury.
But offering aquatic therapy for intensive care patients who need ventilation and a range of other medical interventions presents many challenges.
Intensive Care Physiotherapist Corrie Gracey, who led the project, explained: "Bringing a critically ill patient to the hydrotherapy pool involves a wide range of skills and considerations, for example addressing health and safety and infection control issues, co-ordinating staff and supporting and reassuring the patient's family."
One patient who took part in the pioneering treatment was Gareth Galway, who due to Guillain-Barré Syndrome had complete paralysis and respiratory failure.
He had been in intensive care for seven weeks and physiotherapy treatments in the unit were proving difficult and painful so he was very keen to try the option of aquatic therapy.
A team of physiotherapy and intensive care staff worked together to give Gareth a programme of aquatic physiotherapy which led to a marked improvement in his recovery.
By the third session his breathing tube was removed and he was soon transferred from intensive care to a rehab ward.
In his own words, when he was able to speak again, Gareth said: "The aquatic therapy definitely kickstarted my whole recovery. On dry land the physiotherapy was extremely painful and nothing much was happening.
"But the pool was sheer bliss, I could see movement in a weightless environment without any pressure points. This helped with pain relief and sleeping pattern, improving my mood and motivation for recovery."
Twenty weeks after his admission to intensive care, Gareth was walking again and he has since returned to his job as a Civil Engineer.
The project has recently been recognised as a runner-up in the UK Advancing Healthcare Awards.
Congratulating the team, Teresa Ross, Head of Physiotherapy for the Southern Health and Social Care Trust, said: "Thanks to a real team effort from all of the professionals involved and their shared vision to improve the patient outcome, they have been able to transform the rehabilitation process for critically ill patients.
"The development of this project shows that forward thinking to push conventional boundaries and a commitment to continuous improvement can have fantastic results for the patient's recovery and quality of life."
The Southern Trust would like to extend their thanks to Gareth for hosting a coffee morning which raised a very generous donation for the Intensive Care Unit.
Read more news:
Young woman killed in Richhill RTC named locally
Gaol, Palace and other buildings to be lit up to raise awareness of epilepsy and ME
Incredible response to Niall Quinn online donation campaign
Money pledged to improve roads and prevent future flooding
Tourist trail to link key sites in history of Orangeism – and there's big plans for Scarva too!
Co Armagh to host first exciting 'Colour Run' for British Heart Foundation
Two teenage boys attacked and robbed by 'gang of 20'
Sign Up To Our Newsletter