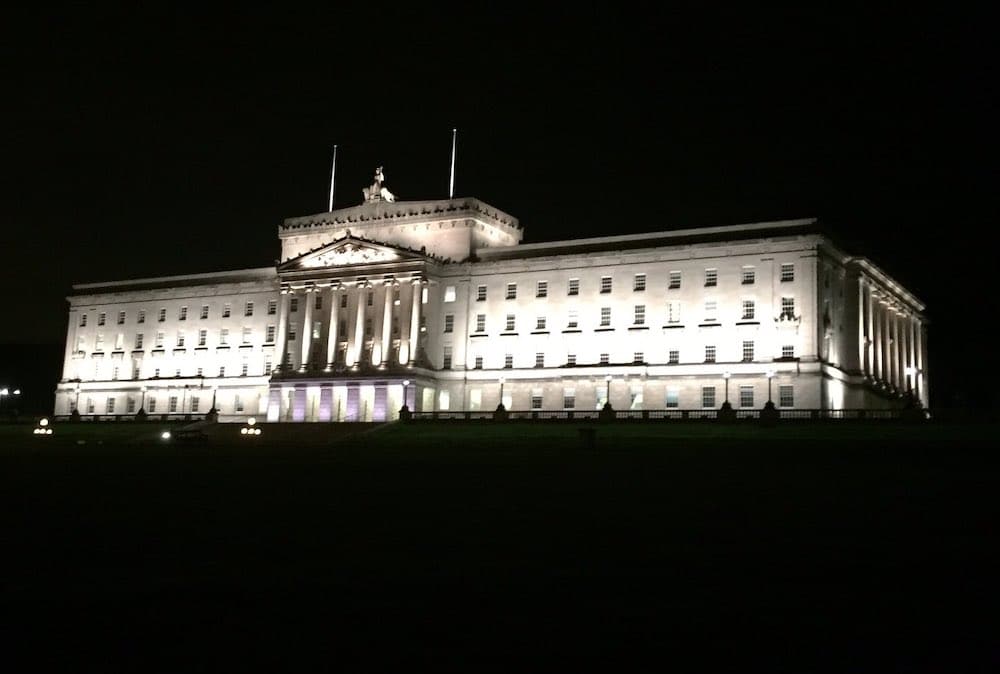 Armagh City, Banbridge and Craigavon Borough Council is to consider a programme of activities to mark the 25th anniversary of the Good Friday Agreement.
A motion brought forward by Alliance Party Councillor Jessica Johnston called on the local authority to recognise how the historic agreement ensured "lasting peace for future generations".
The motion was supported by the majority in the chamber with only the 10 DUP elected representatives and the independent councillor Paul Berry voting against it.
UUP representative, Alderman Glenn Barr abstained from the vote.
Cllr Johnston's motion read: "Armagh City, Banbridge and Craigavon Borough Council acknowledges the 25th anniversary of the Good Friday/Belfast Agreement and recognises how this historic agreement renewed our society so that its people could live side by side conflict free and ensured lasting peace for future generations.
"Council further acknowledges the bravery and determination of those who delivered leadership and hope during the negotiations and remembers all victims of the conflict.
"Members reiterate their support for the agreement and call on current political leaders to renew their commitment to power-sharing in Northern Ireland and agree relevant reforms to the political institutions in Northern Ireland to end dysfunctional politics and reflect the changing society we live in and progress towards a shared and inclusive future.
"Furthermore, council agrees to bring forward and consider a programme of activities to observe this significant milestone."
Introducing the motion, Cllr Johnston acknowledged that having been born after the agreement was signed, she has "no lived experience of the conflict or the negotiations that brought about the peace" but hoped the chamber could recognise its historic significance appropriately.
Seconding the motion, her party colleague, Councillor Peter Lavery said the agreement "allowed my generation to live in a safer society with more hope for the future".
"The progress we have achieved in the last 25 years was made possible by numerous dedicated citizens from all backgrounds united around the idea that progress was possible," he said.
DUP group leader, Alderman Mark Baxter said his party would not be supporting the motion but acknowledged it was "a significant event in the history of Northern Ireland".
The Lagan River representative told the chamber that at 19 years of age, he voted against the agreement and did so with a clear conscience.
"Where I lived, in Dungannon, just outside what was known as 'the murder triangle' my next door neighbour to the right hand side was murdered by loyalist paramilitaries, when I was 15," he said.
"A neighbour who lived a couple of hundred yards up the road on my left hand side was murdered by the IRA. Both of these men where gentlemen going about their daily business.
"Those terrorists who committed those atrocities were let out of prison under this agreement and that was something I couldn't stomach. This was something we saw day and daily."
His party colleague, Councillor Kyle Moutray described the motion as an "attempt to eulogise, even romanticise an agreement that released terrorists from prison".
Cllr Berry said he was opposed to the agreement because of the "appeasement process gifted to terrorists".
"I can remember 25 years ago when the IRA planted a 400lb bomb and blew the heart of the town to pieces, that was during a period of what was called one of the talks processes.
"While I appreciate the motion tonight is not brought forward in a provocative manner in any way, for those of us who voted against the agreement, we have not witnessed that peace and prosperity that the so-called Belfast Agreement promised to deliver."
He added: "In 2002, just a few years after the signing of the Belfast Agreement, we had the break in at Castlereagh (police) station caused by the hands of the Provisional IRA. In 2004 we had the Northern Bank robbery with £26.5 million taken. In 2005 we had the IRA murder of Robert McCartney. In 2006 we had the murder of Denis Donaldson.
"In 2007 we had the brutal murder of Paul Quinn by the Provisional IRA and we have the constant rewriting of history demonising the members of the RUC, UDR and our armed forces.
"In my humble opinion that is not a sign of prosperity or peace but a sign of piece by piece process given to those who did wrong and rewarding those who did evil and that is something I, as a democrat, cannot accept."
Confirming his party would have a free vote on this motion, UUP Councillor Sam Nicholson told the chamber he voted for the Good Friday Agreement explaining he did so in the hope of securing a "peaceful, safer society".
"I had lived through many years, like many others in this chamber, of listening to the TV, listening to the radio and hearing of another person killed and I believe as part of that Belfast Agreement we have saved lives," he said.
"Northern Ireland today is a completely different place than it was then but unfortunately like any agreement, as we will find in the coming days, there are parts of it less palatable to unionists but in the round, in that debate, I voted for it."
SDLP group leader, Councillor Thomas O'Hanlon said his party would support the motion and said if council was to host events to commemorate the agreement's 25th anniversary it would be important to recognise local figures of importance.
"I think it would be important to acknowledge the people from this area of this island who played their part making this place a better place and saving lives," he said.
UUP Councillor Louise McKinstry said she would be voting in support of the motion noting the contrast in her experience as a pupil and as a teacher.
"As a pupil I had to bow my head in prayer eight times for someone who had lost a father or a brother or someone else in their family who had been murdered because of the conflict in Northern Ireland," she said.
"As a teacher, 25 years on, I have never had to say a prayer for someone who has lost someone as part of our conflict in Northern Ireland and for that I will be supporting the motion tonight."
UUP group leader Alderman Jim Speers said he voted for the agreement and would do so again if given the choice today.
"There is probably no-one else in this room that has attended as many funerals of IRA violence and violence right across this community as I have," he said.
"I make no apology for saying I voted for the Belfast Agreement and I would still vote for it today. I believe it has achieved something. No doubt it has not achieved as much as those that signed would have liked to see it achieve but it has achieved something."
Alderman Stephen Moutray said he had not intended to speak on the motion but felt he needed to note the agreement was "morally wrong".
"There was a police service that stood between us and anarchy and they were betrayed, cast aside, the RUC the finest police force in the British Isles," he said.
"Over 300 of them were murdered, there were some convictions for the murders and the folk that murdered them, in many cases, served a handful of years and then what did the widows and the families see, they saw them coming out of Maze prison celebrating and cheering.
"I would like to also speak up for the innocent victims both Protestant and Roman Catholic who were murdered by the IRA and so-called loyalist terrorists, those people also got very little justice and were forgotten about."
Drawing the debate to a close, Cllr Johnston thanked everyone for their comments before the motion was put to a vote where it passed with 26 Alliance Party, SDLP, Sinn Fein and UUP councillors present voting in favour and 10 DUP councillors and Cllr Berry voting against it with Alderman Glenn Barr abstaining.
Sign Up To Our Newsletter