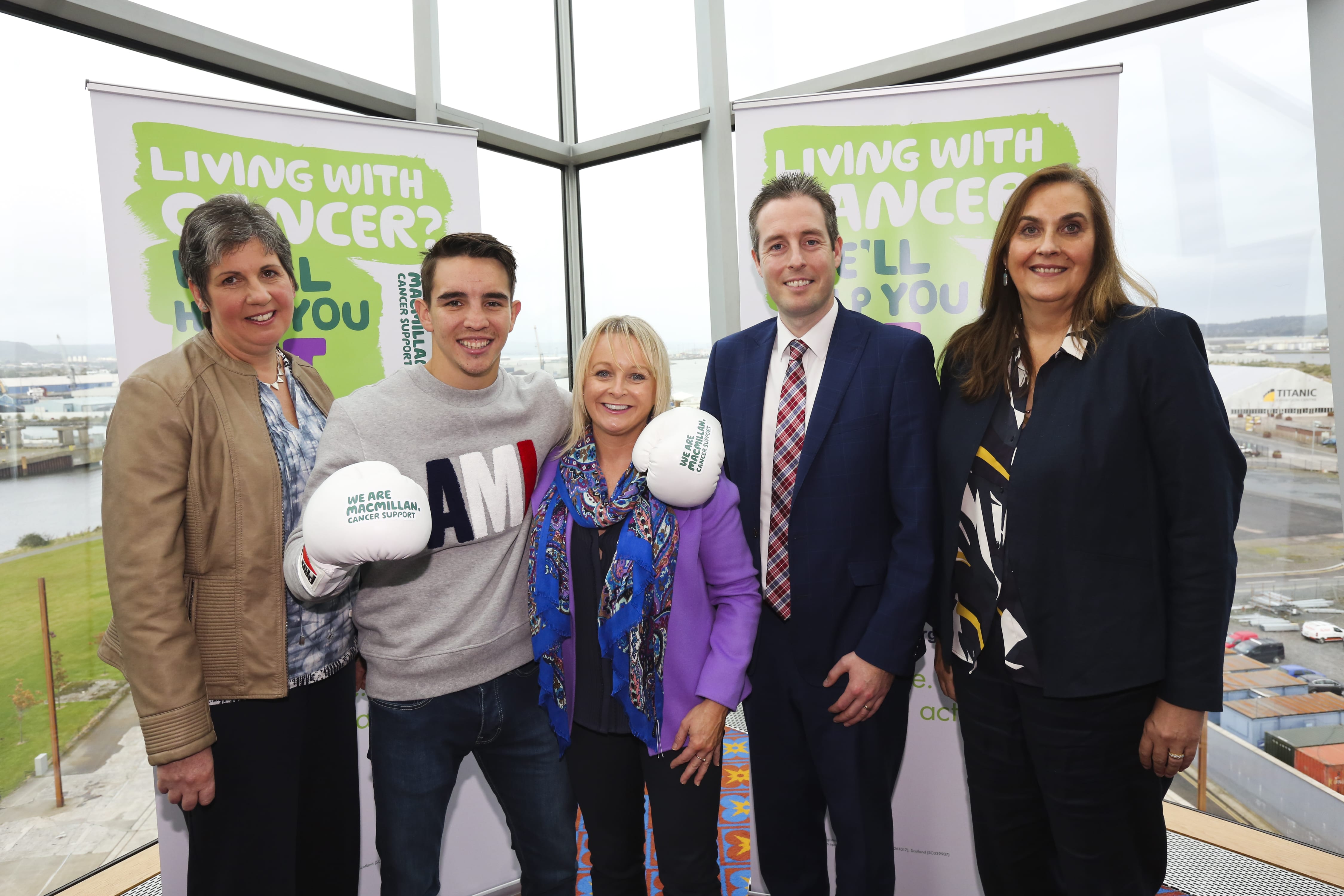 A new initiative which aims to help people living with cancer benefit from physical activity is to be rolled out in Armagh before the end of December.
Macmillan Cancer Support enlisted the help of Belfast boxing hero Michael Conlan to launched their Move More programme.
The service consists of 11 projects – one in each of the council areas.
So far schemes in Antrim and Newtownabbey and Ards and North Down are underway, involving an individually-tailored programme of physical activity support for people living with cancer.
Three more schemes are set to be rolled out by the end of this year – in the Armagh City, Banbridge and Craigavon Borough Council, Belfast City Council, and Lisburn & Castlereagh Council areas.
In 2017 and beyond, Macmillan will continue to work with district councils, health and social care trusts and physical activity providers to ensure Move More Northern Ireland is established as a regional initiative.
Move More is part of the charity's campaign to ensure that people living with cancer are supported to become physically active, both before, during and after their treatment.
A growing body of evidence shows it can play a vital role in helping to prevent a recurrence, slow disease progression as well as mitigating the side effects and consequences of cancer treatment such as fatigue.
Speaking at the programme launch in Titanic Belfast, Professor Jane Maher, Joint Chief Medical Officer at Macmillan Cancer Support, said:"Taking part in physical activity can play a vital role for all people affected by cancer, whether they are in the middle of treatment or on the road to recovery.
"Recent research suggests that physical activity may reduce the likelihood of dying from cancer and may help prevent a recurrence; it can also help manage some of the often life changing side effects people experience from treatment.
"Macmillan Cancer Support wants to see physical activity play a much more prominent role during both treatment and recovery, and it is great to see that people affected by cancer in Northern Ireland now have the opportunity to benefit."
Communities Minister Paul Givan said he was "absolutely delighted and privileged" to attend the launch.
"Increasing participation in sport and physical recreation is a key objective for my department, particularly as there are very positive benefits for public health, and so the 'Move More initiative' is a very welcome feature of encouraging our community to become more active," he said.
"I have no doubt that the invaluable work that Macmillan Cancer Support already undertakes will be enhanced even further by this new and innovative initiative.
"This simple but significant initiative will help people choose to become and stay active at a level that is right for them."
One of the participants of Move More Antrim and Newtownabbey is former teacher Arlene Anderson, who is encouraging others to get involved as it is rolled out in Armagh and beyond.
She explained the difference being active has made to her quality of life.
"I really struggled, my energy levels were very, very low," said Arlene. "Not having been fit before, then having an operation and chemotherapy left me in a very weakened state. I couldn't walk from the living room to the kitchen to make a cup of tea.
"After becoming involved with Move More, what surprised me most was the extremely low level of exercise that I needed. But I couldn't have done that on my own because I didn't know where to start. For me, it really was like a light-bulb moment."
Local boxing hero Michael Conlan was also on hand to throw his support behind the charity's new initiative.
Michael said: "I think this is a brilliant idea by Macmillan. As someone who leads an active lifestyle and who has benefitted immensely from doing so, I understand the importance of physical activity and can appreciate how beneficial it would be for someone who has been through surgery or treatment for cancer.
"Whether it's a family member, friend or colleague, we all know someone who has been affected by cancer and I would encourage people to be active as possible.
"For some, that could mean going swimming or getting active in their local gym, but others may want to get active walking the dog or playing in the park with their kids – these little things can make such a massive difference and through Move More, Macmillan are helping make sure you get the proper advice and support needed."
For information and advice about getting active, call 0808 808 00 00 or visit macmillan.org.uk/movemore
Pictured at the launch of Move More NI are (L-R) service user Elaine Nelson, local boxing hero Michael Conlan, Paula Kealey, Strategic Partnership Manager, Macmillan NI, Minister for Communities Paul Givan MLA and Move More participant Arlene Anderson.
Read more news:
Exciting plans to replace 80-year-old hall with state-of-the-art cross-community venue
Co Armagh 'house of horrors' couple admit sex crimes against mentally disabled victim
Police uncover drugs in search into dissident republican activity
'Killer clown' craze hits Armagh after reports of disturbances at city housing estate
Armagh students wow tourists with song at the top of Eiffel Tower
County Armagh takeaway facing hefty fine with illegal worker deported
Road closed following two vehicle crash near Tandragee
Sign Up To Our Newsletter