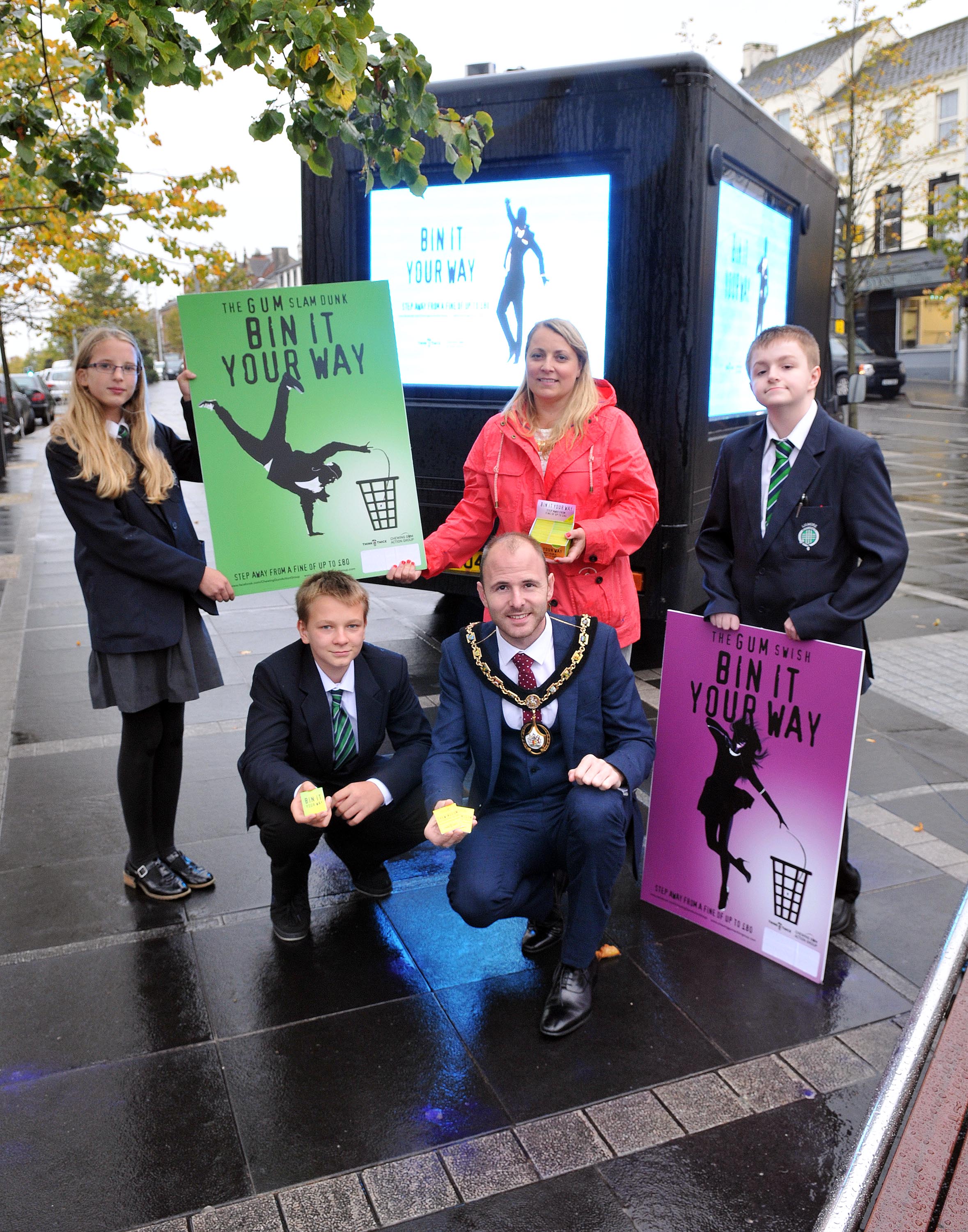 A high-profile campaign to target those who mess the borough's streets with discarded chewing gum is about to kick off.
And those who do feel the need to drop their gum – rather than bin it – can expect to be hit with heavy penalties.
Armagh City, Banbridge and Craigavon Borough Council is the only council in Northern Ireland rerunning the campaign in an effort to reduce the sticky problem across the borough.
In 2014 the Craigavon area saw a 56% gum reduction in 'hot-spot' areas monitored during the campaign and it is expected a similar reduction will be observed this year.
The highly visible promotional campaign – which includes lamppost banners, ATMs and sides of buses – has been funded by the Chewing Gum Action Group (CGAG), an organisation chaired by the Department for Environment, Food and Rural Affairs, and by the chewing gum industry to tackle gum litter in the UK.
A paved area in Market Street, Lurgan was transformed with brightly-coloured circles to highlight the significant amount of gum that has been dropped.
Supporting the campaign for the second year running, representatives from council's environmental services, along with pupils from Lismore Comprehensive School, took to the street to circle discarded gum using water soluble fluorescent chalk.
And then they got to watch the public reaction to the eye-catching, measle-like patterns created across one of the busiest areas in the borough!
Supporting the campaign this year, Cllr Darryn Causby, Lord Mayor of Armagh, Banbridge & Craigavon, said: "We want the people of the borough to feel immensely proud of where they live which is why we have partnered with the Chewing Gum Action Group to raise awareness and proactively tackle the issue of gum litter.
"Year on year, chewing gum litter is costly and difficult to remove, therefore we hope that this campaign will encourage gum chewers to bin their gum the right way and understand that they can play a part in making our area a more attractive place to live."
Now in its 10th year, the annual campaign sees representatives from the chewing gum industry, local Government and voluntary sectors working with councils and Business Improvement Districts (BIDs) across the whole of the UK to develop local initiatives to reduce chewing gum litter.
Ian Humphreys, Chief Executive from Keep Northern Ireland Beautiful, added: "Keep Northern Ireland Beautiful is delighted to show its support to the Chewing Gum Action Group, a campaign which has delivered some positive results in Northern Ireland.
"Chewing gum litter is a major issue and one that blights many of our streets therefore we are delighted that Armagh City, Banbridge & Craigavon Borough Council is taking part in the creative campaign this year, sending a strong message for visitors and residents to bin their gum the right way."
And for the record, the Clean Neighbourhoods and Environment Act (Northern Ireland) 2011 gave greater powers and flexibility to local authorities to enforce against local environmental offences.
The fixed penalty notice level for litter in the Armagh City, Banbridge and Craigavon Borough Council area has now been locally set at £80 – a costly offence we're sure you'll agree!
For more information on the group, past campaigns and research visit www.chewinggumactiongroup.org.uk.
Picture: Lord Mayor of Armagh, Banbridge, Craigavon Councillor Darryn Causby with Pamela Hanna, Community Engagement Officer and Lismore Comprehensive School pupils Natalia Szaszkiewicz, Filip Pohludka and Diarmuid McCaughley.
Read more news:
Read more news:
Man treated for burns after ferocious fire rages at Markethill farm
Permanent axe falls as Trust scraps Armagh's minor injuries unit
Markethill store robbed by pair who made off with cigarettes and alcohol
Car struck by brick thrown from bridge on M1 on Wednesday night
Tanishea got VIP tickets for Christmas; last night she cried like never before
Sign Up To Our Newsletter