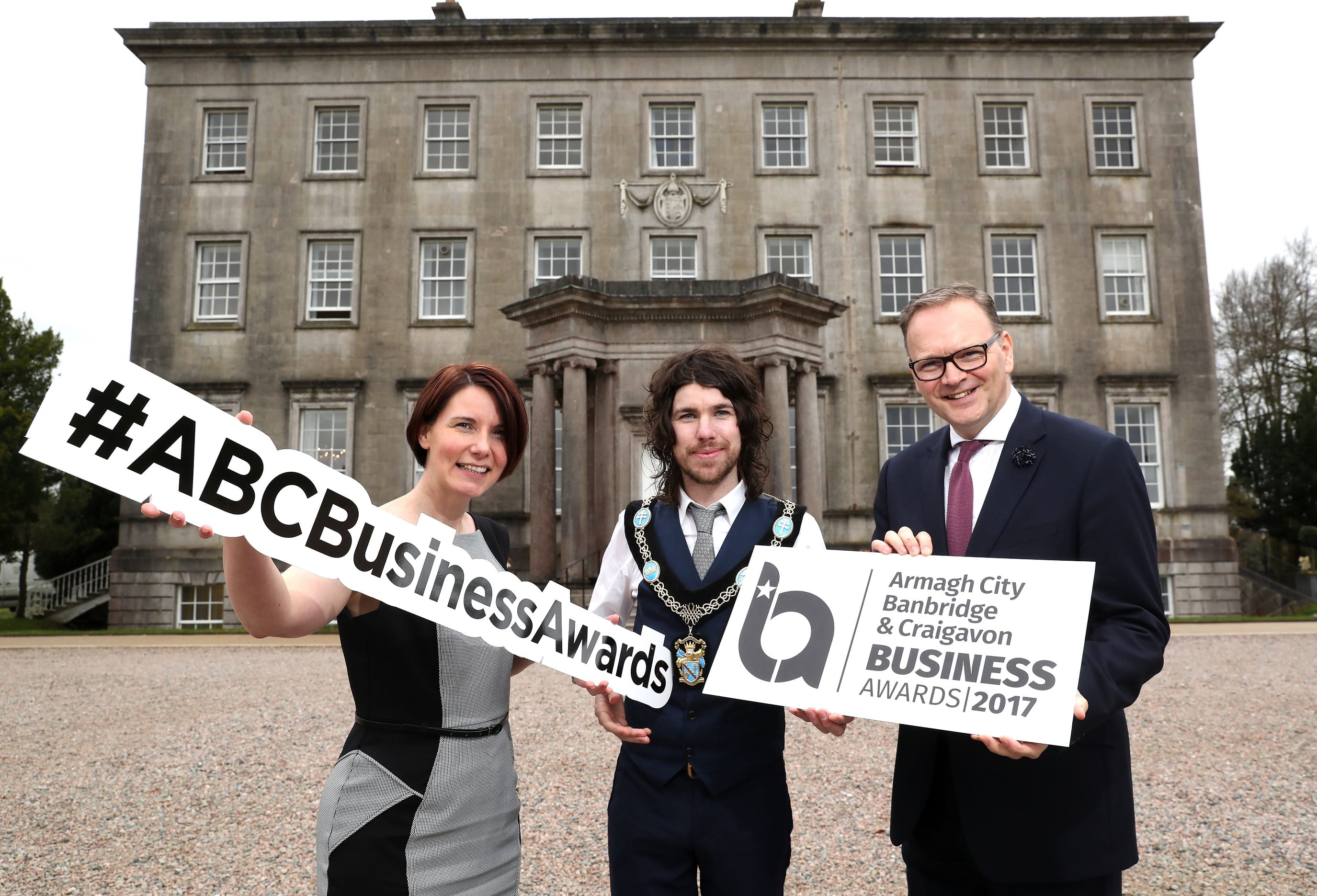 Armagh City, Banbridge and Craigavon Borough Council (ABC Council) has unveiled details of its flagship Business Awards for 2017 which will officially recognise, reward and profile its most industrious, hardworking and enterprising organisations.
Held in association with one of Northern Ireland's most successful companies and principal sponsor Almac, the highly-anticipated ABC Business Awards 2017 will support the best of local and regional business which are already firmly located in the engine room of Northern Ireland's economy.
The business awards are a major first for the ABC Borough Council and have been carefully designed to recognise and reward top performers and to reflect the diverse, enterprising and most successful from a strong base of established corporates, start-ups, innovators, strategic thinkers and entrepreneurs.
Full details of 16 categories available to win have also been revealed and published online at www.abcbusinessawards.com where entry forms available.
The closing date for the return of completed submissions is Monday 8th May 2017 at 5pm.
Speaking at a special launch event at The Palace, Armagh, Lord Mayor of Armagh City, Banbridge and Craigavon, Councillor Garath Keating, said: "In an area proud of its industrial and manufacturing heritage, its growing export might and its success in innovating, driving growth and succeeding in a wide variety of sectors, we want to properly celebrate talent, ideas and ambition, and, at the same time, provide our business sector with an unrivalled opportunity to network, engage and to inspire others with their knowledge and ideas."
"This landmark event will celebrate the integrity, ingenuity and the inspiration that drives the business community across Armagh City, Banbridge and Craigavon and I want to encourage every business, organisation and individual which share in our business success to showcase their outstanding credentials."
An unmissable, standout event, the ABC Business Awards Ceremony takes place at the at Craigavon Civic & Conference Centre on Thursday, 22nd June.
These awards will include the in-demand Sir Allen McClay Young Business Person of the Year Award as well as recognition awards for Best New, Family and Agri-Food Businesses, Export Initiative, Digital Innovation, Social Enterprise, Marketing Initiative and Eating Establishment.
In addition to an award for Outstanding Woman in Business, sought-after awards are also available for Best Business Growth, for Excellence in Manufacturing and Customer Service.
Centrally and ideally located, vibrant, ambitious and outward-looking, the ACB Borough is the largest council area outside of Belfast and hosts many of Northern Ireland's biggest business successes, including Almac, Moy Park, Tayto, Irwins, Thompson Aeroseating and Fane Valley.
A hub for the Life Sciences and Advanced Manufacturing sectors, it is also Northern Ireland's official, award-winning Food Heartland, proudly hosting hundreds of organisations excelling in food production, sales and in tourism and hospitality-related fields.
Kerry Lyle, Global PR & Communications Manager from Almac Group and associate sponsors of the Business Awards said: "Businesses are the real driving force of our local, regional and national economy, creating jobs, growth and prosperity, and helping us to maintain our strong reputation internationally. This is exactly why it is important for us to recognise and celebrate the contribution they make to their local communities and the wider economy.
"The broad spread of categories in these awards reflects not only the diversity of industries, skills, product and service offering delivered in this area but the range of achievements which they delivered. Almac is proud to have our global Headquarters based in Craigavon with the range of talent, skills and support which our success relies upon within the borough. I wish everyone involved every success."
Roger Wilson, Chief Executive, Armagh City, Banbridge and Craigavon Borough Council, said: "This is our opportunity to celebrate our outstanding business community, to applaud the work they do and to showcase the passion of those individuals who go above and beyond to drive the continued business growth which our borough enjoys.
"I would urge every business to consider the categories available for this event and to make their nominations early to ensure they are a key part of the Business Awards."
For more information, visit www.abcbusinessawards.com
Sign Up To Our Newsletter