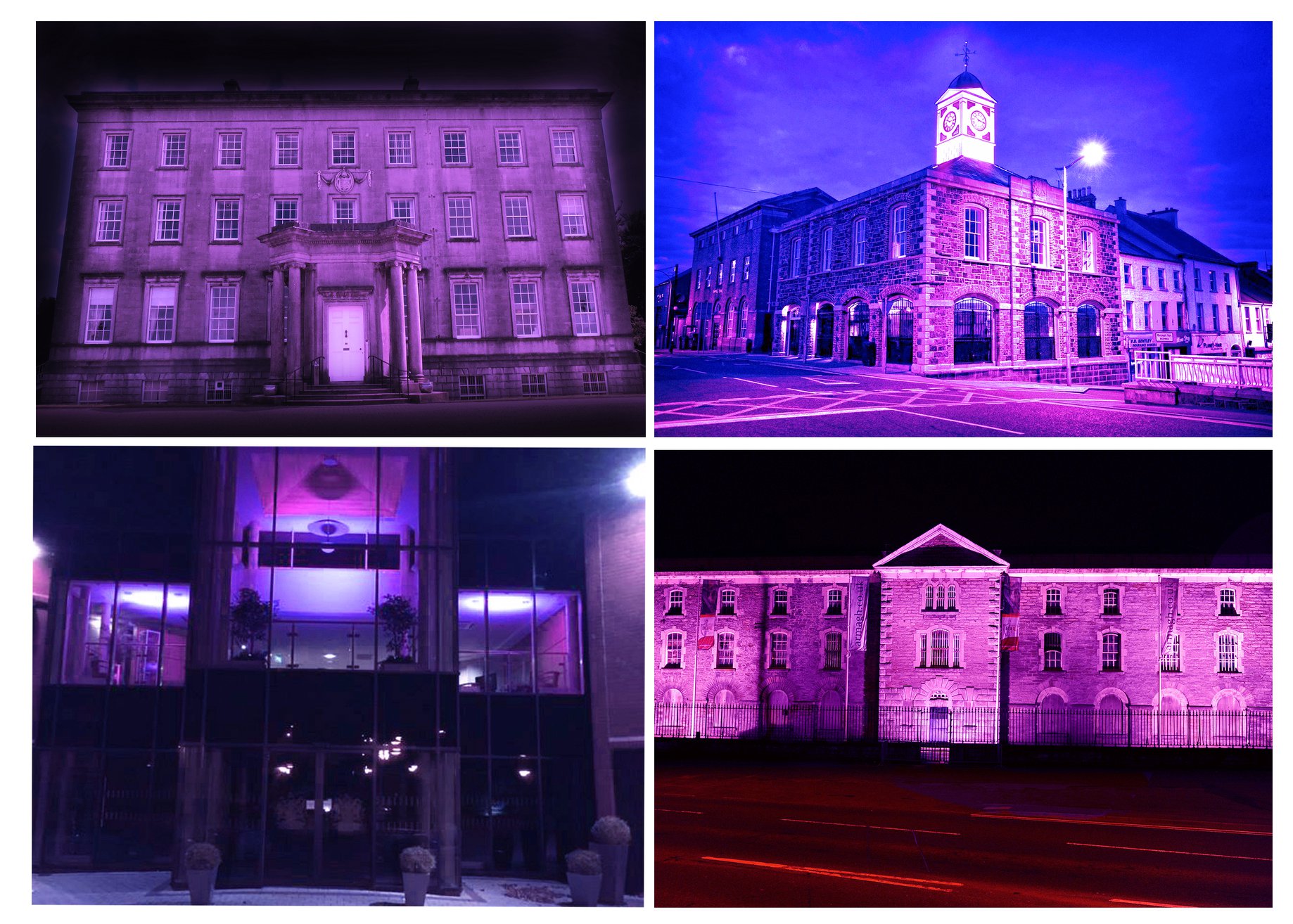 The Stroke Association have been overwhelmed at the support for World Stroke Day 2020 by all 11 councils across Northern Ireland.
To mark the annual stroke awareness raising day, NI councils have lit up council buildings in purple, met with the charity and posted messages of support on their social media channels.
World Stroke Day, held annually on October 29, aims to highlight the serious nature and high incidence of stroke globally, raise awareness of the prevention and treatment of the condition, and ensure better care and support for survivors.
To celebrate this World Stroke Day 2020, the Stroke Association has been keen to reach out to local council members to present their new manifesto document, 'Progressing Stroke Reform in Northern Ireland', which sets out the charity's key asks of local government and highlights why urgent reform of stroke services is even more important now during the Covid-19 pandemic.
To Mark World Stroke Day 2020, Armagh City, Banbridge and Craigavon Borough Council will be lighting up Armagh Palace, Armagh Gaol and civic buildings in purple on Thursday 29October in support of local people rebuilding their lives after stroke.
The Stroke Association are grateful to the many councils across NI who have embraced World Stroke Day this year by lighting up council buildings in purple, by meeting representatives of the Stroke Association to receive a copy of our new manifesto document or by posting messages of support on their social media channels.
By engaging with local councils in this way, The Stroke Association hopes that local council representatives can exercise their influence on party and political colleagues to keep stroke a priority throughout the Covid-19 pandemic and beyond.
The Stroke Association believe that now is not the time to step back or allow stroke to slide down the list of health priorities but rather is an opportunity to reform our health care services to improve the prevention, treatment and care of people affected by stroke.
Barry Macaulay, Director of the Stroke Association in Northern Ireland, said: "We're delighted to see so many councils embracing the spirit of World Stroke Day 2020 and lighting up council buildings in purple.
"We were very encouraged that at the beginning of 2020, the Northern Ireland Executive made a commitment to reconfigure hospital provision for stroke and make improvements in stroke care by the end of the year. They emphasised that doing so would deliver better patient outcomes, more stable services and more sustainable staffing in stroke care in Northern Ireland.
"However, we were very disappointed that the 'Rebuilding Health and Social Care Services Strategic Framework for Northern Ireland', published in June 2020, stated that it was 'unlikely that stroke reforms will progress by end of 2020'.
"While we appreciate the challenges posed by the pandemic for the health and social care sector, the Covid-19 crisis should be seen as an opportunity to reform our health system. Change is long overdue and we must do better to improve outcomes for stroke survivors and their families, both now and in the future. Staying as we are is not an option and a lack of progress puts lives and recoveries at risk."
On World Stroke Day 2020(Thursday 29 October), if you see your council building lit up purple for stroke, take a selfie and post to your own social media using the hash tag #WorldStrokeDay2020.
Stroke is always a medical emergency and even now during the covid-19 pandemic, if you or someone you're with starts to show the signs of a stroke, dial 999 immediately.
There are 1.2 million stroke survivors living in the UK, that's almost 39,000 people in Northern Ireland and over 100,000 strokes every year in the UK with 4,000 in NI, making stroke a leading cause of adult disability.
To find out more about the work of the Stroke Association and to download your copy of the Stroke Association's manifesto, 'Progressing Stroke Reform in Northern Ireland' visit our website at www.stroke.org.uk/campaignsni
Sign Up To Our Newsletter