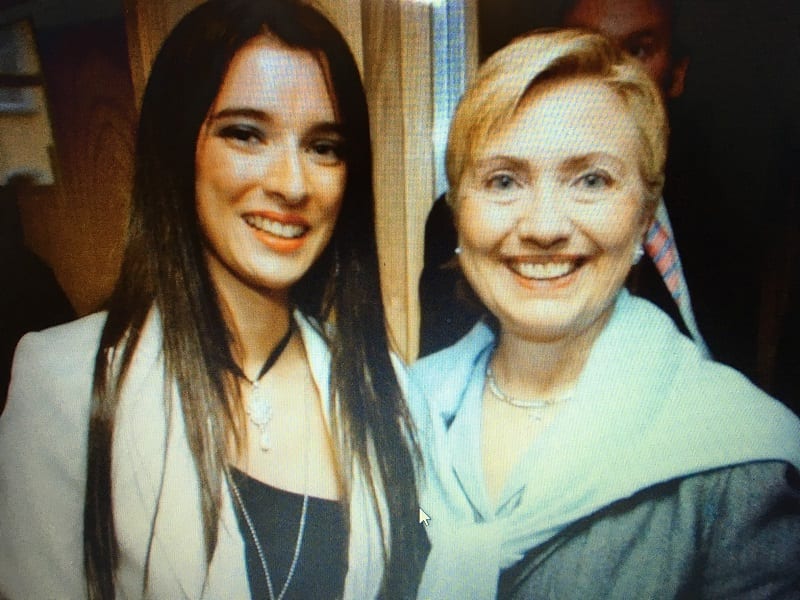 SDLP Councillor Sharon Haughey-Grimley has expressed her deep disappointment as Hillary Clinton loses the US election to Donald Trump.
Sharon, who has a well documented friendship with the Clinton's since introducing President Bill Clinton to Armagh in 1998, sat up all night analysing the results as they came in from each state.
Speaking on Wednesday morning Sharon Haughey said, "I am deeply disappointed that Hillary Clinton was not elected as the first woman US President this morning. Like many others I was confident that Hillary's strong abilities, intellect, experience and passion would resonate with voters when they got to the ballot box.  Unfortunately that didn't happen and instead the majority of Americans have placed Donald Trump into the Whitehouse and into the most powerful position in the world.
"I feel bitterly disappointed for Hillary who has dedicated her life to public service and who had a strong inner belief that she could finally break through that glass ceiling and become the first woman US President. I will of course be getting in contact with Hillary in the coming days to express my commiserations and pass on my good wishes to her and Bill."
Turning to Donald Trump's victory Sharon said, "The people of America have spoken and we all must respect that.  However Donald Trump's campaign has been extremely nasty and hate filled against many minorities living in America and I believe he has a lot to do to demonstrate that he can be a president for all people. It is incredible that so many people put their faith in him even though he has little political experience and has said such toxic statements throughout the campaign.
"One major concern for me is Donald Trump's position on immigration and how that may affect the 50,000 undocumented Irish living and contributing to life in the USA.  This will be something that I and my party will be raising through the Irish embassy and US consulate's office, to protect their rights and to find a pathway to legality."
Reflecting on the Clinton influence on American politics Sharon said, " Today will mark an end of an era for the Clinton's and for Hillary who has worked so hard as First Lady, as a Senator, as Secretary of State and as the first female Presidential nominee. There is no doubt she has left a strong legacy and has broken through so many barriers facing women. History will be kind to Hillary and her role in bringing equality for women.
Turning to the strong Clinton-Ireland link, Sharon concluded, "Bill and Hillary have been good friends of Ireland and have played important roles in our a peace process, which we will always be grateful for. I hope the Clinton's will continue to visit Ireland as private citizens and I will always ensure they are welcome back to Armagh anytime."
Sign Up To Our Newsletter